September 8, 2016
Most babies come into this world in a hospital labor and delivery unit. Others arrive at home and some make their first appearance in a vehicle on the way to the hospital. Very few are born in intensive care units (ICUs) while their mother is in a coma after a sudden cardiac arrest.
But, that's how Bethany Jade Mueller came into the world on June 4, 2016, 15 weeks early and weighing only 2 pounds, 1 ounce.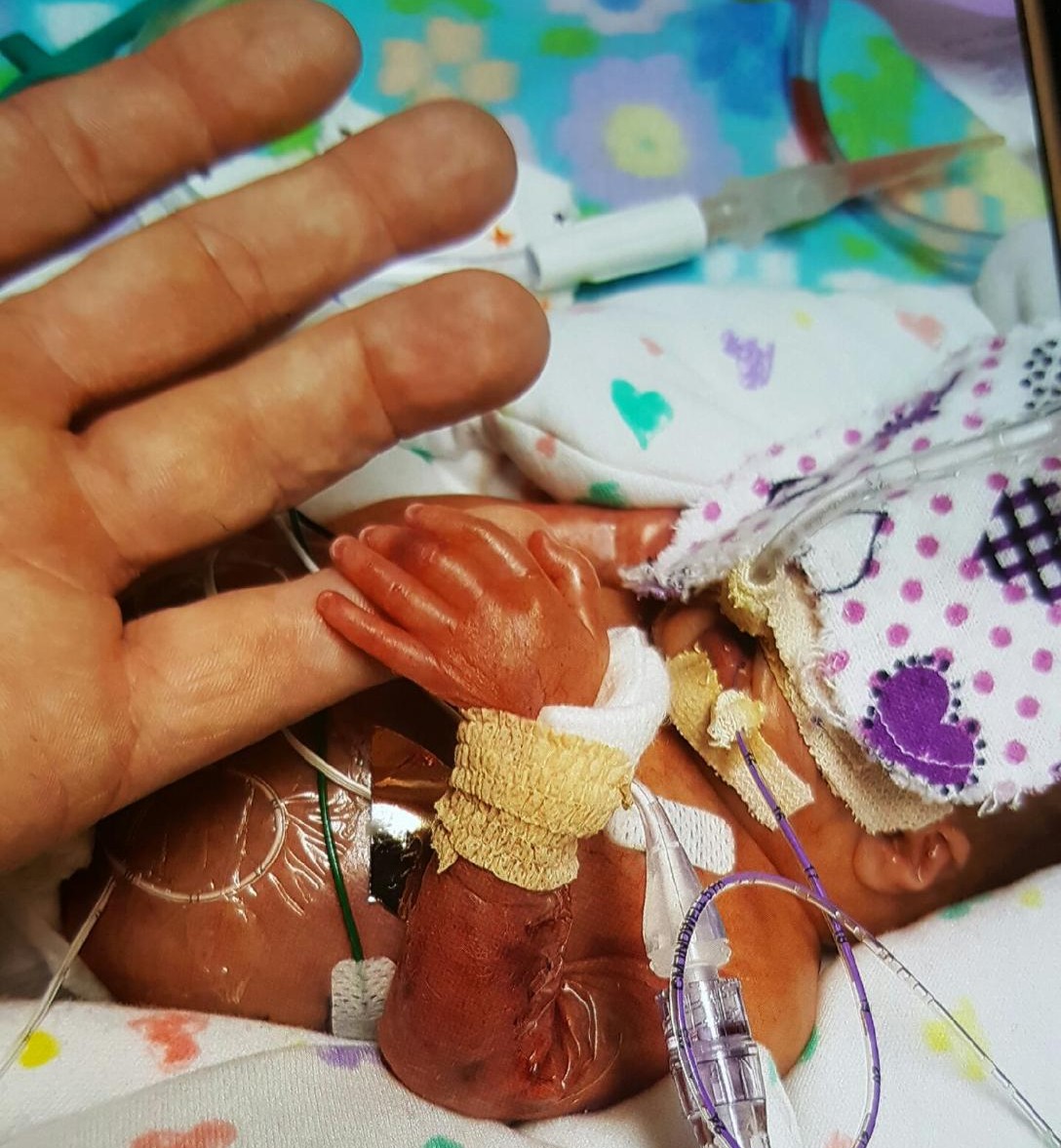 It all started with a camping trip to Bennett Spring State Park. The family of four – Mike, Michelle, 11-year-old Elizabeth and 7-year-old Melanie - traveled a couple of hours from their home in Hermann, Missouri, and set up camp. Some friends met them the next day and everyone went to bed feeling fine.
At 1:03 a.m., Mike woke to a strange sound. "Michelle was gasping," he remembered. "I'm usually such a sound sleeper, but it woke me. I knew immediately what was happening." A paramedic, Mike was prepared to respond. He called 911, yelled for help and began CPR. A nurse was camping nearby, and the two took turns performing CPR until first responders arrived.
"He had an AED (automated external defibrillator) and I grabbed it from him," Mike said. "I shocked her once and she started breathing again."
With his wife still unconscious, Mike's thoughts were racing during the ambulance ride to Mercy Hospital Lebanon. What had happened to Michelle, who was fine just hours before? Would the baby survive? Mike says he felt better as soon as he saw a familiar face. Dr. Alywin Kluttz also works occasionally at the Mercy-affiliated hospital in Hermann. "It was so great to see him. Plus, we listened to the baby's heartbeat and it sounded strong."
The ER staff stabilized Michelle and transferred her to Mercy Hospital Springfield, where staff in the Cardiac ICU began mild therapeutic hypothermia to protect Michelle's brain. "When I first checked on her, I knew how difficult it would be to take care of both mom and baby," said Dr. Laura Luehr, Mercy OB/Gyn. "Whatever decision we made for one would directly affect the other."
Soon it was apparent the baby wasn't tolerating the hypothermia therapy. "When we got to that point, we all knew delivering the baby was the right decision for both of them," said Dr. Luehr.
Not wanting to move Michelle, teams from labor and delivery as well as the neonatal intensive care unit (NICU) came to the cardiac ICU. "Everyone moved so quickly and efficiently," said Dr. Luehr. "It was really a remarkable display of teamwork in the hospital." With doctors, nurses and respiratory therapists all working together, the baby was born and immediately whisked away to the NICU for her own special care.
"All the doctors and nurses were so compassionate and you could tell their hearts are in what they're doing," Mike said. "The nurses also gave me the number to the Ronald McDonald House and they had a room ready that afternoon." It's located within the hospital, so Mike was just a few steps away from both Michelle and the baby.
While everyone was caring for the physical needs of the two patients, it was the attention to everyone's emotional and spiritual needs that also impressed Mike. "The child life specialists met with our older girls within a couple of hours to help explain what was happening," Mike said. "The priest came and gave Michelle a blessing. I also wanted to have the baby baptized right away, but we needed a name, and Michelle and I hadn't even discussed one yet." The baby's two sisters took over, combining their names of Elizabeth and Melanie to come up with the name Bethany.
About a day and half later, Michelle opened her eyes. Although she struggled with short-term memory loss at first, she was recovering well. Looking back now, she says, "When Mike first went to school to be a paramedic, I actually complained. Our middle daughter was a baby, he was still working construction during the day and going to school at night and we were both exhausted. Now I know how lucky I am to have a paramedic for a husband."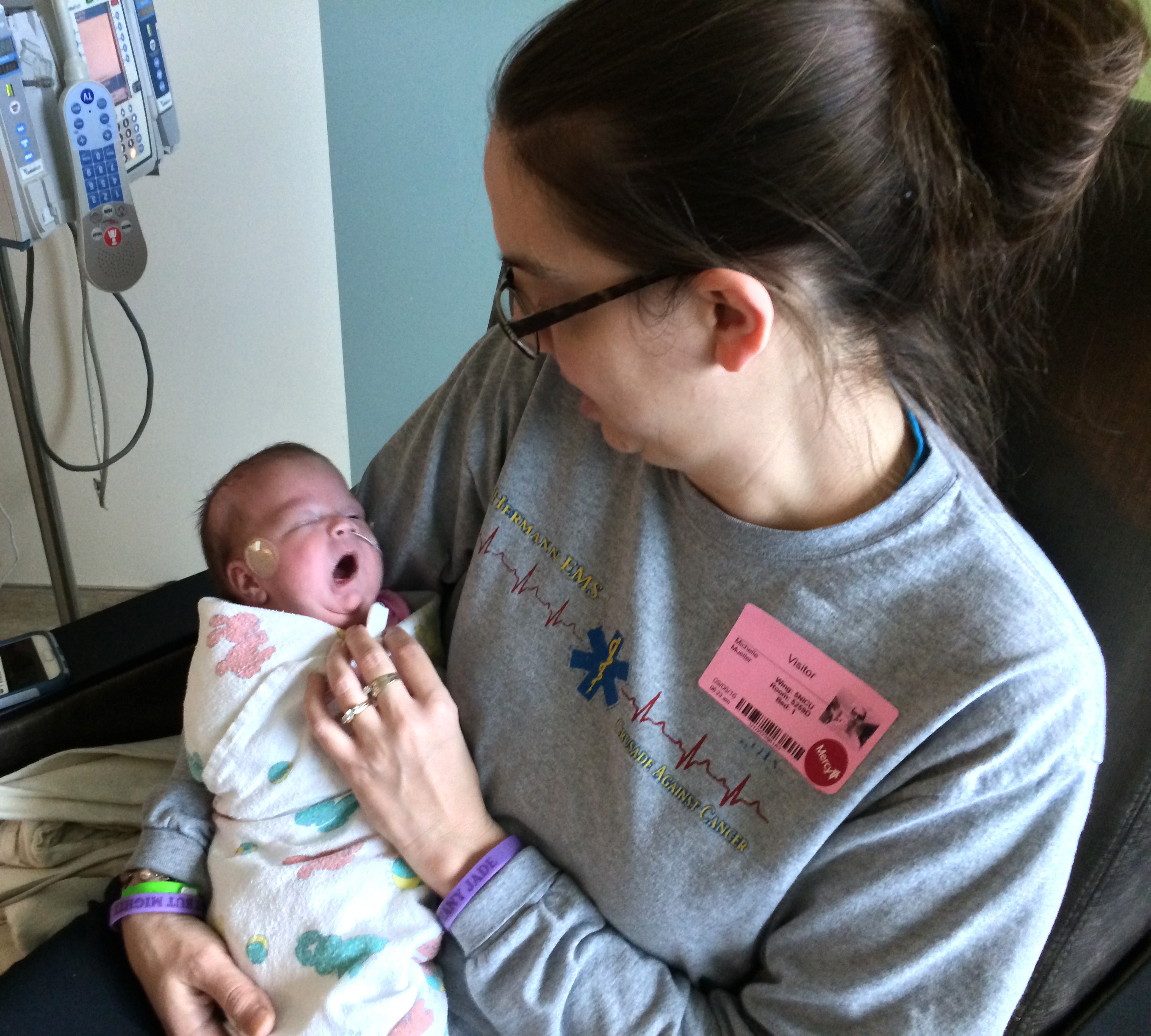 What caused Michelle's medical emergency in the first place is still a mystery. "We don't know why she went into ventricular fibrillation," said Dr. Shang-Chiun Lee, Mercy cardiologist and cardiac electrophysiologist. When the heart goes into ventricular fibrillation, the lower chambers of the heart can't pump any blood, leading to cardiac arrest. "We can't be certain it won't happen again, so we've implanted a defibrillator in Michelle's chest. It can detect abnormal heart rhythms and deliver shocks if it's ever needed."
Meanwhile, Bethany faced challenges that are common to a baby born prematurely. "It's things like respiratory distress syndrome, dependency on a ventilator, a risk of infections and bleeding within the skill," said Dr. Melinda Slack, medical director of Mercy Kids NICU. "Given Bethany's initial plight, she's doing amazingly well. It's a miracle."
As Michelle puts it, "multiple friends and family members have said what we've gone through has been hell, but God sent us to the right place."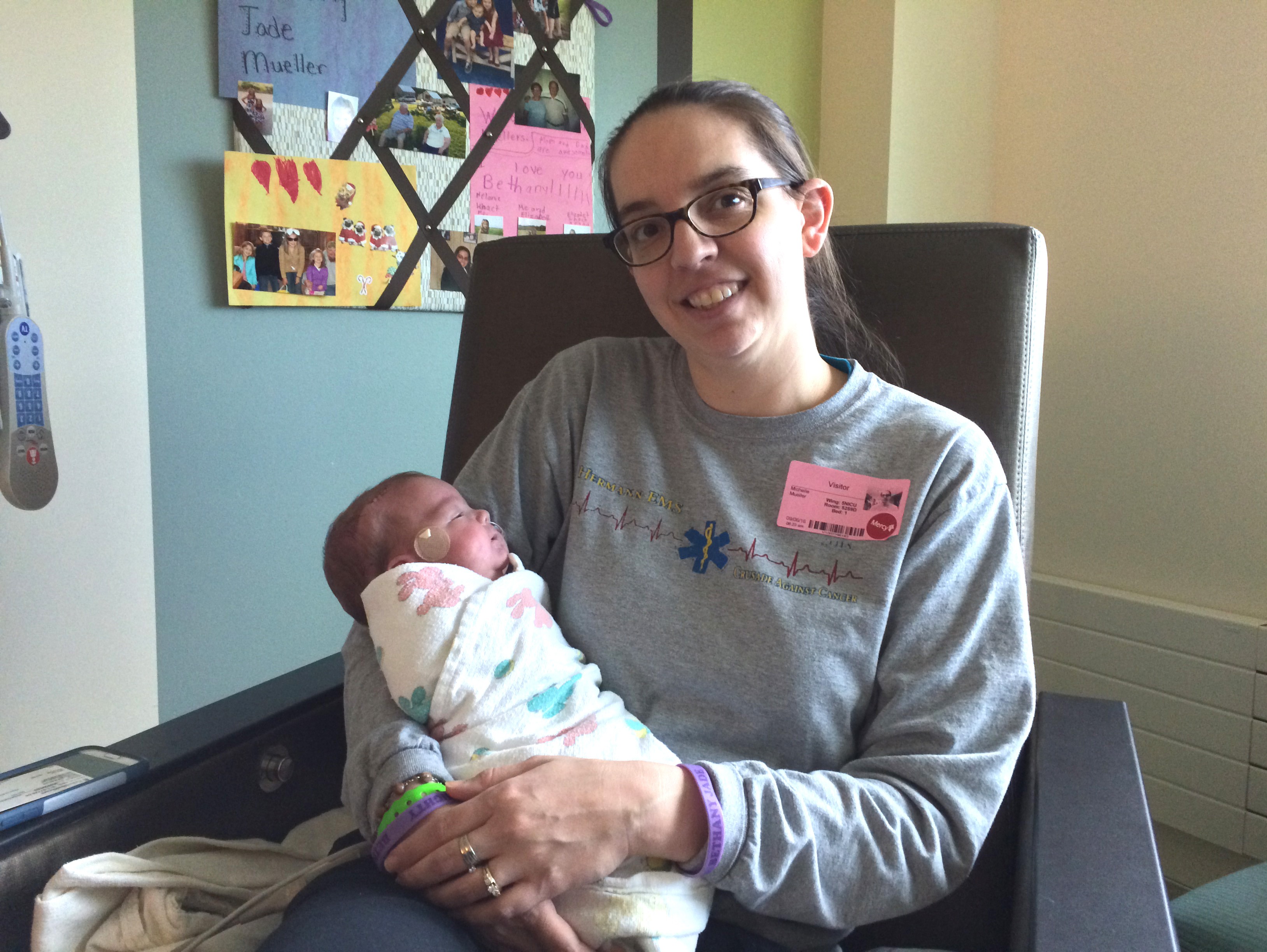 Mike agreed. "Everybody recognized that I was one guy trying to do it all alone – take care of two little girls while also being with my wife and new baby. So they gave other members of our family full access to both the NICU and the Ronald McDonald House. They let the girls visit their mom in the ICU. And the NICU nurses even made me a Father's Day card with all my girls' handprints. Father Alex knows us when he sees us in the hallway, and calls our two older girls his little angels. We've had so much support from family and friends. We have a lot to be thankful for."
His own family's experience has made Mike an even firmer believer in CPR. "Learn it, and practice it," he advised. "You never know when you're going to need it. And AEDs should be available in more places, especially rural areas. They're such an awesome tool for early intervention."
Media Contacts
Sonya Kullmann
Berryville, Branson, Cassville, Lebanon, Mountain View, Rolla, Springfield, Aurora