September 26, 2016
By Mercy's Jaclyn Bardin
To say that Adam Lare is committed to his job is an understatement.
For the majority of his four years working at Mercy Hospital St. Louis, Lare commuted about two and a half hours each day to work. Not only is he committed to getting to work, his colleagues have nothing but positive things to say about his dependability and his hard-working nature while on the job.
"He is an anchor for our department," said Nick Simpher, Lare's supervisor. "Adam keeps team morale up with his positive attitude and great work ethic."
In his role as a Mercy supply chain technician, Lare delivers equipment throughout the hospital and updates the hospital inventory to ensure all equipment is accounted for. He may have an intellectual disability, but Lare doesn't let anything get in his way.
"It just takes me longer to learn with the disability I have, but once I learn, it's pretty easy to do," said Lare. "Whatever needs to be done, I get it done. I think I'm a very happy person and I try to get along with people. I like to come to work every day and I think that's important in so many ways."
Using $400,000 in grant money from the Kessler Foundation and private donations, Mercy hopes to recruit additional dedicated co-workers like Lare. The funds will be used to replicate Mercy Hospital St. Louis' success through the development of Mercy's Healthcare Workforce Inclusion Model at six additional Mercy hospitals across Arkansas, Missouri and Oklahoma. The model promotes job and training opportunities for individuals with developmental, physical and/or mental health disabilities.
Both Mercy and Kessler's foundations will also partner with a team at Rutgers University in New Jersey to study the methodology behind Mercy's inclusion model and will share best practices within Mercy and with other health care organizations.
"Our whole goal with the Kessler grant and the inclusion model is to shift the culture so we improve our ability to work with people with disabilities and help them succeed," said Dana Brodeur, manager of disability and inclusion services at Mercy Hospital St. Louis. "When they are a right fit, people with disabilities have a very strong commitment, great attitude and are determined to do the best job they can."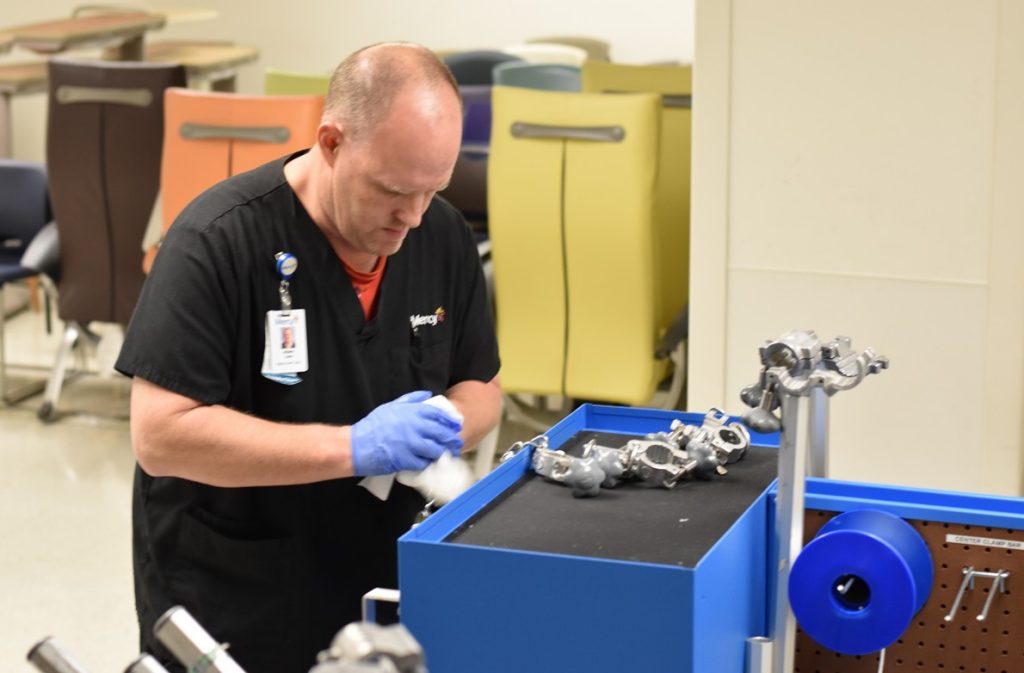 Adam Lare, supply chain technician at Mercy Hospital St. Louis, cleans and re-stocks supplies in a traction cart, which are mainly used to treat orthopedic injuries.
About the Program Expansion
According to the U.S. Census Bureau, people with disabilities comprise nearly 19 percent of the total population in the United States, yet only about 17 percent of people who are of working age with a disability were employed in 2015. 
"Mercy has a long tradition of recognizing that society's 'disabled' are actually people who are simply gifted differently," said Lynn Britton, Mercy's president and CEO. "Creating meaningful job opportunities for men and women with disabilities offers them the hope and dignity of financial self-sufficiency, while enriching our organization with their unique perspectives and gifts."
The expansion of the inclusion model will introduce many of the following program components to Mercy's hospitals in Fort Smith and Rogers, Arkansas; Crystal City, Joplin, Springfield and St. Louis, Missouri; and Oklahoma City, Oklahoma.
Education: The program will offer disability inclusion training to more than 26,000 co-workers in the participating hospitals. Hiring leaders and recruiters will receive additional training aimed at making them more comfortable interviewing individuals with disabilities.
Employment: Under the grant, the goal is to hire a total of about 60 people with disabilities across the participating hospitals to fill current job openings and some new positions. At Mercy Hospital St. Louis, for example, new co-workers may be hired to staff hospitality carts in waiting areas, saving visitors a trip to the cafeteria or gift shop for some food or drink items.
Training and Development: Implementation of a job coach model to provide coaching support to qualifying individuals with disabilities working at all of the participating hospitals. Each job coach will be assigned to specific departments.
At two of the participating hospitals, leaders will also increase volunteer opportunities for people with disabilities and offer an internship-training program for students with disabilities in their final year of high school. The goal of the internship program is 100 percent placement in a job upon graduation. Both of these programs are already offered at Mercy Hospital St. Louis.
All of the hospitals will offer soft skill trainings to co-workers with disabilities to review the non-technical skills required to successfully interact with others while at work.
Awareness and Empowerment: In partnership with community agencies, all of the participating Mercy hospitals will offer self-advocacy workshops for people with disabilities — whether or not they are Mercy co-workers — to teach participants how to advocate for their wants and needs. Mercy will also offer information on community resources for people with disabilities in many of Mercy's clinics.
Mercy anticipates that through volunteerism, training and job placement opportunities, the program will impact 150 people with disabilities in the participating hospitals over the next two years.
Paul Lenhart was Lare's job coach before accepting a disability inclusion coordinator position at Mercy as part of the grant. As a job coach, he was constantly amazed by the determination of each co-worker and is excited to be part of the expansion of the inclusion model.
"This is an opportunity for people with disabilities to show what they can do," said Lenhart. "People with disabilities can do a lot of things and can succeed. They will prove anyone wrong who says they can't do something."
Lare is thankful to work for an organization that values the contributions of every co-worker. He loves his job and the people he works alongside every day.
"I think it's a huge opportunity for any person in the world to be able to have a good job — it doesn't matter if you have a disability," said Lare. "Everyone should be treated equally."
To learn more about Mercy's Healthcare Workforce Inclusion Model, contact Dana Brodeur at [email protected]. To apply for a job at any of Mercy's hospitals and clinics, visit www.mercy.net/mercy-careers.
Mercy, named one of the top five large U.S. health systems in 2017 by Truven, an IBM Watson Health company, serves millions annually. Mercy includes 44 acute care and specialty (heart, children's, orthopedic and rehab) hospitals, more than 700 physician practices and outpatient facilities, 40,000 co-workers and more than 2,000 Mercy Clinic physicians in Arkansas, Kansas, Missouri and Oklahoma. Mercy also has outreach ministries in Arkansas, Louisiana, Mississippi and Texas. 
Media Contacts