October 14, 2016
The next generation of cancer treatment at Mercy Hospital Jefferson will take its next big step forward with a ground-breaking ceremony scheduled at 2 p.m. Monday, Oct. 24.
The estimated $18 million project delivers on Mercy's promise to expand and improve cancer services. Rather than make renovations on the existing center, an all new facility is being built on the Spinning Wheels Skate Center property purchased in 2014.
"Everything about the new cancer center focuses on the patient experience," said Mercy Hospital Jefferson president Eric Ammons. "We will be able to offer the most up-to-date cancer treatment options for the people in our community in a setting that assists with healing."
An outdoor healing garden area is accessible to patients and viewable through floor-to-ceiling windows by patients using one of 14 recliners while receiving medical oncology infusion.
"The healing garden is a Mercy design standard for cancer treatment centers, and there are private infusion rooms for patients who prefer to be alone during treatment," Ammons said. "The center will have its own chapel and a specialty retail shop with items for cancer patients. These are all things patients have told us they want in the new facility."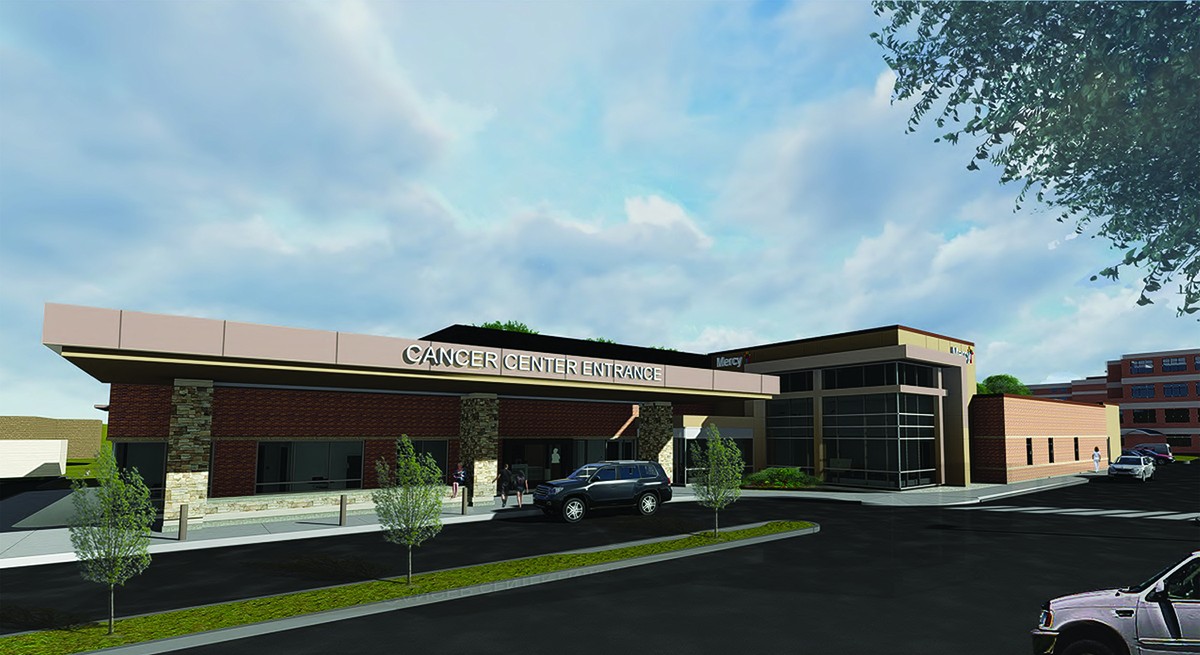 The new building floor plan is 21,531 square feet, more than double the size of the existing 9,915 square foot cancer center that was built 20 years ago in 1996. The construction timeline calls for the new cancer center to open in fall of 2017.
"Equipment costs for the new center are estimated at $6.5 million and include a new linear accelerator and CT simulator for radiation oncology patients," said senior project manager Chris Viviano. "The linear accelerator is in a vault room that has solid concrete walls that are more than seven feet thick in places with a two-foot thick concrete ceiling."
Mercy Clinic Oncology Jefferson will have eight exam rooms in the new building and radiation oncology will have three exam rooms. Because it is a free standing facility, dedicated parking for the center will provide easy access for patients arriving for appointments or treatments.
"As is the case with all projects Mercy has brought to our community and to communities throughout the ministry, area residents can expect a state-of-the-art facility that focuses on patient experience and healing," Ammons said.
Media Contacts