October 21, 2016
By Mercy's Courtney Landsberger
It is estimated that nearly half of women over the age of 40 have dense breasts, which could lead to an increased risk of breast cancer, yet many may be unaware. 
This November, Oklahoma will join the ranks of more than two dozen other states requiring health care providers to inform women if they have dense breast tissue. Following a regular mammogram, a woman will receive a report on her breast tissue composition along with mammography results. 
Lori Wightman, president of Mercy Hospital Ada, found she had dense breast tissue through a similar mandate in Minnesota.
"My mother is a two-time breast cancer survivor, so I've always been diligent about scheduling my yearly mammogram," said Wightman. "Even though I had probably a dozen mammograms in the past, I didn't find out that I had dense breasts until just a few years ago."
While dense breast tissue is not abnormal, it can make it more difficult to spot cancer because of how that tissue appears on a mammogram. Sandy Wingard, a mammography technologist for Mercy Hospital Ada, has performed hundreds of mammograms throughout her 25-year career. By her estimates, one out of every four women she performs mammograms on has dense breasts.
"Unless a woman knows she has a family history of dense breasts, the results usually come as a surprise," said Wingard, who notes that it is impossible to indicate levels of breast density through self-exam or a doctor's physical exam. "Some women think that because their breasts are firm, they are dense; however, density levels refer to the tissue inside the breast, rather than how the breast actually feels."
A woman's breasts are made up of mostly fat and tissue that is held in place by connective tissue. On mammography reports, this tissue appears black, while cancers and masses appear white. Women with dense breasts have a larger amount of connective tissue compared to fatty tissue which also appears white on a mammogram, making it difficult to spot any abnormalities. Although researches aren't clear what causes high levels of this dense connective tissue, a woman's level of density can fluctuate.
"There are a lot of misconceptions about dense breasts and a big one is that once you know your density level, it will stay that way," said Wightman. "I always stress how important it is for doctor's to have your previous year's mammogram to compare to the new one."
In general, breast density tends to decrease the older a woman gets, making young women most likely to have dense breasts. Premenopausal women are also more likely to have dense breasts, as are those who take combination hormone therapy to relieve signs and symptoms of menopause. Lifestyle and genetics can also play a role.
"A good rule of thumb is that if your mother has dense breasts, you probably do too," said Wingard. "I think this law will be very beneficial in terms of bringing awareness to what breast density means, and giving women more information when it comes to available options."
The first state to pass a breast density notification law was Connecticut in 2009. Since then, 27 states including Oklahoma have filed similar legislation. While additional screening in Oklahoma is not required, lawmakers hope including these reports will help raise awareness of breast density and open the conversation between a women and her health care provider about additional options. For Wightman, it will also serve as a good reminder to stay on top of yearly screenings.
"Having dense breasts is something that is out of my control, but what I can control is my ability to get an annual mammogram," said Wightman. "I hope this law will help more women take control of their health and bring awareness about the importance of regular screenings."
If your mammogram shows you have dense breast tissue, you may consider talking to your provider about whether or not you'll need additional screening, which can include 3D mammogram, breast ultrasound, or breast magnetic resonance imaging (MRI). The new law will go into effect on Nov. 1. 
For more information on mammograms, download our mammogram guide at: /AdaMammo .
Levels of Breast Density
Levels of density are described using results from the Breast Imaging Reporting and Data System (BI-RADs), which are separated into different categories ranging in level from one through four. The levels of density are:
Level 1: Almost entirely fatty indicates that the breasts are almost entirely composed of fat, and have less than 25% density. About 1 in 10 women have this result.
 Level 2: Scattered areas of fibroglandular density indicates there are some scattered areas of density, but the majority of the breast tissue is nondense. About 4 in 10 women have this result.
Level 3: Heterogeneously dense indicates that there are some areas of nondense tissue, but that more than 50% of the breast tissue is dense. About 4 in 10 women have this result.
Level 4: Extremely dense indicates that nearly all of the breast tissue is dense. About 1 in 10 women have this result.
*Source: The Mayo Clinic
Who is Most at Risk?
You may be more likely to have dense breasts if you:
Are younger. Women in their 40s and 50s are most likely to have dense breast tissue. Your breast tissue tends to become less dense as you age, though some women may have dense breast tissue at any age.
Are premenopausal.
Take hormone therapy for menopause. Women who take combination hormone therapy to relieve signs and symptoms of menopause are more likely to have dense breasts.
Have a family history of dense breasts.
*Source: Susan G. Komen Foundation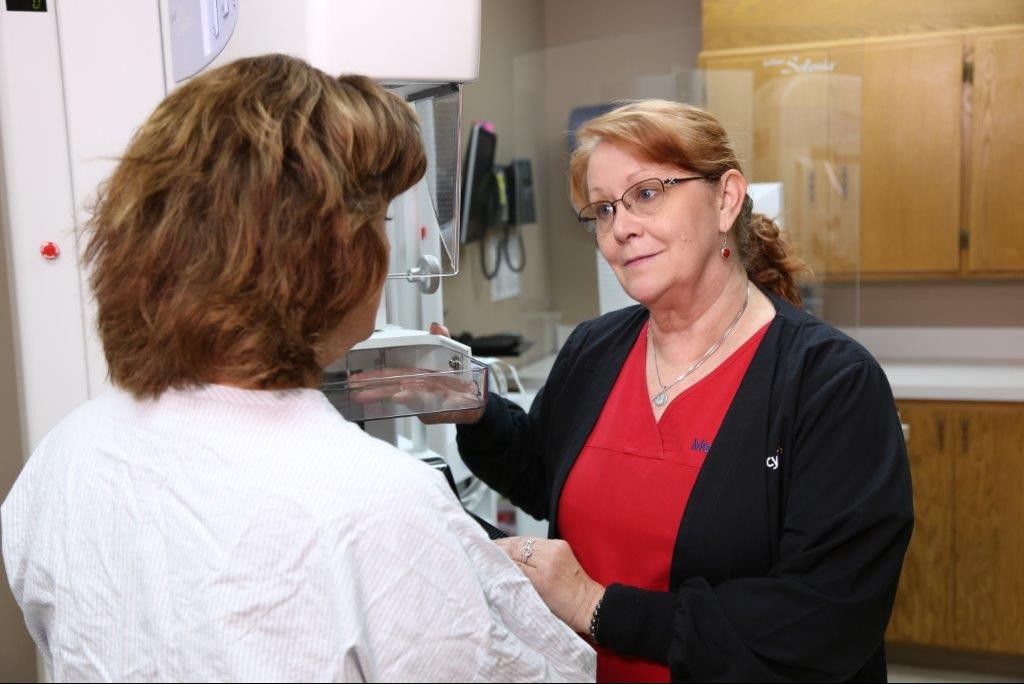 Practices
Media Contacts
Lindsey Treadwell
Ardmore, Healdton, Ada, Tishomingo