October 30, 2016
In August 1956, Sister M. Cornelia Blasko and a handful of Sisters first arrived in Mountain View on a health care mission. They worked tirelessly to reopen what is now Mercy St. Francis Hospital, expanding care to a community in need.
"At this very site stood a small, abandoned hospital overrun by weeds in a rural Ozarks community in dire need of health care," said Dr. Alan Scarrow, president of Mercy Springfield Communities, during the hospital's 60th anniversary celebration on Oct. 30, 2016. 
Plagued by financial woes, the building got a second breath of life when it was bought by the Catholic Archdiocese of St. Louis. That's when Father Sylvester Bauer of West Plains acknowledged the difficult path ahead – and issued a plea.
"Sister Cornelia answered," Dr. Scarrow said. A handful of sisters – part of the Daughters of St. Francis of Assisi – soon rolled in on a bus. They were each wearing hot, black habits, and carrying all of their possessions in small cases. That trip to Mountain View wore them out, but they were even more rattled by the poor condition of the hospital. 
"As you can imagine, it took a lot of prayer and hard work – from mopping, waxing floors and painting – plus a lot of penny pinching, to restore this building," Dr. Scarrow added. A group of Sisters in attendance nodded. "A true testament to their dedication, they even slept on the floor of the hospital. And for food, they lived mostly on apples from an apple tree out back – raising funds by selling apple butter, jam and other products. Today, an orchard still exists behind our convent – and that stewardship is still very much alive within these walls."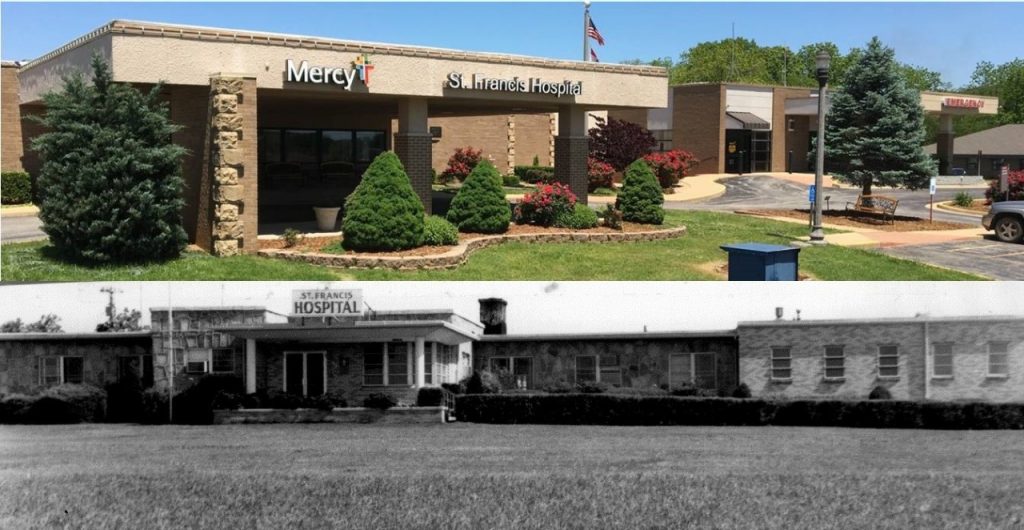 A new and old glimpse at Mercy St. Francis Hospital
Before the hospital opened, the Sisters went door to door, asking for spare change to help pay bills – forging a strong bond with the community it would soon serve. Under Sister Cornelia's leadership, those same Sisters would soon serve on the nursing staff and other pivotal roles at the hospital. They'd also ensure that this was one of the first hospitals to be accredited by the Joint Commission in the '60s. They also oversaw much-needed expansions in the years ahead – responding to community growth and demand. Eventually, the hospital joined the Mercy Health System in the late '90s.
"And It was a perfect match," Dr. Scarrow said. 
Right now, Mercy is celebrating another milestone: 125 years of bringing health care to communities in need around the Ozarks, a mission that started in Springfield with a plea from a local doctor to establish the city's first hospital. 
"Today, we have new challenges – but we're meeting them with new technology, expanded services and better efficiency. We're building on the foundation that was built right here, beneath our feet," Dr. Scarrow said.
An hour-long celebration was followed by tours of Mercy St. Francis Hospital, with special exhibits highlighting special memories from the last six decades.
"It's an exciting opportunity to reflect on our 60-year history," said Cindy Tooley, executive director of operations at Mercy St. Francis Hospital. "Not only did we get glimpse of our past, but we showed the community some new projects, from our rennovated chapel to our newly-expanded emergency department."
Rennovations in the chapel include a new stained glass image of Saint Francis of Assisi. The emergency department project was funded by an anonymous donation by a community member (see photos, below).
To learn more about Mercy St. Francis Hospital, click here.
Photo Gallery of Mercy's Oct. 30 Celebration
Media Contacts
Sonya Kullmann
Branson, Cassville, Lebanon, Mountain View, Rolla, Springfield, Aurora