November 18, 2016
Karen Fenstermacher has learned that patients in this country can lack patience.
It's a perspective that the nurse practitioner at Mercy Clinic Family Medicine – Neosho has gained over the years while on medical mission trips. Karen learned firsthand how people in other countries appreciate health care so much they're willing to wait hours to receive it.
"With so many people in the U.S., if they have to wait 15 minutes, they get upset," she said of how blessed Americans are to have quick, convenient care. "It's made me learn to be more patient if I'm the one who's waiting."
Karen was a nurse for 18 years and has been a family nurse practitioner for more than 21 years. Since 1999, she's taken a medical mission trip all but one year to Jamaica. She's been to Tanzania in Africa three times since 2010 and has been to Peru once, all for medical mission trips.
"I've always liked to travel and enjoy practicing medicine," she said of deciding to take her first venture. "I felt like God was calling me to go on a mission trip."
Most of her trips to Jamaica have been to Falmouth on the northwest coast. She's been leading the trip for years and is so well-received there that locals call her a "Jamerican."
"We go down there thinking we're going to be a blessing to the people there because we help them get medical care they wouldn't get otherwise," she said. "Every time, we come back feeling more blessed."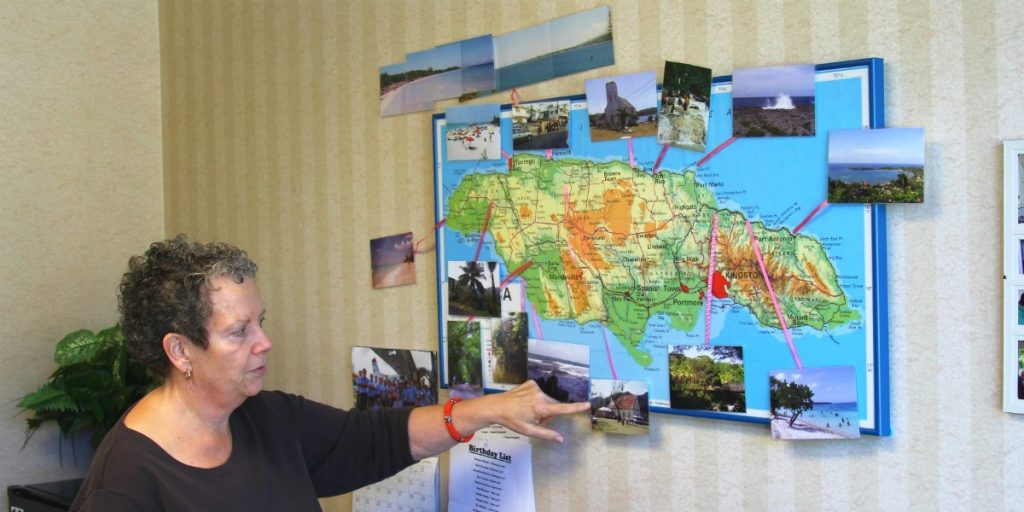 Karent Fenstermacher shows a map and photo display in her office depicting her medical mission trips to Jamaica.
Treating patients around the world has helped Karen think through how she approaches her U.S. patients, too. "I look at it as treating people how I would want to be treated," she said. "It's just sitting down and talking to people and taking the time to listen."
The ability to spend quality time with patients is something nurse practitioners often can do as they're not scheduled as tightly as doctors, according to her. As a result, many patients tell her they appreciate her level of care.
"Their comment to me is, 'You listen to me and look at me when I talk,'" she said during National Nurse Practitioner Week. "You can take a little more time with a patient, which is nice."
Patients can see nurse practitioners for a variety of reasons, including physicals, wellness exams, diagnosis and treatment of acute illnesses and injuries, and management of chronic conditions.
Lori Leece of Carthage, who is office manager of specialty clinics at Mercy Carthage, kept Karen as her family's primary care provider even after Fenstermacher relocated her practice to Neosho a couple of years ago.
"She is amazing with all she does in the family practice, but also personally with all of her mission nursing work," Leece said. "My family has stayed as patients of hers and drives to Neosho to see her because she is worth the drive. She is the most giving, caring person one could ever be blessed to know."
Media Contacts