December 7, 2016
The school teacher turned patient was so impressed by her nurse Nancy Elias that she nominated her for the quarterly DAISY Award at Mercy Hospital Jefferson.
 "When I first met Nancy, she was 'all business,' a most admirable trait. I sensed her professionalism immediately.
"It may sound silly, but I have bachelor's and master's degrees in elementary education with an emphasis on kindergarten through second grade. I mention this because when I arrived, I felt like one of the children I taught for 20 years. I was frightened, lost, and in need of care and compassion.
"Once I got to know Nancy a bit better, the smile and her heart bowled me over. She made me feel safe, cared for, and her No. 1 priority. Working with youth for so long, I recognized that we adults are just over grown 8-year-olds."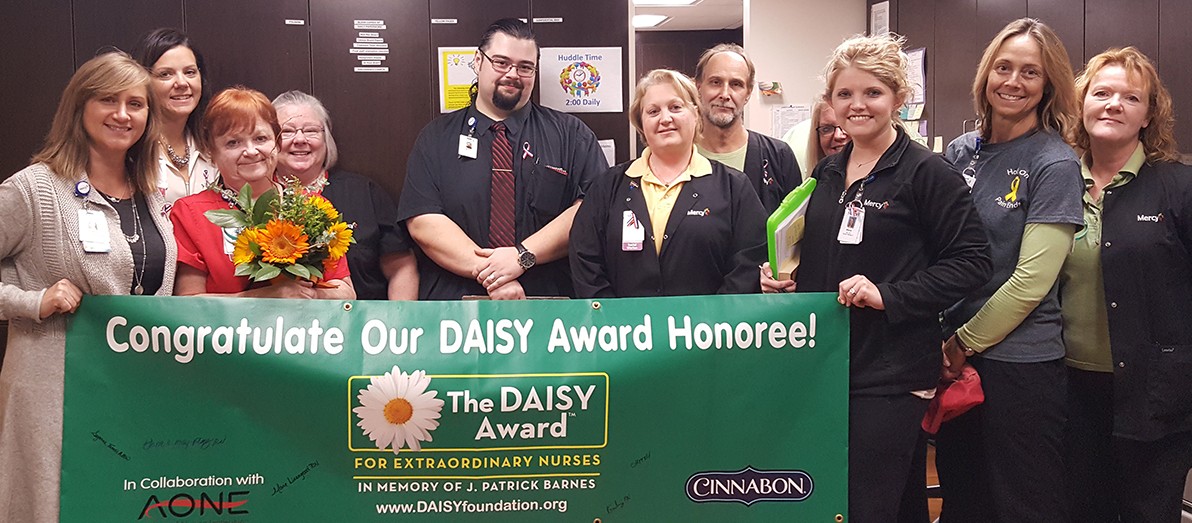 "Nancy may be one of your greatest gems. Proficiency, a caring heart and a quick-witted sense of humor makes Nancy a blessing to her calling."
Nancy's DAISY Award nomination was selected from 90 forms submitted by patients, visitors or co-workers over the past three months.
DAISY is an acronym for Diseases Attacking the Immune System. The family of Patrick Barnes established the Daisy Foundation in 1999 to express gratitude to nurses for the work they do for patients and their families every day. The award is presented in more than 1,900 healthcare facilities in all 50 states and 15 countries.
During the recognition ceremony, surrounded by her co-workers, Elena received an official DAISY pin, a certificate, and a hand-carved stone sculpture entitled "A Healer's Touch." Additionally the national award calls for a celebration for all co-workers in the unit with Cinnabon cinnamon rolls – a favorite of Patrick's during his illness.
"The Barnes family asks that whenever and where ever nurses smell that wonderful cinnamon aroma, they stop for a moment to think about how special they are."
For more information visit www.daisyfoundation.org.
Media Contacts