December 8, 2016
The final piece of steel for the new patient tower at Mercy Hospital Jefferson is scheduled to be set on Wednesday, Dec. 14. A "topping out" ceremony will be held to acknowledge that milestone event.
"Thanks to the talents of our construction partners, the new all private room patient tower is getting closer to a reality day by day," said Eric Ammons, president of Mercy Hospital Jefferson. "The final steel beam will include the signatures and best wishes of many Mercy co-workers."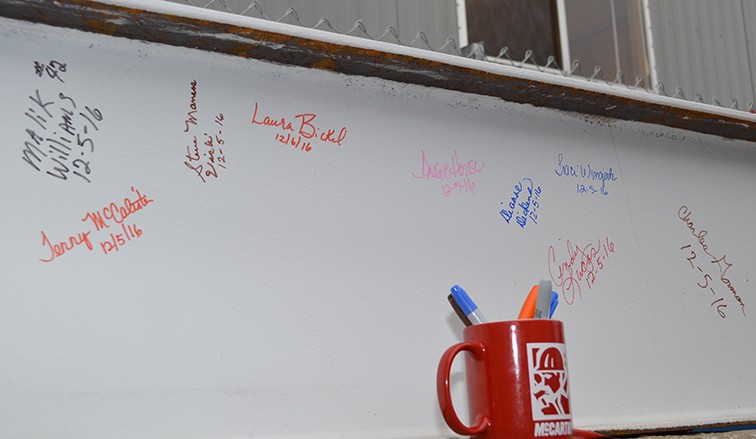 Co-workers are invited to sign the structural I-beam during the week of December 5 through 9. Special paint pens will be available for staff to add their autographs to the steel, which has been painted with a protective white primer.
As the beam is hoisted it will also include an evergreen tree and an American Flag. Attaching a tree to the final structural beam has been practiced by construction workers for centuries. The tree represents growth, life and good luck for the construction workers and the building's future occupants. The flag symbolizes patriotism and signifies that united effort of the project team. 
Father Edward Nemeth, president of St. Pius X High School, will begin the ceremony at 2 p.m. with a prayer and blessing for the structure. The ceremony will be held in Parking Lot D, near the ground floor entrance to the South Medical Office at Mercy Jefferson.
The new building will have 90 private patient rooms on three floors and is the centerpiece of a 30-month construction project that includes a new hospital main entrance, physician offices, cancer center, renovations in the existing patient tower, and much more.
The project remains on schedule for completion in the winter of 2017. Time-lapse construction photos can be viewed on the Mercy Jefferson website at https://app.oxblue.com/open/Mercy/JeffersonTower.
Media Contacts