December 13, 2016
We may never know the girl's name, but that's not important. She knows it. At least she does now.
The 4-year-old's story made national news after a police officer investigating her alleged abuse asked her name. "Idiot," she replied, according to an article in the Washington Post.
Details of the alleged abuse were troubling. The malnourished girl had deep bruises on her face, a black eye and healing scars on her back. Her mother's boyfriend admitted to police he beat the girl. He also admitted he called her "Idiot." It was a joke, he said, according to the newspaper.
The abuse investigation began after the girl was brought to the Cooper-Anthony Mercy Child Advocacy Center in Hot Springs, Arkansas—one of Mercy's many outreach ministries across seven states. The center is a place where many abuse investigations begin. It's also a place where healing begins.
The nonprofit center serves about 600 children each year, first to provide a neutral and child-friendly place where a child can be interviewed, child advocacy services offered and sexual assault exams conducted. The center also assists children and families within the court system and with mental health therapy and support groups. The idea behind the center and others like it is to consolidate services so that all of the adults involved come to the child.
"We have a holistic approach, because that's what it takes to heal a child," said Janice Beaver, director of the center. "Children come in here thinking their life is over - that's it's ruined. So that's the first step of healing, helping them find their voice and helping them tell their story. We can begin to restore their hope and their innocence."
As soon as the 4-year-old arrived at the center in August, advocates at the center knew her case was serious. Family members were called in and police arrested the girl's mother and mother's boyfriend, whose cases are pending.
The Department of Human Services placed the girl with a caregiver who consented to allowing some information about her progress to be released. The news is good, Beaver said.
"I can look out my window and see that beautiful child skipping in the garden. I can see that hope and healing that's already happening. She's safe, she's believed, and she's getting that chance to re-write her story."
The key to such turnarounds is trauma-focused cognitive behavioral therapy, said Karen Wright, a licensed professional counselor at the center. The therapy provides a structured therapeutic process with the goal of returning sometimes severely abused children to normalcy.
The first few weeks are spent establishing a rapport and letting the child know what to expect, Wright said. Next, Wright will work with a child on words to use to describe what's happened. They learn the abuse is not their fault.
"Helping a child find words to be able to communicate what happened to them is empowering.  It gives the child a voice to be heard," she said.
Wright calls the 4-year-old girl "the brave one." She plays and laughs. She's quite resilient.
As the children begin to relay details of their abuse, their stress level may rise, Wright said. Therapists monitor that and work with the children on relaxation. They talk about coping skills and what makes the child feel safe. Therapists want children to be able to soothe themselves if they're triggered or reminded about the abuse. Therapists teach the children and caregivers how to cope because the therapists are in the child's life for such a relatively short time, Wright said.
A child can learn that someone's word – idiot – doesn't define them. 
"Abuse is something that happened to them, but it's not their identity," Wright said.
Therapists work on children's spiritual healing. Wright will let a child know that, "She's beautiful and made in the image of God. God knit her together in her mother's womb."
Wright believes in trauma therapy. She has seen it work for many years. Children often arrive at the lowest point of their lives. "Sometimes they can't even look you in the face," she said.
In the middle of therapy, children will sometimes say, I'll never be able to do this without you. But that changes over time. When they're on that trajectory of hope, Wright knows they're ready to leave.
"Then we launch them back into their lives," she said.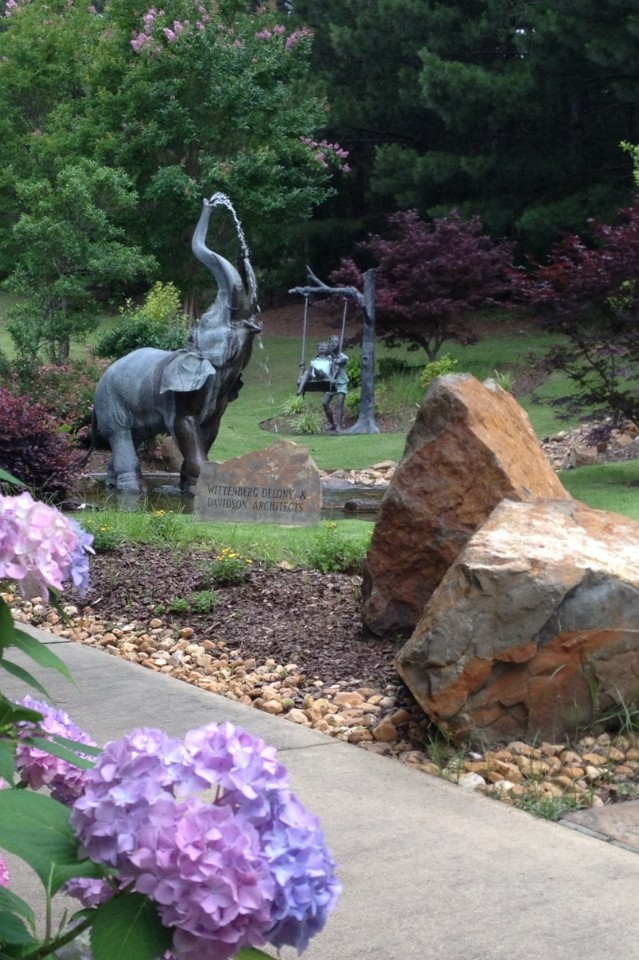 Toward the end of their time at Cooper-Anthony, children literally write down their stories. Wright can hold the story for safekeeping or children can destroy it. Some may shred it or even burn the paper it's written on, she said. 
"That's a concrete way to say it's in the past," Wright said.
The Cooper-Anthony center invites children to return if they need help remembering aspects of what therapy taught them. As they get older, they often understand the abuse on a deeper emotional level. Some may need to check in and reboot.
"They want to reprocess it. That's normal and to be expected," Wright said.
A 13-year-old boy who disclosed years of sexual abuse by an older cousin when he was 9 years old has returned for a check-in with Wright as recently as late October, his mother said. She credits the Cooper-Anthony center with healing both her son and her family.
 "They took a horrible, terrible situation that doesn't make sense, and they helped us find ways to deal with it," she said. "They put us back together when I didn't think that anything could. It's been right up there next to God for me."
At first, she resisted the idea that her son and their family needed therapy. After her son talked about suicide, she knew they did.
 "When he said he didn't want to be here anymore, I knew he needed a lot more than I could do for him as his mom. They helped him understand, this is not your fault, this was not your choice. As much as I wanted to give him that, I couldn't."
Her son also went through thinking that if he didn't talk about it, the abuse would go away. Trauma therapy helped him work through that. 
"They made him feel respected. They made him feel like he mattered," she said. "They supported him when he felt like everyone had given up on him."
The family has been at the center on and off for four years and are always assured they can return anytime, she said.
She has nothing but praise for the center's staff.
"They are true, actual superheroes because they change lives every day. They do this not just for my son, but for so many people. The lives that they're changing for the better – it's just amazing."
The Cooper-Anthony Mercy Child Advocacy Center in Hot Springs relies on donations to help with services, programs and outreach. If you would like to help a child like "this brave one," please click here and select Hot Springs for the gift designation. 
Mercy, named one of the top five large U.S. health systems in 2017 by Truven, an IBM Watson Health company, serves millions annually. Mercy includes 44 acute care and specialty (heart, children's, orthopedic and rehab) hospitals, more than 700 physician practices and outpatient facilities, 40,000 co-workers and more than 2,000 Mercy Clinic physicians in Arkansas, Kansas, Missouri and Oklahoma. Mercy also has outreach ministries in Arkansas, Louisiana, Mississippi and Texas. 
Media Contacts