December 23, 2016
Buchheit of Herculaneum raised $1,948.93 in October for Mercy Health Foundation Jefferson.
Area residents will have more access to cancer screening and information thanks to a generous contribution from Buchheit of Herculaneum to Mercy Health Foundation. Hundreds of customers and team members raised funds by purchasing donation cards, T-shirts and tote bags during the month of October.
A check was presented on Thursday, Dec, 22, by store manager Jamie Schilling to Mercy Health Foundation development director Andy Held, and board members Dan Glore, Tammy Fadler and Bruce King.    
"We see many patients every day who put off their screenings or seeing their doctor because they are worried about the cost," said Mercy Clinic Oncology physician Bhaskara Gadi, MD. "Early detection saves lives. This contribution will allow more people to get the tests they need in a timely manner and ultimately reduce the pain of cancer."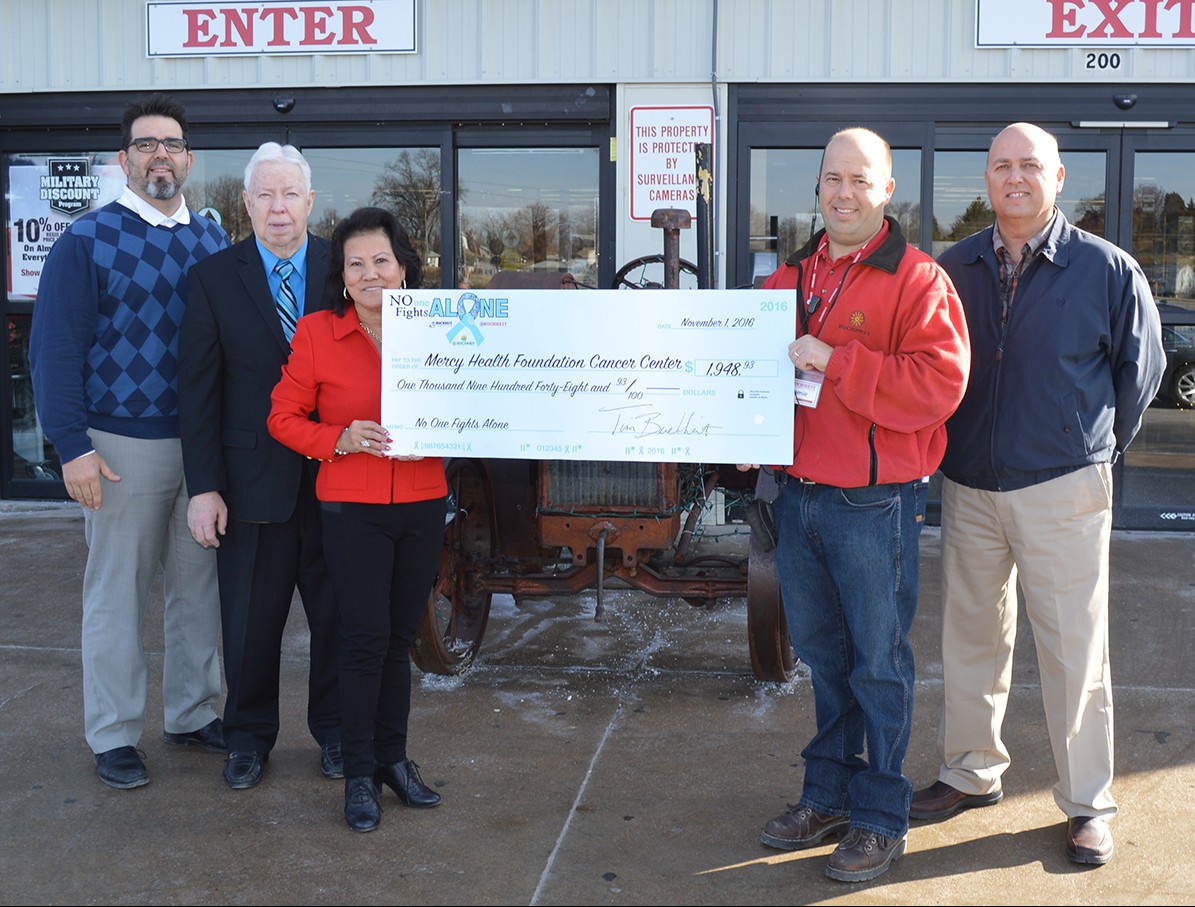 Buchheit made a similar donation last year that helped men and women who are uninsured or underinsured get tests and treatments they needed. Through those contributions 23 patients received mammograms, ultrasound tests and biopsy.
"I want to say thank you on behalf of Mercy and especially the patients who will benefit from this generous donation from our Buchheit store and their customers," said Bill McKenna, Mercy Health Foundation Board Chairman. "We all know someone who is bravely fighting cancer. Thanks to you and your employees, they know they have the support of our community."
Buchheit Retail has been serving the community since 1934. Currently Buchheit Retail operates 8 stores – Herculaneum, House Springs, Perryville and Jackson in Missouri and Jacksonville, Greenville, Centralia and Sparta in Illinois. Buchheit features merchandise for the home, garden and farm that is geared toward exploring the possibilities of a simpler life.
Media Contacts