December 24, 2016
It was supposed to be a "last hurrah" before the Duke family would nearly double in size. When Brooke and her husband, J.R., packed their bags for a fun-filled weekend in Branson, Missouri, they never expected to be gone for four months.
"We knew it would be a while before we could fit in another family vacation," said Brooke, who was pregnant with twins at the time. "So we left Texas with our 12-year-old son, Kyler, and rented a condo on Table Rock Lake. I was going to relax while they visited Silver Dollar City."
Instead, the first item on the Duke family's trip itinerary ended up being the last.
"When we got to the grocery store, I didn't feel quite right, so we diverted to the local hospital, then to the emergency room," Brooke said. "Turns out, I was in labor, and about four months early. I was in total shock."
So were her doctors. Less than one percent of babies are born before the 28-week mark; the earlier they arrive, the higher the likelihood of complications and underdevelopment of vital organs. Brooke was just shy of 24 weeks gestation – that's 16 weeks before their due date.
"We had to learn quickly how rare this was, and how difficult the path ahead would be," said Brooke, who became bedridden hundreds of miles from home as the emotional whirlwind unfolded. "Within days, the boys were born whether we were ready or not."
Jace came first, weighing 1 pound, 12 ounces. Gavin followed, even smaller, at 1 pound, 6 ounces. Both arrived to a world already bracing for their departure.
"Extremely premature babies are at risk for a severe infection known as necrotizing entercolitis, or NEC," said Jennifer Wheeler, a neonatal nurse practitioner in Mercy's neonatal intensive care unit (NICU) who served on the Dukes' care team. "With NEC, the lining of the bowel wall becomes inflamed and infected, and can die off eventually."
Unfortunately, both Jace and Gavin were diagnosed with this severe stage of NEC, their odds of survival below 50 percent. Holding out hope, the Dukes' path led to Mercy Kids in Springfield, Missouri, where they would receive specialized pediatric care.
"When they got here, we honestly didn't think they'd survive," Wheeler said. "Most infants with NEC can get better with antibiotics, but Jace and Gavin were in the rare category where the bowel wall deteriorates, requiring surgery."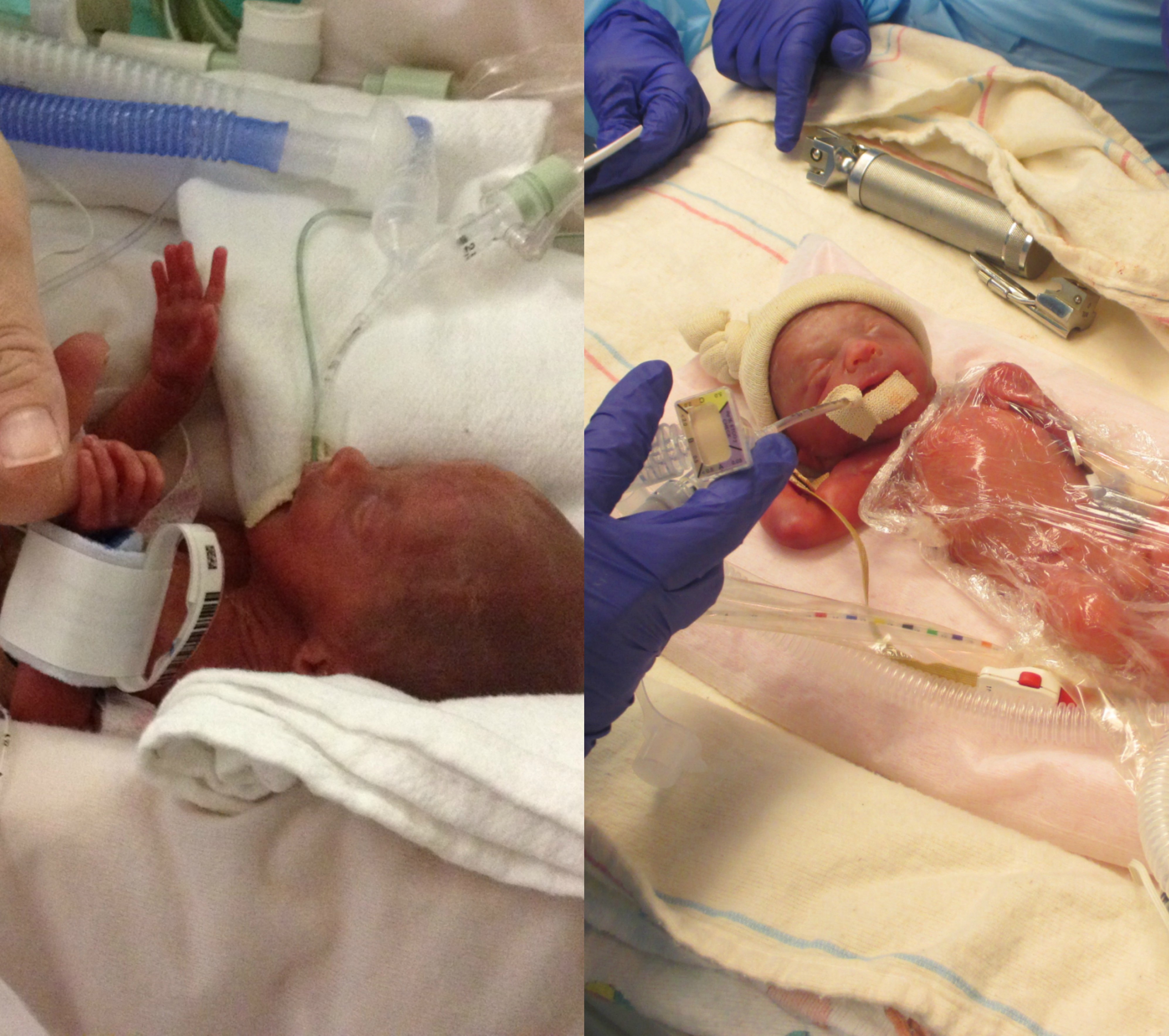 Within hours, the twins underwent successful operations to remove the infected sections of their bowels. Temporary drains were inserted with hopes that the boys would be well enough in a few months for reconstructive surgery. In the meantime, Brooke was encouraged to provide breast milk for her babies in an effort to boost their immune systems, a practice that has helped Mercy significantly reduce instances of NEC in recent years.
"There were so many ups and downs in the weeks that followed," said Brooke, who was surrounded not only by NICU nurses, but also an entire Mercy Kids team, including pediatric surgeons, neurologists, gastroenterologists, endocrinologists and ophthalmologists. "At one point, Jace and Gavin even needed laser eye surgery. The whole team really helped us through everything, on so many levels."
The newborn brothers slowly recovered in a private, single-family twin room within the Mercy NICU walls. All the while, Brooke and J.R. were staying down the hall in the Ronald McDonald House.
"Without it, we would have had to rent an apartment," Brooke said. Family back in Texas helped take care of Kyler, who anxiously awaited video chats with his parents. "Because J.R. and I both have IT jobs, we set up a small home office and worked remotely, right inside the hospital. We ended up staying at Mercy for 119 days straight."
Those days turned into months and by fall the "miracle twins" had comfortably grown alongside their Mercy family. It was time to go home.
"To finally be back – not only as a family, but a healthy family – was a miracle," said Brooke. "For so long, we'd held onto the fear that our boys wouldn't make it to Christmas."
Discharged in early October, the twins were able to experience the holidays, and big brother Kyler eventually returned to Branson with his dad. Two years later, the paternal twins who started on the same ill-fated path are now experiencing life through their own, unique vantage points.
"Jace is a lot more laid back and goes with the flow," Brooke said. "Gavin, however, is a little opinionated. They're walking, playing together and following Kyler around everywhere. They really love him."
There's a lot of love still coming from the Mercy NICU, too. The team keeps in contact with the Dukes. "And we look forward to their Christmas card every year," Wheeler said. "It warms my heart to watch them grow, and reminds me that I work in a place where miracles do happen."
Photo Gallery
Mercy, named one of the top five large U.S. health systems in 2017 by Truven, an IBM Watson Health company, serves millions annually. Mercy includes 44 acute care and specialty (heart, children's, orthopedic and rehab) hospitals, more than 700 physician practices and outpatient facilities, 40,000 co-workers and more than 2,000 Mercy Clinic physicians in Arkansas, Kansas, Missouri and Oklahoma. Mercy also has outreach ministries in Arkansas, Louisiana, Mississippi and Texas. 
Media Contacts
Sonya Kullmann
Berryville, Branson, Cassville, Lebanon, Mountain View, Rolla, Springfield, Aurora