January 6, 2017
Dr. Kathleen Berchelmann is a pediatrician at Mercy Children's Hospital, and a mom to six children. She has compiled a list of the Top 10 Educational Websites and Apps for kids in 2017.
The American Academy of Pediatrics has changed their screen time recommendations, finally doing away with the 2-hour-a-day limit. Instead, the new recommendations focus more on quality of screen time rather than quantity. More than 80,000 apps are labeled as educational, but little research validates their quality. As a pediatrician and homeschooling mother of six children, policing my kids' media use has become a daily occupation. Here is my 2017 list of the top 10 websites and apps that are educational enough that I will allow my children to play them for an unlimited time, yet fun enough that my kids want to play them.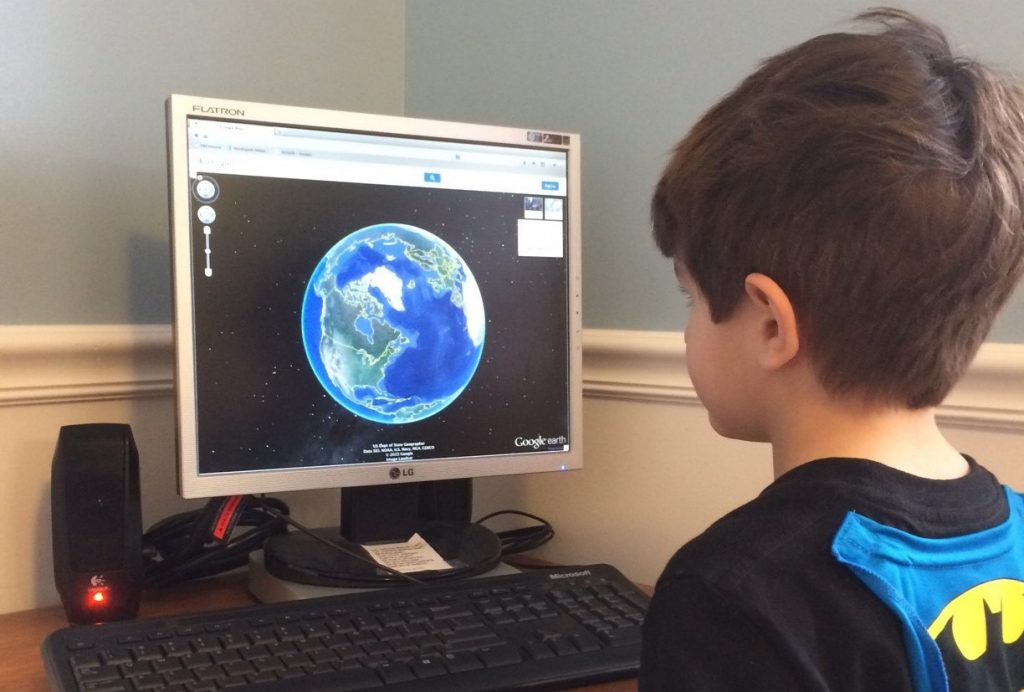 Owen spending quality time on the computer.
Khan Academy (website and app): Khan Academy now collaborates with the U.S. Department of Education and myriad public and private educational institutions to provide "a free, world-class education for anyone, anywhere". It's incredibly easy to use, there are no ads, and it's appropriate for any school-aged child that knows how to read. Although Khan Academy started as a math-learning site, you can now learn just about anything there, from art history to economics. My kids will spend hours looking at computer science projects that other kids have shared and incorporating ideas into their own programs. The Khan platform combines educational videos with practice problems and project assignments. In math, your child starts with a tutorial and pre-test that designs a customized learning plan just for them. Kids are encouraged with reward "badges" when they complete work. Log in as a parent and start an account for your family. Kids can have individual usernames and passwords that all link to one parent's email address. Cost: Free; Ads: None
 
Duolingo (website and app): Awarded Google's "Best of the Best" in 2013, Duolingo provides free interactive foreign-language education in 15 languages (more coming soon). It's simple, user friendly, and never boring. Install the app on your phone and get your language lessons done while you are on the elevator or waiting in line. Duolingo is appropriate for ages 5-adult. One independent study on the effectiveness of Duolingo concluded that a person with no knowledge of Spanish would need about 34 hours to cover the material for the first college semester of Spanish.Our family is learning Spanish through Duolingo. Our oldest kids use the website and move at their own pace. For our 4 and 6 year-olds, we use Apple TV to display the iPad app on our big screen TV, so we can all participate together. Our kids never want to miss it– if I forget, they remind me! You can earn digital awards called "lingots" and use them to "buy" special content. Your progress is displayed in a graph form after every lesson. Cost: Free; Ads: None
 
EdX: EdX provides college and high school courses from leading universities online for free. There are more than 60 courses appropriate for high school students. In 2015, EdX joined forces with the College Board to provide online AP courses. Founded by Harvard University and MIT in 2012, EdX now has more than 85 global partner institutions. Now anyone can learn anything from the very best teachers. Cost: Free, extra fees apply for official transcripts and college credit; Ads: None
 
IXL (website and app): IXL has been massively updated in the past year to incorporate more subjects and allow kids to skip through content if they get enough questions right. It is appropriate for Pre-K through grade 12. If you've tried IXL in the past but didn't love it, try it again and I bet you'll like it. Our kids use IXL.com every day to supplement their regular school curriculum in math, English language arts, social studies and science. IXL is one of the few sites with great math content for non-reading children. Children earn simple online prize pictures for completing milestones. Each skill adjusts to your child's level—if you get enough problems right, it skips to the end, but if you get some wrong you have to do more. The IXL curriculum is entirely practice problems– there are no videos. Written explanations are given for incorrect answers, although non-readers can click on an icon to get audio explanations. Our kids like it because you can skip around and try skills of every type, even those outside of your grade level. I like it because I can assign practice content that coordinates with their regular curriculum. Your child can do a few sets of problems per day for free, or you can subscribe for $9.99 per month or $79 per year for a family membership. Cost: Free limited use or $9.99/month; Ads: None
 
Typing.com (Formerly TypingWeb): Typing.com offers a comprehensive keyboarding/touch typing course that is appropriate for children from Kindergarden through college. Many schools use this program for their keyboarding courses. It is free, although there are ads. For $15, you can remove ads and also access a few premium lessons. Even with a free account your child will learn to type well following their user-friendly curriculum and playing their typing games. My 11-year-old has mastered typing thanks to Typing.com, and it has improved his schoolwork in almost every subject. Writing papers and doing web-based research is faster, easier and more fun now that he can type. Cost: Free; Ads: May be removed for $15
 
Scratch and Scratch, Jr. (website and app): Scratch is a free online tool and app designed by MIT to help kids learn programming. Scratch is intended for kids ages 7-adult. Scratch Jr. is an iPad app designed for ages 5-7. Their website reads, "Coding is the new literacy! With Scratch Jr, young children can program their own interactive stories and games. In the process, they learn to solve problems, design projects and express themselves  creatively on the computer." Kids program their own computer games, art and applications, and then share them with the rest of the online community, so everyone else gets to try it! Your child will get comments from real users about their game, and see how many people viewed their project. It is well monitored and I have never seen any inappropriate content. Most kids start by just playing other people's games, and then looking at how they built the program. Before long, your kids will be programming, too. My 10-year-old has long surpassed me, and my 5-year-old is not far behind. Cost: Free; Ads: None
 
Dragon Box (multiple apps): Better than anyone else, Dragon Box has succeeded in making math into a very fun game. These puzzle-game apps are designed to secretly teach math, algebra and geometry. Kids move through 200 levels without ever realizing they are doing math. Using pictures instead of numbers, kids learn basic algebraic concepts, such as making two sides equal. Dragon Box Numbers is intended for kids aged 4-8, and teaches basic numbers and early math. Two apps teach algebra: Dragon Box 5+ is intended for kids aged 5+, and Dragon Box 12+ for kids aged 12 and up. DragonBox Elements, which teaches geometry, is for ages 9 and up. The puzzles get trickier as you move through the levels… you'll find yourself as addicted as your child. Cost: $4.99-$7.99 in the App Store; Ads: None (also, no in-app purchases)
 
Abcmouse (website and app): ABCMouse.com is a preschool and Kindergarten online educational website that offers a more comprehensive curriculum than PBSKids and tracks your child's progress. We've used it for three of our children  and they love it. There's a ton of content and they will never run out of new things to do. It's possible to totally waste your time on this site, though. You earn prize tickets for each activity completed, and you can use them to buy all kinds of crazy things for your virtual room, yard, and avatar. Our kids quickly learned how to cheat by doing too many easy activities and would waste time collecting tickets and buying dream beds and exotic pets for their avatar. Once we redirect them, though, they get back to all the excellent content like virtual books, reading, and math activities. Kids can almost always make any activity easier, though, so they never really have to push themselves too much. It's a good tool to drive home preschool concepts that you've already taught. Cost: $7.95 per month or $79 per year, 30 day free trial; Ads: None
 
Memory King and other Alligator Apps: Many apps have tried to replicate the classic memory game, but I think Memory King does it best. Our whole family  plays this game and enjoys it. You can play with up to four players, so it is a great way to spend a few minutes with your children while you are waiting somewhere. Alligator Apps is a company that has created an entire line of early childhood learning apps, many of which we use every day, and most of which are free. Available for iOS. Cost: most $1.99; Ads: None 
 
Stack the States and Stack the Countries: Voted best kids app for iPad, Stack the States is the fastest, easiest, and most fun way to learn United States geography. My 8-year-old was instantly glued to it, and within a month had it all memorized. He moved on to Stack the Countries, and within months had memorized the name and location of every country in the world. He's now working his way through another app by Free Cloud Design called Presidents vs. Aliens, which teaches presidential history. Cost: $1.99 at the app store or play the free lite versions; Ads: None
What about Minecraft, Lego.com, television shows and the American Girl Doll website? We call this "junky" screen time, and our kids understand that it is like junk food. A little  bit is OK, but too much is not healthy. They do get junky screen time, but only after all their schoolwork and chores are done and they have to use a timer. If they are aren't behaving or if they just haven't been outside all day, there is no junky screentime. My older kids are so busy with extracurricular activities, schoolwork and chores that there  just isn't time for junky screentime many days. They get used to going without junky screen time, which is a good lifetime habit even for adults.
We finish the day with screen-free dinner and bedtime. Screentime before bed makes it harder for kids to fall asleep, so we try not to use screens after dinner. Talking and spending time with family before bed prevents sleep anxiety and helps kids get the good night's sleep they need to wake up ready for a new day.
Media Contacts