January 24, 2017
The story of the Good Samaritan (Luke 10:30-37) gives a clear picture of God's desire for us to help those in desperate need wherever we find them. After describing how the Samaritan rescued a hurting man whom others had passed by, Jesus said, "Go and do likewise."
For Mercy co-worker Adam Yeargin and other volunteers of Samaritan's Purse - a worldwide Christian humanitarian aid organization - their mission is to follow Christ's example by helping those in need.
"I've always enjoyed being able to go and do service, wherever I'm needed," Yeargin said. "When disaster strikes, medical support is a primary need. My heart goes out to those people."
As a clinical pharmacist at Mercy Hospital Springfield, Yeargin's services were especially needed last spring when a 7.8 magnitude earthquake rocked Ecuador's coast, killing hundreds and injuring thousands more. In the heart of the hardest hit region is Chone, where a hospital was destroyed, leaving injured people with nowhere to go.
"Samaritan's Purse set up a temporary field hospital – like the one we used in Joplin after the tornado. We served people from all over the region."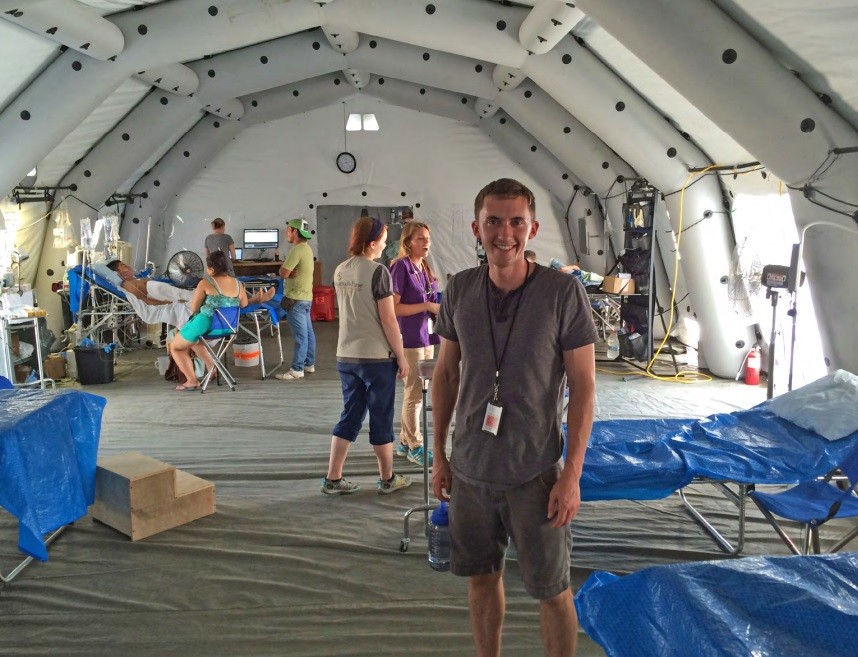 Less than six days after the April 18 earthquake, Samaritan's Purse had dispatched and opened the field hospital in Chone. During the three weeks he was there, Adam used his paid time off by working in the pharmacy and in the emergency room where he helped nurses administer medications.
"I did whatever I could to help. Since I know Spanish, I also prayed with patients." Samaritan's Purse provides the manpower, supplies and funds to immediately deploy when disaster happens. In the case of a natural disaster, Adam accepts things he cannot change. But he also has the courage to change what he can. That's why he's on Samaritan's Purse's call list and is willing to leave the comforts of home to reach people who have no other access to medical help.
"Ecuador wasn't my first, and no doubt, it won't be my last. I'll go again if I'm needed."
Media Contacts
Sonya Kullmann
Berryville, Branson, Cassville, Lebanon, Mountain View, Rolla, Springfield, Aurora