February 1, 2017
Dr. Heath Merkley took a fairly normal path as a youth in determining he wanted to go into the medical field. It was after that when things got interesting.
Dr. Merkley literally traveled the world before landing in December in Joplin to work for Mercy Clinic Women's Health as an OB-GYN physician. He also sees patients Thursdays at Mercy Clinic Women's Health – Carthage.
His medical journey began in Herriman, Utah. "I've known since I was very young that I wanted to be a physician," he said. "My mom was a nurse, so I was around health care growing up."
That interest grew when he took a human biology class at Bingham High School. "It was a breeze and was so easy. My teacher even asked me what I wanted to do for a career. I said I wanted to be a physician. She said, 'Yes, you need to do that.'"
He was a missionary for the Church of Jesus Christ of Latter Day Saints for two years in Brazil, where he learned and became fluent in Portuguese. "By the end, I had many local people mistake me for being Brazilian," Dr. Merkley said. "The only difference is that most there are not my height."
While working on his undergraduate degree in biology at the University of Utah, he thought at first he wanted to go into orthopedic surgery. He decided that specialty wasn't for him and was unsure where he'd end up as his training neared completion.
Dr. Merkley's last residency rotation was in obstetrics, something he thought he wouldn't enjoy. That was until he noticed that his attending physician was going to deliver a baby for a mother, whom he delivered more than 20 years prior.
"The first week I was in the clinic, I absolutely loved how providers were seeing patients multiple times," he said. "The next week I was in GYN surgery. One of the things that gynecology has is a robot. I knew I wanted to do robotic surgeries.
"I came home and told my wife that we needed to sit down and have a talk. She said, 'I already know what you're going to say. You want to go into OB/GYN. I know because you come home happy every night.'"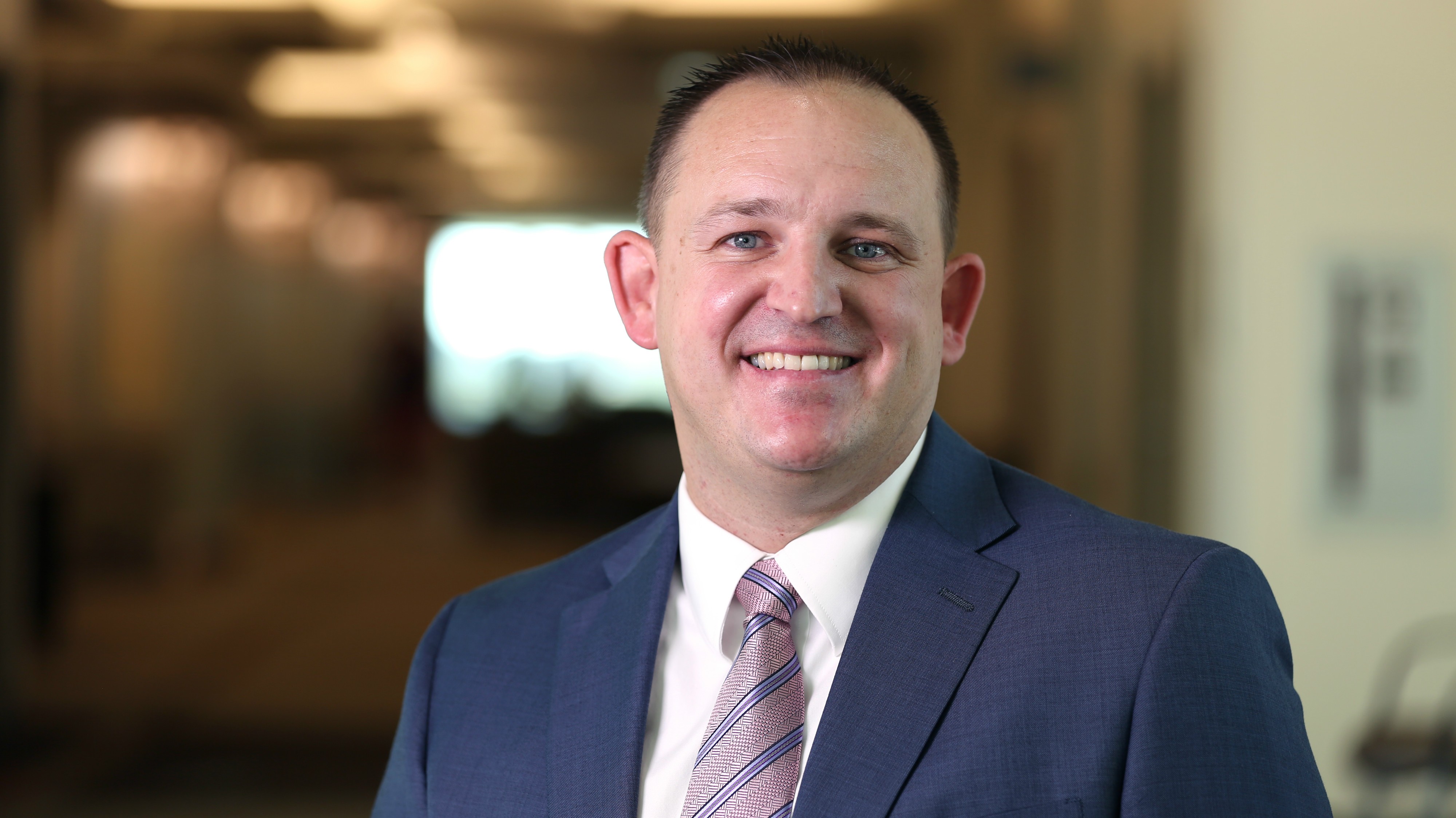 What brought Dr. Merkley to Joplin? That's probably the most interesting aspect of his journey.
While attending St. Matthew's University School of Medicine at Grand Cayman, Cayman Islands, Dr. Merkley met Dr. Jeffrey Manley, who was a year ahead of him. They performed their residencies at Central Michigan University's Synergy Medical Education Alliance in Saginaw.
Mercy began recruiting Dr. Manley shortly before the May 2011 tornado. He still went to Joplin that July despite the hospital being damaged beyond repair. About a year later, he helped recruit Dr. Merkley.
"We were very good friends in residency and talked about practicing together at some point," he said. "I visited and fell in love with the program. It was a great opportunity being that the area needed more robotics surgeons."
Dr. Merkley, however, had an Army commitment to fulfill as a captain and a surgeon at Fort Sill, Okla. Mercy was willing to wait as his services still would be in demand when he finished his Army obligation a few years later, which occurred last year.
"The need for women's health is huge here," he said.
Mercy is the only medical facility in the Joplin area with the da Vinci Surgical System, which uses robotics made by the U.S. company Intuitive Surgical to facilitate complex surgery using a minimally invasive approach controlled by a surgeon from a console. For the patient, there typically is less blood loss and recovery time, resulting in lower costs for patients, hospitals and health insurers due to shorter hospital stays.
Dr. Merkley uses the device for hysterectomies and other pelvic surgeries, as does Dr. Manley. Dr. Merkley also has an interest in high-risk OB patients, pelvic pain and endometriosis, a disorder in which tissue that normally lines the uterus grows outside of it.
Life has been interesting for Dr. Merkley and wife Cora, who have boys age 14 and 11, as well as an adopted baby girl, as they embark on the next stage of their journey in Joplin.
"I like to be challenged with a variety of things, especially technology," he said. "The da Vinci robot was up and coming and is at the forefront of medicine. That really interests me and why it's something I specialize in now."
Mercy Clinic Women's Health
Our Providers
Practices
Media Contacts