February 10, 2017
You've heard of the DAISY Award for Mercy nurses. The Tulip Award is for any non-nursing co-worker and is our special way of saying "thank you" for bringing Mercy's values to life! Congratulations to our first Tulip recipients. Have someone you'd like to nominate? Click here.
Velma Brawdy, Registered Respiratory Therapist-Lead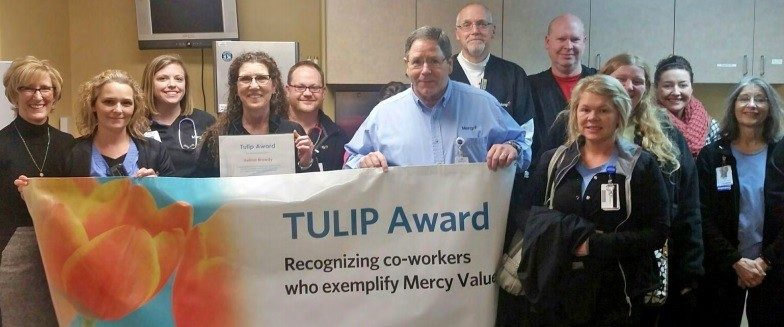 Mercy Hospital Springfield's Respiratory Therapy group celebrates Velma Bawdy's Tulip award announcement. Velma is standing fourth from left.
Nominated by Alicia Gregorski, Megan Lemons, Jennifer Shepherd and Ron Kemp, Jr.
Velma's nominators wrote: "One particular weekend with high census and low staff, Velma took a work load all weekend, still did rounds to check on all RTs for breaks, carried the phone to be available for questions, made assignments, responded to rapid respond and made calls to physicians for changes. Velma is not just our supervisor – she is our leader."
Rebecca Choate, BOC Orthotist

Mercy Hospital Springfield's Acute Therapy Services group celebrates with Rebecca Choate. Rebecca is standing third from right, front row.
Nominated by Jamie Schatz
Rebecca's has gone above and beyond multiple times for patients. For instance, her nominator wrote:
"A patient that I was seeing in the office for a thoracic compression fracture was placed in a cervical collar and TLSO brace. The braces were very cumbersome for the patient who was frail and elderly. We contacted Rebecca, and she saved the day. We sent this kind little lady to see Rebecca in the hospital to be fitted for a more appropriate brace that would better support her fracture. This made application easier for the patient and her family.
Rebecca is always willing to teach and answer any questions or concerns that patients, family and staff may have about orthotic braces, both in the inpatient and outpatient setting. She has even provided education to our Neurosurgery staff."
Sammi Downing, Patient Care Associate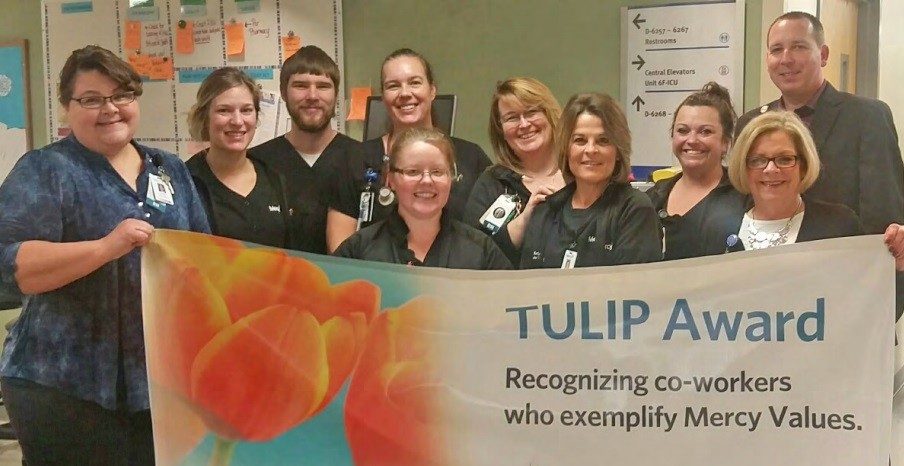 Sammi Downing, standing second from left, front row, is joined by members of Mercy Hospital Springfield's Neuro Trauma Intermediate PCU.
Nominated by Dr. Tobey Cronnell
"We had a patient with aphasia," wrote Sammi's nominator. "He couldn't tell us where his family was and the phone numbers in the chart were incorrect. Sammi was asked to help. Not only did she help, she did all the leg work in finding his family. She made multiple phone calls, used Facebook and called the police to track them down. The family cried and hugged us because they had been looking for him."
Erin Milner, Assistant Manager, Patient Food Services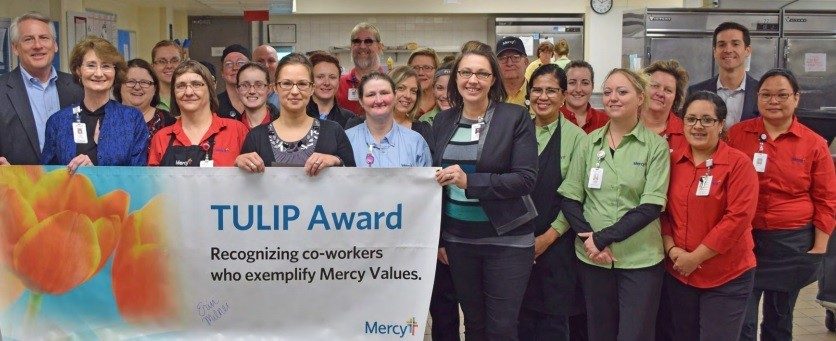 Erin Milner, standing third from left, front row, is joined by members of Mercy Hospital Springfield's Food Services.
Nominated by Latasha Earnhardt, April Devore, Kim Stayce, Megan Wawrzyniak, Geralina Redenius, Noelle Kates, Sheryl Reaves, Marvann Welch, Jeanne Robinson, David Knight, and Haleigh Johnson.
According to Erin's nominators, she is "amazing! She is by far the best supervisor I've had. She is a hard worker, goes above and beyond, stays past her scheduled shift when needed, keeps calm in stressful times and has a positive attitude. Erin is a genuine and caring person. She always asks about family and how they are doing. In a fast-paced, stressful work environment, knowing your boss cares means a lot. Her compassion comes from her heart and shines through her eyes."
Rhonda Tyree, Patient Services Representative
Mercy Clinic Family Medicine-Branson West celebrate with Tulip recipient, Rhonda Tyree, standing fourth from left, front row.
Nominated by Ronda Schiermeier
"On a rainy day, a patient had walked to the clinic for her appointment and was soaked. Rhonda offered her own umbrella to the patient before she left for the walk home."
Mercy Springfield Communities is comprised of Mercy Hospital Springfield, an 866-bed referral center; an orthopedic hospital; a rehab hospital; a children's hospital; five regional hospitals in Lebanon, Aurora, Cassville, Mountain View, Missouri and Berryville, Arkansas; and Mercy Clinic, a physician clinic with nearly 700 doctors and locations throughout the region. It is part of Mercy, named one of the top five large U.S. health systems in 2017 by Truven, an IBM Watson Health company. Mercy serves millions annually and includes 43 acute care and specialty (heart, children's, orthopedic and rehab) hospitals, more than 700 physician practices and outpatient facilities, 40,000 co-workers and more than 2,000 Mercy Clinic physicians in Arkansas, Kansas, Missouri and Oklahoma. Mercy also has outreach ministries in Louisiana, Mississippi and Texas. 
Media Contacts
Sonya Kullmann
Branson, Cassville, Lebanon, Mountain View, Rolla, Springfield, Aurora