February 13, 2017
Just the thought of a gaping wound that won't heal is almost enough to trigger pain. Now imagine living with the soreness, swelling, constant irritation and oozing for over a year's time.
Lorna Smith of rural Redfield, Kansas knows all about it. For 13 months, she tried the traditional procedure to heal a wound about the size of a half dollar. She would see progress, then not. So Dr. Ralph Hall, Mercy Clinic Fort Scott general surgeon, recommended she try a product from a company called Organogenesis, Inc.
The two-step procedure involves first removing any infection from the area with Puraly, an antimicrobial collagen wound matrix.  The second step, called Apligraf, uses living skin substitutes to promote healing.
In Lorna's case, the results were astounding.  Within 19 weeks, roughly a third of the time she spent with traditional treatment, Lorna was release from the doctor's care because her wound was healed.
"I participated in Lorna's care throughout the last several months," said Patty Ryan, Mercy RN and Certified Wound Ostomy Continence Nurse (CWOCN).  "This is the first time I have seen the products Puraply AM and Apligraf used and the results were impressive to me."
Lorna opted for the Organogenesis treatment Dr. Hall suggested over a hyperbaric chamber because she's not one to be in a tight space for a long period of time saying, "the idea of being in a chamber several times a week just wasn't for me. Nor did I want to travel out of Fort Scott for treatments."
"Approximately five percent of wounds are appropriate for this type of treatment," Dr. Hall explained. "There has to be documentation of non-healing for several weeks before we offer this type of treatment."
According to Hall, conditions most commonly treated with new skin substitutes are venous stasis ulcers and diabetic foot ulcers.
Now Lorna is back to doing the things she loves most like the Uniontown Saddle Club, participating in the American Baptist Women at Cherry Grove Baptist Church, playing the piano/organist there, and so very much more.
Lorna added, "I feel blessed to have had Dr. Hall and the Mercy wound care department keep up with new trends and procedures that are helpful to their patients."
To learn more about wound care at Mercy Hospital Fort Scott, talk with your primary care physician.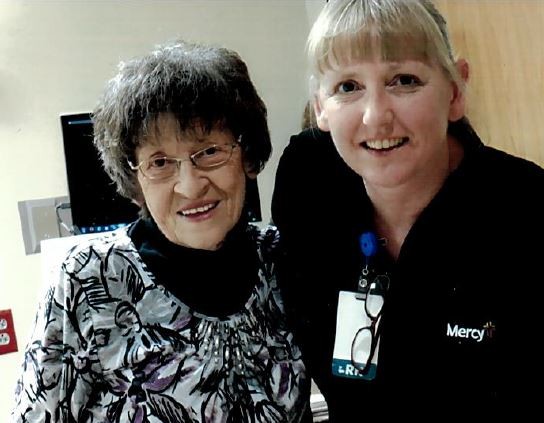 Media Contacts