February 15, 2017
How does a heart doc celebrate Valentine's Day? Well, Interventional Cardiologist Bassam Roukoz, M.D., used the holiday to talk to more than 50 physicians, nurses and community residents about treatments for venous insufficiency at a lunch and learn program at Mercy Jefferson.
"More than 30 million Americans suffer from varicose veins or other more serious forms of venous disease, but fewer than 2 million seek treatment annually. The vast majority remain undiagnosed and untreated," Roukoz said.
New available treatments can provide relief from the discomfort and appearance of varicose veins with reduced pain levels and shortened recovery times compared to older, traditional treatments, he said.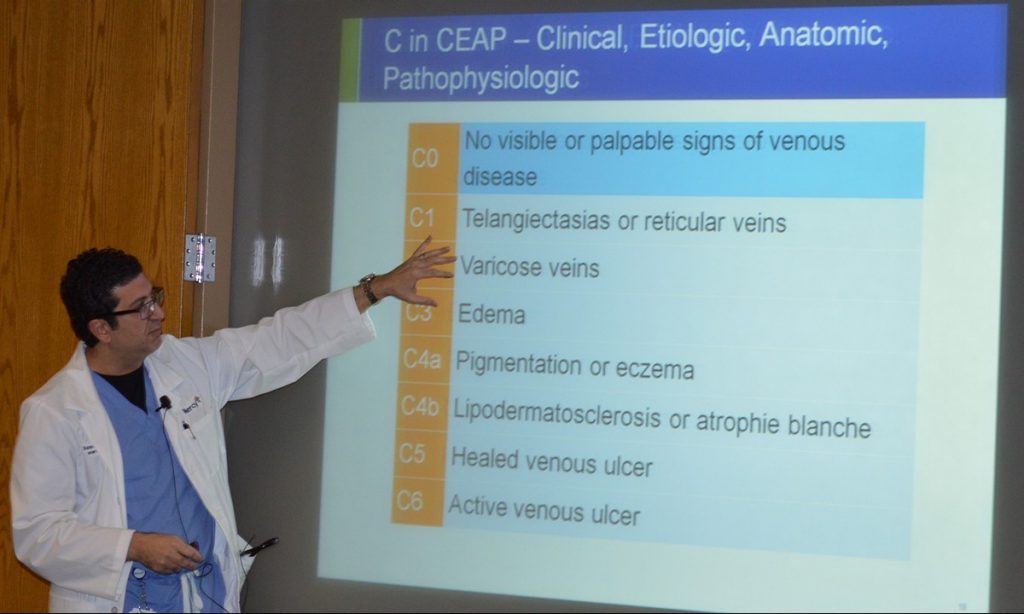 Interventional Cardiologist Bassam Roukoz, M.D., discussed several treatment options for varicose veins and venous insufficiency.
Some of the primary risk factors for varicose veins and chronic venous insufficiency are age, family history, obesity, and occupations that require prolonged standing. It is more common in women and can be related to pregnancy. Other possible risk factors are smoking, hypertension and lack of physical activity.
The most common symptoms associated with venous insufficiency are leg pain, aching or cramping, burning or itching of the skin, leg or ankle swelling, skin discoloration or texture changes, non-healing wounds or sores, restless legs, and varicose veins.
For more information contact your primary care physician, click Mercy Clinic Cardiology or call 636-933-5055.
Media Contacts
Bethany Pope
St. Louis, St. Charles, St. Louis - South, Troy, Festus