March 6, 2017
Congratulations to Heather Wedde for being named Mercy Hospital Jefferson's quarterly Tulip Award Winner! 
Heather is a patient care associate on Second Floor East. She was nominated by Teresa Pinkley, RN, from the Fourth Floor.
"I floated down to Two East," Teresa said in her nomination. "Heather was not my tech, however, she jumped in and helped me with whatever I needed. She volunteered to help me with my patients when she didn't have to. I thought she was outstanding for helping a nurse she didn't know and a team she wasn't assigned to."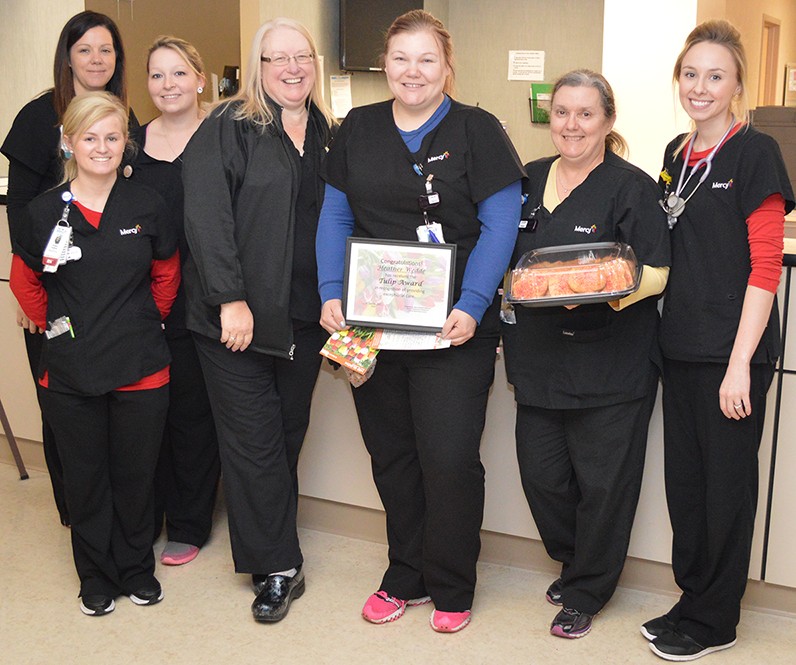 Heather received a framed certificate, tulip bulbs for planting, and a colored tulip pin to wear on her badge, and custom, tulip-shaped cookies to share with co-workers in her department.
Presented by the Professional Development Shared Governance Council, the Tulip Award recognizes techs and assistants as nominated by patients, visitors and co-workers. The council received 26 Tulip nominations for the quarter. Each nominee will receive a certificate acknowledging their nomination and a gold tulip pin. 
You can help to continue to recognize our outstanding PCA/PCT/PSAs by nominating them for an award. If additional nomination forms are needed, please contact Jamie Essary 636-933-1295 or Dani Vishino 636-933-5411.
Media Contacts