March 10, 2017
Suzanne Turner was selected as the Co-worker of the Month for February based on a nomination letter submitted by Behavioral Health Tech Jessica Alexander about the care for a family member who was an Intensive Care Unit patient.
"I just want to tell you how amazing our team at Mercy Jefferson in the ICU is," Jessica wrote in a note addressed to President Eric Ammons. "My sister's mother-in-law was in critical condition. To our family, she was so much more that just my sister's mother-in-law. Everyone knew her, and she was just an amazing person. She was a nurse for 35 years, so you can imagine how much of a caring person she was.
"Unfortunately, we had to say goodbye. It happened very fast. She was fine one day, just flu-like symptoms, to passing away from stage four pancreatic cancer. We were all devastated and still are."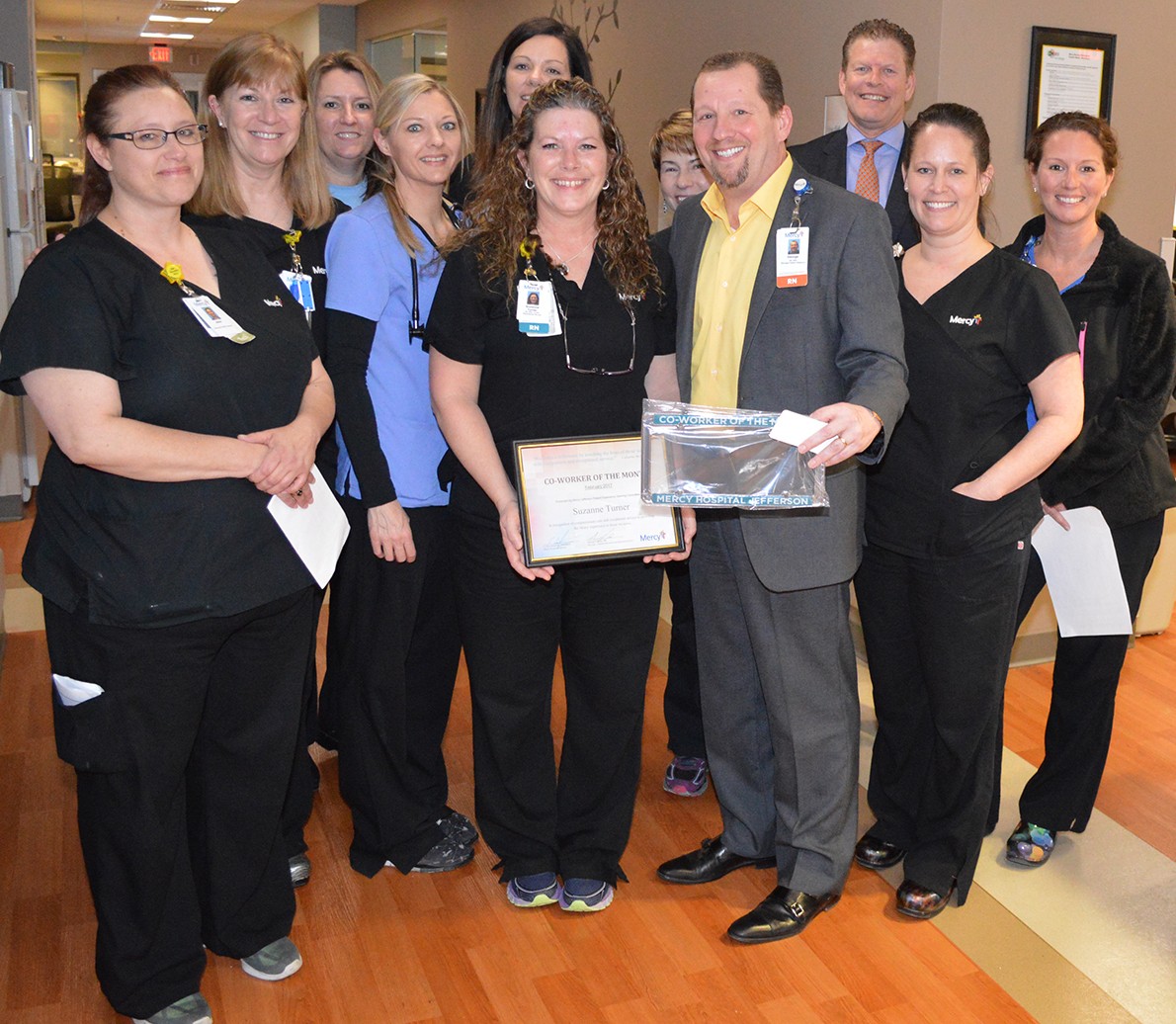 "I was overwhelmed how everyone in the ICU was amazing to our family. Suzanne Turner was so wonderful. She answered all of our questions; she told us every time she was going to do something; she was a pure angel."
"A lot of times, as humans, especially when we are going through rough battles in our lives, we tend to focus on the negatives. Well I can only tell you that without the caring hearts of the ICU, that day could have been the worst day of our lives. To some of us, it's still hard, so we take it day by day.
"Mercy is truly an amazing place to be, and I am very happy to be part of the Mercy family."
Suzanne received recognition as Co-worker of the Month at a surprise representation on March 2. She was presented license plate frame, badge attachment and a designated parking space of her choice for the month.
Media Contacts