March 24, 2017
For the second time in just a few months, Mercy makes the cover of Modern Healthcare - this time for its "game-changing" approach to virtual care.
Even before flipping ahead to the top story, "Tapping Telehealth for Complex Cases," readers will understand how Mercy Virtual works. That's because the health system's telestroke program – which provides patients with a two-way video connection to a Mercy neurologist –  is featured on the front page of the weekly magazine.
And better yet, Mercy Virtual has proven to "crack the nut" of cutting costs while also keeping patients healthier – an acknowledgment by a legal expert in the telemedicine industry.
The article highlights several key Mercy Virtual initiatives, all hubbed at the Mercy Virtual Care Center. Dr. Randy Moore, Mercy Virtual president, says 1,000 patients who were expected to die actually went home last year; in addition, the amount of time patients stayed in the hospital decreased significantly.
Click here to read the article; free registration may be required to access the entire story.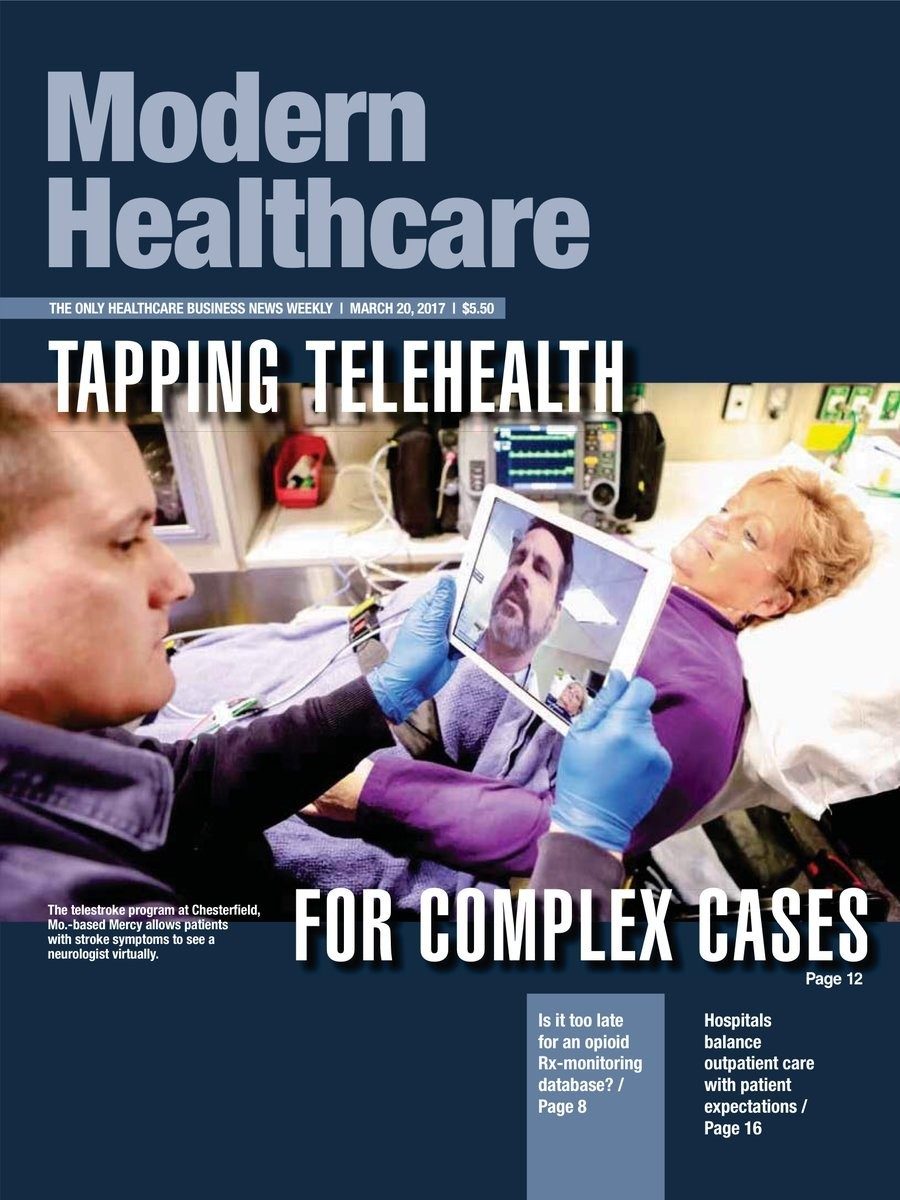 Mercy Virtual in the News
Mercy Virtual delivers virtual care services to 600,000 patients across seven states (Arkansas, Kansas, Missouri, North Carolina, Oklahoma, Pennsylvania and South Carolina), improving patient outcomes and access, while reducing total cost of care. Often called a "hospital without beds," Mercy Virtual Care Center operates 24 hours a day and is staffed with more than 300 clinicians.
Mercy, named one of the top five large U.S. health systems in 2017 by Truven, an IBM Watson Health company, serves millions annually. Mercy includes 44 acute care and specialty (heart, children's, orthopedic and rehab) hospitals, more than 700 physician practices and outpatient facilities, 40,000 co-workers and more than 2,000 Mercy Clinic physicians in Arkansas, Kansas, Missouri and Oklahoma. Mercy also has outreach ministries in Arkansas, Louisiana, Mississippi and Texas. 
Media Contacts