March 28, 2017
ST. LOUIS – Each year more than five million Americans live with heart failure, with many more at risk. Mercy Clinic is addressing challenges these patients face through its Ambulatory Heart Failure Care Management Team, recently recognized as a Stronger HeartsTM Best Practice by the National Forum for Heart Disease and Stroke Prevention.
Mercy Clinic's Ambulatory Heart Failure Care Management Team specifically targets high-risk heart failure patients, assisting them and their caregivers with the transition from hospital to ambulatory setting, with the goal to improve patient outcomes and quality of life.
The multi-disciplinary team treats the whole person, addressing mental, social and physiological factors, including home visits made by nurses and a social worker. Innovative care strategies allow for both quick intervention, and reaching many patients in a short amount of time.
To-date, the Ambulatory Heart Failure Care Management Team has followed 315 high-risk heart failure patients. The 30-day unplanned readmission rate of patients managed by the team is currently 7.3 percent, and the hospital's current heart failure readmission rate is 16.3 percent, (as compared to 18.9 percent in 2014) and the national rate of 21.9 percent.
"Heart failure is one of the leading causes of hospital readmissions, yet with the right focus we can keep these patients out of the hospital and at home," said Dr. Carolyn Koenig, medical chair of Quality for Mercy Clinic in its eastern Missouri region. "It's exciting to have our program recognized, but even more exciting that we're able to keep our patients healthier using team work and better coordinated care."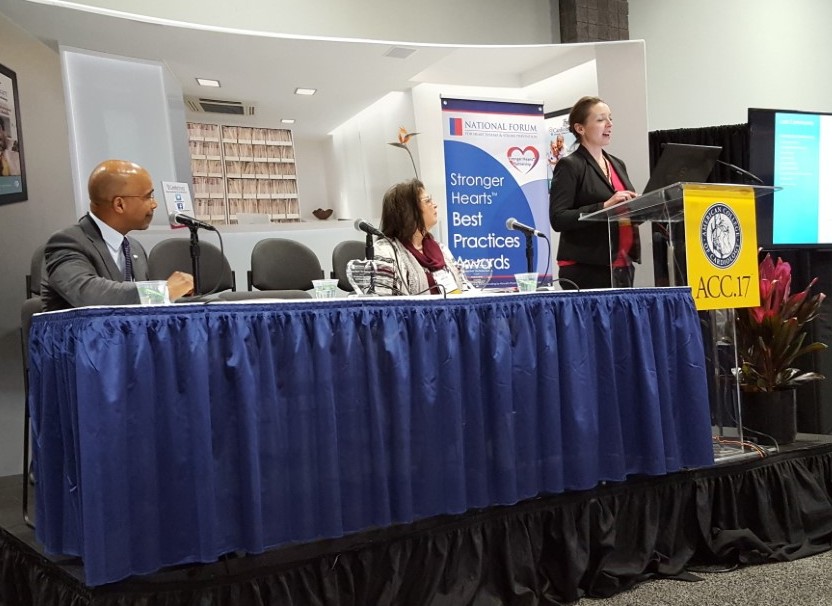 The Stronger HeartsTM Best Practices Award was developed by a national Steering Committee of recognized leaders in heart failure practice, managed care, public health, community outreach, and communications. The committee, convened by the National Forum for Heart Disease & Stroke Prevention, is led by Dr. Clyde W. Yancy, Magerstadt Professor at Northwestern University Feinberg School of Medicine.  The goal of award program is to illuminate community-based programs that improve outcomes for people with heart failure.
The National Forum for Heart Disease & Stroke Prevention brings together the most dynamic and diverse organizations in cardiovascular health, providing a forum and outlet for organizations to amplify their voices. Our members currently represent more than 80 national and international organizations from the public and private healthcare organizations, as well as faith, advocacy, academic, and policy settings. The National Forum is an independent non-profit, 501(c)(3), voluntary health organization. To learn more, visit www.nationalforum.org.                               
Media Contacts