March 30, 2017
A sacred spot steeped in rich history is entering a new chapter at Mercy St. Francis Hospital. On March 30, the community celebrated and toured the improvements made to the hospital chapel.
"For decades, our chapel has been open to anyone who needs it, offering daily mass and a quiet space to pray and reflect," said Cindy Tooley, Mercy St. Francis Hospital administrator. "We wanted to make sure it's well-kept for generations to come."
So with the help of Mercy co-workers and volunteers, the chapel underwent nearly $10,000 in upgrades during the last several months. Half the project was funded by the MercyWay campaign, in which co-workers earmarked money for new carpet and paint, as well as refinishing pews and reupholstering kneelers. The other half was funded by the Mercy St. Francis Auxiliary through year-round bake sales, thrift stores sales, gift shop purchases and other hospital events.
"Our volunteers paid for a new stained glass window, which features St. Francis of Assisi," Tooley said. "This beautiful feature is a testament to our commitment to the community, and honors the heritage of the Daughters of St. Francis of Assisi, who launched the hospital more than 60 years ago." The colorful depiction of St. Francis replaces a fiberglass insert.
The last time the Mercy St. Francis Hospital chapel underwent such drastic changes was in February 1976, when a tornado damaged the former building, located on the north side of the facility. That land was originally purchased in the late 1950s by Dr. Grace Doane, an ally of the Daughters of Assisi.
Six decades later, Mercy is rededicating and blessing the chapel. Father Augustine Lourduswami led the blessing.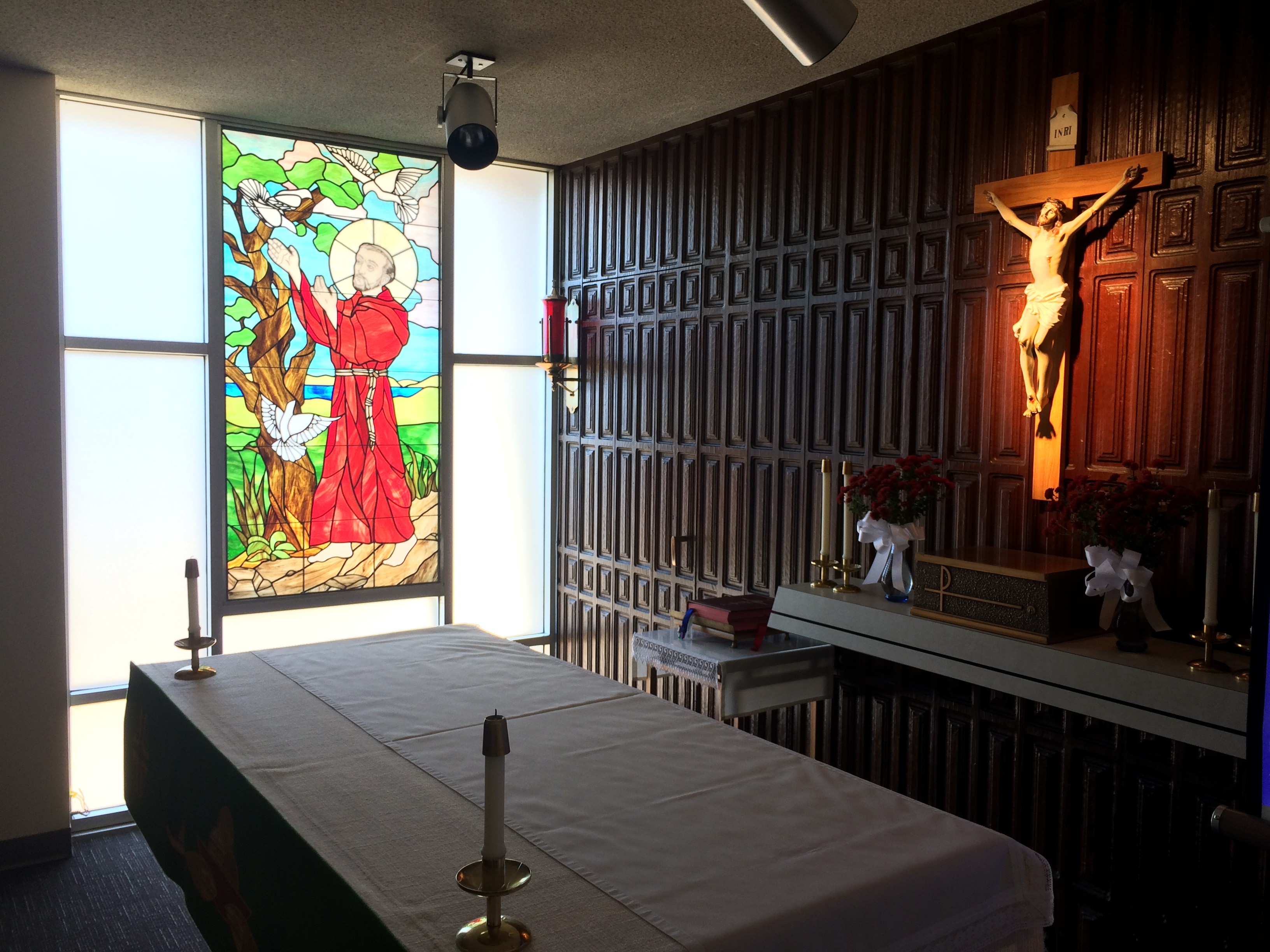 Mercy Springfield Communities is comprised of Mercy Hospital Springfield, an 866-bed referral center; an orthopedic hospital; a rehab hospital; a children's hospital; five regional hospitals in Lebanon, Aurora, Cassville, Mountain View, Missouri and Berryville, Arkansas; and Mercy Clinic, a physician clinic with nearly 700 doctors and locations throughout the region. It is part of Mercy, named one of the top five large U.S. health systems in 2017 by Truven, an IBM Watson Health company. Mercy serves millions annually and includes 43 acute care and specialty (heart, children's, orthopedic and rehab) hospitals, more than 700 physician practices and outpatient facilities, 40,000 co-workers and more than 2,000 Mercy Clinic physicians in Arkansas, Kansas, Missouri and Oklahoma. Mercy also has outreach ministries in Louisiana, Mississippi and Texas. 
Media Contacts
Sonya Kullmann
Berryville, Branson, Cassville, Lebanon, Mountain View, Rolla, Springfield, Aurora