April 3, 2017
Five leaders at Mercy Joplin were celebrated Thursday, March 30 during the Joplin Regional Business Journal's seventh annual Salute to Health Care dinner at The Ramsay Event Center in downtown Joplin. They are Dr. David W. Croy, Dr. Eden M. Esguerra, Dr. Gretchen D. Shull, Tracey Spurgeon and Kathy Newkirk.
Physician
• David W. Croy, MD, department chair, Oncology & Hematology, Mercy Clinic
• Eden M. Esguerra, MD, infectious disease director, Mercy Clinic
• Gretchen D. Shull, MD, medical director, Endocrinology & Diabetes, Mercy Clinic
Nurse
• Tracey Spurgeon, RN, director, emergency department, critical care and trauma, Mercy Hospital Joplin
Educator
• Kathy Newkirk, senior talent development specialist, Mercy Health Ministry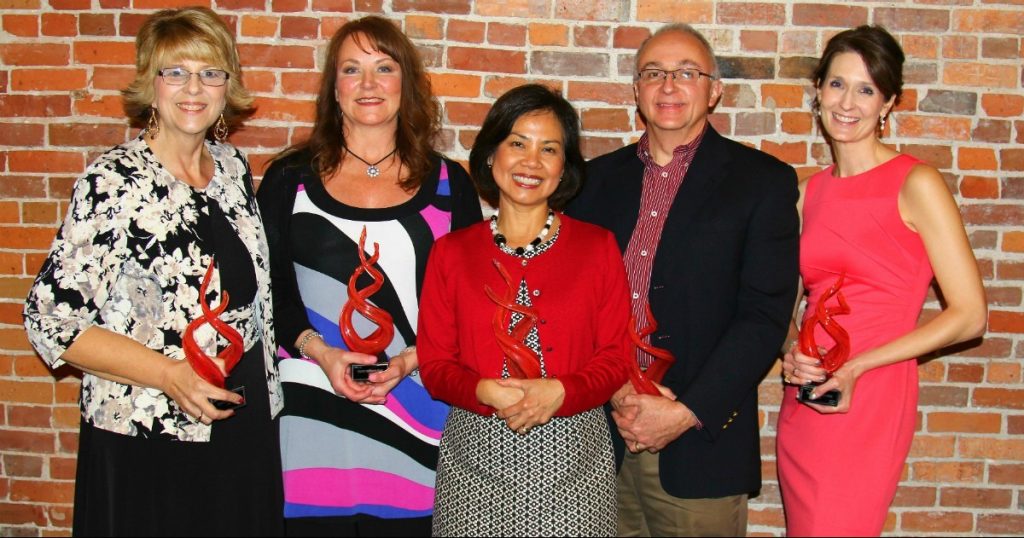 Mercy Joplin's Salute to Health Care honorees, from left, are Kathy Newkirk, Tracey Spurgeon, Dr. Eden Esguerra, Dr. David Croy and Dr. Gretchen Shull.
Media Contacts