April 4, 2017
The March Co-worker of the Month was nominated for the actions he took on one particular day, but his colleagues say, what seemed like extraordinary circumstances, just reflects the way Jason Stacy carries out his work every day.
A Behavioral Health Unit Tech, Jason was called to the Fourth Floor to sit one-on-one with a patient who had been very difficult.
"This patient had been hitting, biting, kicking and spitting at the staff for days all over the hospital," Jennifer Holt, RN, wrote on the nomination form. Jason's kindness calmed the patient.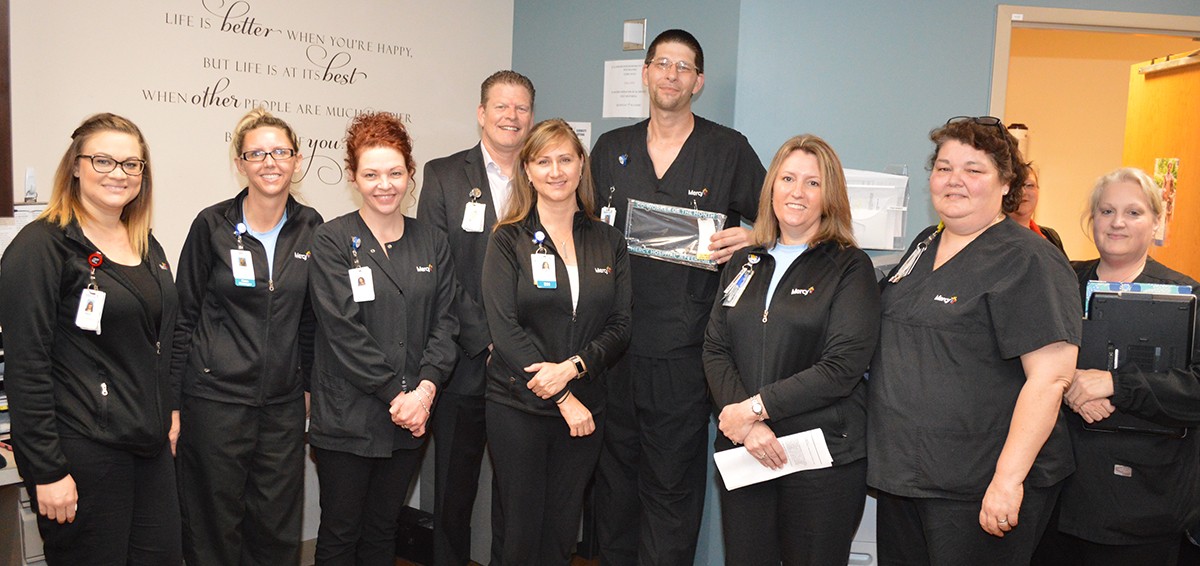 "He explained everything he was doing. He listened to the patient. He talked about things from the man's past and what he liked to do in his younger years," she said as she described how Jason showed the Mercy value of Dignity.
As an example of Justice, Jason's caring extended to the patient's family as he engaged them in conversation when they visited.
"He allowed them to express their concerns about discharge and no facility willing to accept the patient due to his behavior," Jennifer said. "He was kind and caring. He pulled from his experience on behavioral health and calmed their fears."
Jason's display of Service included getting the patient to eat and rubbing the patient's feet with lotion.
"He worked with the patient to help pick food items, discussing every item on the menu and letting the patient decide what sounded good. He talked about chocolate Yoo-hoo and how much he enjoyed it and asked the patient if he would like chocolate milk for an afternoon snack."
Jason didn't just limit his Excellence to the patient he was assigned to in bed 1, but he helped care for the patient's roommate too.
"When this (bed 2) patient was discharged Jason wished him well and expressed how much he enjoyed caring for him. He did all the vitals and blood sugar checks for both patients and reported to the RN all of the results," Jennifer said.
Exemplifying the value of Stewardship he went above the requirements of a BHS tech, providing care beyond his assignment.
"He helped everyone who entered the room, even the housekeeper by picking up the room before she came in to clean," Jennifer said. "Staff all day acknowledged and thanked him for his hard work, and he was humble stating, 'I am just doing my job'."
Jason received recognition as Co-worker of the Month at a surprise representation on March 25. He was presented a license plate frame, badge attachment, and a designated parking space of his choice for the month.
Media Contacts