April 22, 2018
By Mercy's Nancy Hughson
Rising almost organically from a naturally wooded, 40-acre site, Mercy's Virtual Care Center is transforming health care and changing how new commercial buildings are planned, constructed and function.
The first-of-its-kind center opened in the fall of 2015, connecting patients with clinical expertise and convenience. In concert with Forum Studio, Inc. and Clayco, Mercy developed plans that minimized the impact on the earth and provide a better environment for those who will work there – and ultimately those they serve.
"This location is unique because it is mostly untouched," said Shannon Sock, Mercy's chief financial officer. "There are many trees more than 100 years old, a ravine with a small lake and plenty of wildlife. We knew we wanted to preserve as much of the beauty as possible."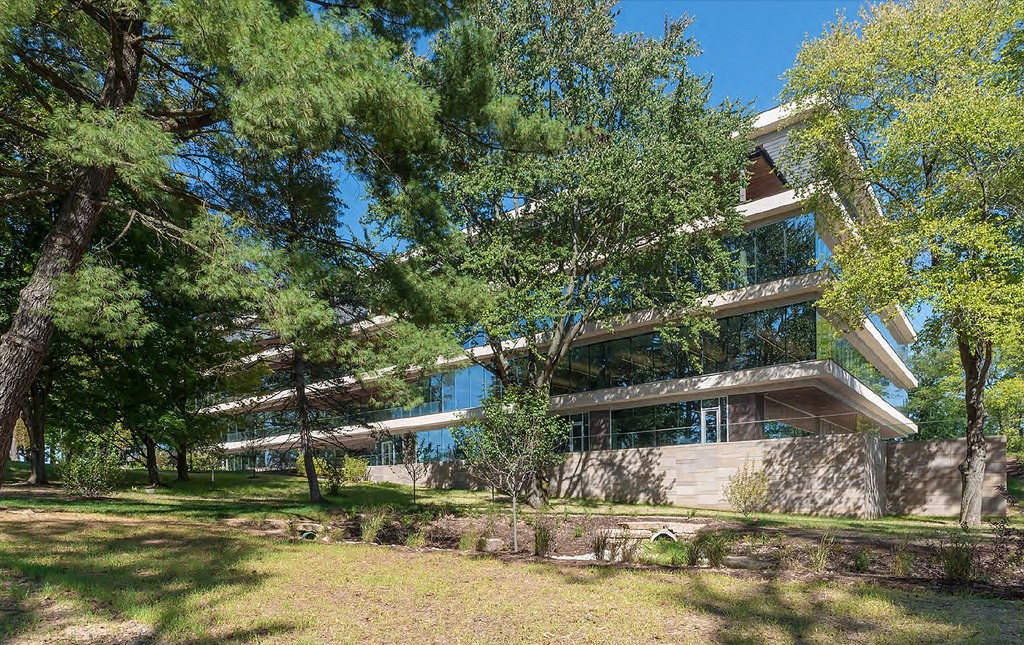 Preserving nature
Most building sites are cleared before construction, but not this one. Instead, the terrain and topography were carefully studied before a single shovel was lifted. As a result, more than 70 percent of the existing landscape was preserved.
"Given the values Mercy has regarding life, we saw nature and wildlife as a very precious commodity, and something we wanted to integrate into our planning, design and ultimately, into our construction," explained Chris Cedergreen, chairman and senior principal of Forum. "Birds, deer, fox, rabbits and squirrels, still co-exist there."
Trees were surveyed and scanned by laser and drone to determine where to nestle the building. An arborist carefully informed decisions about trees and vegetation. Three "watch words" guided the team: preserve, restore and enhance. Some trees weren't indigenous to the area, and the undeveloped site was also home to unwelcome invasive plants, including honeysuckle. Trees chosen for preservation were selected based on size, aesthetics and how they might assist in energy conservation.
"We found a beautiful grove of large, hardwood trees and shifted the building so the south façade would be up against the trees," said Chip Crawford, senior principal at Forum. "This shades the building from sun in the summer months, but allows sunlight to come in during the winter – leveraging nature's genius."
Before construction, trees near the building site were pruned, fenced and maintained to prevent damage. All trees removed were repurposed. Larger pieces were transformed into furnishings; less-desirable pieces were shredded or made into mulch for walking paths and landscaped areas. These measures helped retain the natural beauty of the site and provide shade to parking areas as well.
During construction, Clayco worked to minimize the environmental impact. "The way we build is pretty green and environmentally-conscious," said Ryan Taylor, Clayco project executive. "We use the most efficient and environmentally friendly materials and construction methods possible. We recycle all possible construction waste and train our employees on how to properly participate."
Building design
The 125,000-square-foot center is constructed with natural materials and wrapped in glass to provide maximum exposure to the surrounding views. Inside, all four floors feature an open design for flexibility as operations evolve to better serve patients.
The building isn't just attractive, it's smart, too.
"Mercy's desire for sustainability and good stewardship drove its choices of building systems and interior finishes," said Dave Hirschbuehler, Forum architect and project manager. "In fact, highly efficient mechanical and electrical systems are projected to reduce energy and water consumption by 20 percent."
Examples include:
Air-cooled chillers, a highly efficient air conditioning system, will cool the building.
High-efficiency boilers will provide long-term, significant savings.
LED light fixtures will produce a 10 percent energy savings for lighting.
Low VOC (volatile organic compound) paints and adhesives were chosen to improve air quality.
Formaldehyde-free wooden doors and casework were chosen for the same reason.
A place for healing
Glass walls allow virtually everyone indoors a connection with nature. On every floor, there is either a terrace or balcony where co-workers and visitors can step out to smell, feel or touch the outdoors.
"This connection with the outside is unique for institutional and health care buildings," Cedergreen said. "Having a bond with nature helps improve one's mental state. We knew health care providers would be working at computer screens for long hours at a time, so we wanted to give them the ability to engage with nature both visually and physically."
A small lake on the site was enlarged to enhance the setting and capture storm water run-off. Walking trails and accessible paths will be added to provide a welcome outlet for physical respite during breaks and before or after work.
"Working together with our design and construction partners, we've found a way to preserve the natural beauty of these pristine acres in the heartland of America," said Lynn Britton, Mercy president and chief executive officer. "At the same time, we're providing unprecedented care to patients across the country."
Click here for more about Mercy Virtual, including an artist's rendering, facts, video and photos. 
Mercy Virtual delivers virtual care services to 600,000 patients across seven states (Arkansas, Kansas, Missouri, North Carolina, Oklahoma, Pennsylvania and South Carolina), improving patient outcomes and access, while reducing total cost of care. Often called a "hospital without beds," Mercy Virtual Care Center operates 24 hours a day and is staffed with more than 300 clinicians.
Mercy, named one of the top five large U.S. health systems in 2017 by Truven, an IBM Watson Health company, serves millions annually. Mercy includes 44 acute care and specialty (heart, children's, orthopedic and rehab) hospitals, more than 700 physician practices and outpatient facilities, 40,000 co-workers and more than 2,000 Mercy Clinic physicians in Arkansas, Kansas, Missouri and Oklahoma. Mercy also has outreach ministries in Arkansas, Louisiana, Mississippi and Texas. 
Media Contacts