May 1, 2017
NORMAN, Okla.  – A private-practice physician group that has served the Norman community for more than four decades will join the Mercy network.
Since 1971, Norman Clinic has served thousands of patients and generations in Cleveland County and was at one time the largest group of physicians in the community. Dr. Thomas Merrill has been with the group since 1985. He said joining Mercy allows him and the other physicians greater ability to focus on patients.
"Mercy gives us a strong partner in a fast-changing health care environment," Dr. Merrill said. "We can focus on keeping our patients well, while Mercy focuses more on the operational support and the details of managing a doctor's office."
Dr. Stephen Lindsey, a family medicine specialist who joined Norman Clinic in 1996, said the group ultimately chose Mercy because of similar values and philosophy.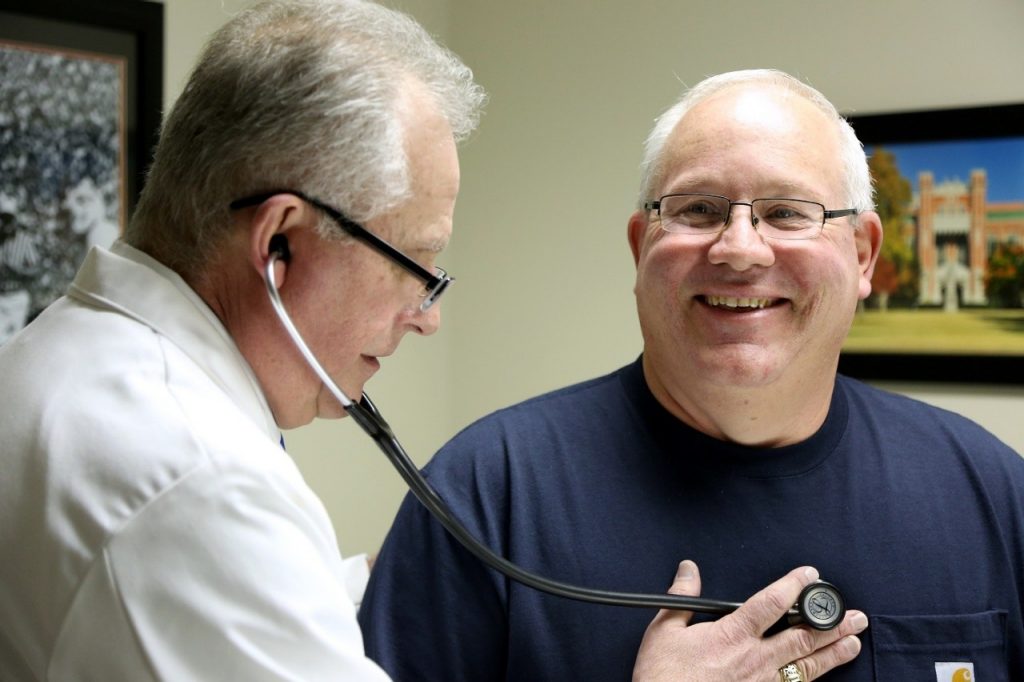 Dr. Stephen Lindsey listens to a patient's heart.
"As health care evolves, it's important to be able to collaborate closely with colleagues across a larger system," Dr. Lindsey said. "It's a move that our patients will benefit from the most."
The number of independent physicians has declined over the last several years. According to Consumer Reports, the number of hospital-employed physicians increased by 50 percent between 2012 and 2015, largely because of insurance regulations, reimbursement pressures and overhead cost. Dr. Merrill said joining Mercy gives Norman Clinic providers more resources for patient care.
"It's often said that there is strength in numbers," Dr. Merrill said. "Joining Mercy allows us the ability to accept more types of patient insurance and give those we care for a wider range of health care services."
The merger is final May 1, when the clinic will be renamed Mercy Clinic Primary Care – Norman Porter.
The full list of physicians and advanced practice registered nurses (APRN) joining Mercy:
Rene Ballard, MD, Internal Medicine
Michelle Barnes, MD, Family Medicine
James Blomgren, MD, Family Medicine
Jonathan Bryan, DO, Internal Medicine
Stephen Connery, MD, Family Medicine
Justin Fields, MD, Internal Medicine and Pediatrics
Amy Hobson, APRN
John Krodel, MD, Internal Medicine
Stephen Lindsey, MD, Family Medicine
Kelley Lobb, MD, Family Medicine
Thomas Merrill, MD, Internal Medicine
Paul Plusquellec, MD, Internal Medicine
Christian Sieck, MD, Family Medicine
"The community has relied on this well-respected group to provide care for generations of families," said Di Smalley, Mercy's regional president. "We are honored this outstanding group chose to continue their care with Mercy so that we can help serve more patients in Norman and surrounding areas."
Mercy Clinic Primary Care – Norman Porter is at 950 N. Porter Ave., Suites 200 and 300. For more information or to make an appointment, call 405-329-0121.
Media Contacts