May 3, 2017
Extended spring rain and saturated ground conditions have postponed opening of the new entrance to Mercy Jefferson until June 5. The exterior design including the cross component of the new lantern is now evident as the brick, stone and glass facade are being completed.
Landscaping in and around the new parking areas continue and may not be completed until after the new entrance opens. Click here for some of our latest drone footage.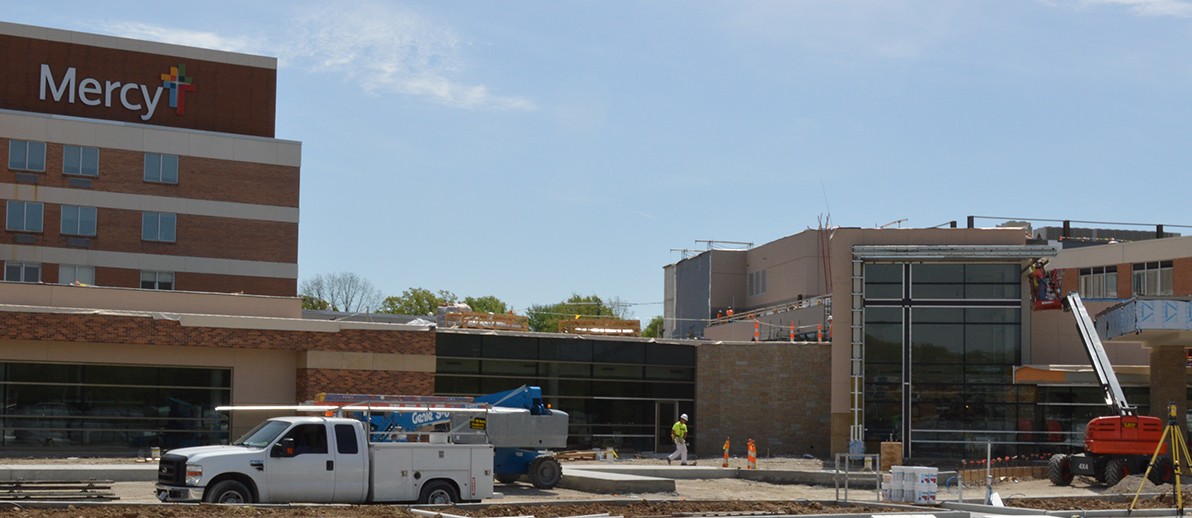 The atrium entrance to the North Medical Office is scheduled for demolition beginning May 15. Patients and visitors to the clinic offices in the north building should use the existing main entrance or the ground floor access near the outpatient rehab gym in Therapy Services.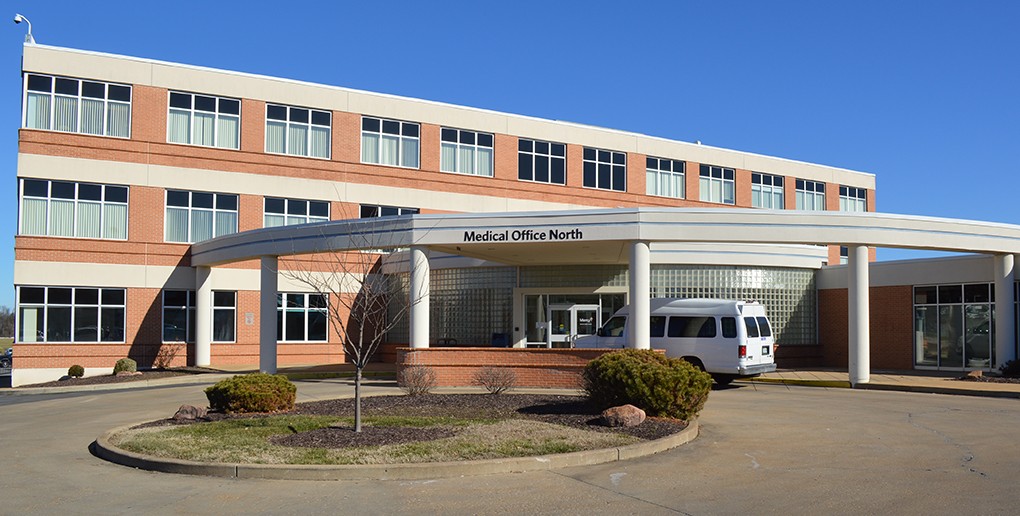 When the demolition begins, the driveway entrance to the front parking lot from Industrial Drive will close along with more than 30 parking places near the front of the North Medical Office. Parking for patients and visitors will be available on Lot F near Therapy Services and in the parking lot of the former Pain Management Center.
When the new main entrance opens on June 5, dozens of new parking places will be available near the front of the building. The existing main entrance will close, so patients and visitors to the North Medical Office will need to enter at the new main entrance or the Therapy Services entrance on Industrial Drive.
The new retail pharmacy will be located just inside the new main entrance. It is scheduled to open on June 12. The remodeled gift shop, which has been operating in a temporary space, is scheduled to open on June 26.
The new main entrance with its covered canopy, full window lantern, reflecting pond, and stone and brick finish will provide a glimpse of the exterior design for the entire hospital make-over. Inside the doors, patients and visitors will find improved way-finding and better access.
Construction of the all-private room patient tower and new cancer center continue to make good progress. Both new buildings are expected to open in December. The new clinic entrance near the north medical office is scheduled to open in January.
The new cancer treatment center is making solid progress toward its scheduled December opening. The new linear accelerator vault has been completed, and the steel superstructure is outlining the building's framework is underway. Interior construction is expected to begin in May.
Media Contacts