May 12, 2017
The young emergency room patient arrived in a police car; she was intoxicated and scared. Her mother, who is also a nurse, praised Emergency Department nurse Sharon Picou for how she handled the situation.
The story was shared on a DAISY Award nomination for extraordinary nurses at Mercy Hospital Jefferson. And Sharon was selected as the winner for the first quarter of 2017. Here is the mother's recounting of that night:
"When we heard from our daughter, she had already been in the ER for several hours. We were not at the bedside to hold her while she cried, but Sharon was," the mother explained on the nomination form. "Sharon was calm and reassuring while our daughter tried to piece the evening together.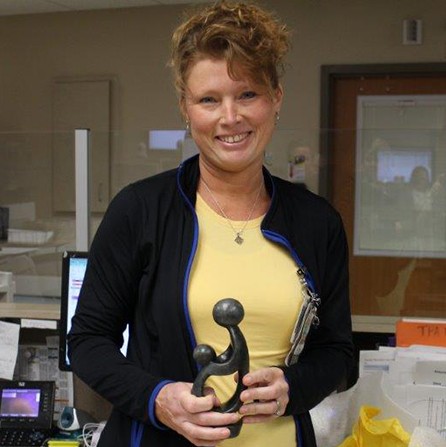 "Our daughter kept saying what a terrible person she was and how she had never done this before. Sharon took time in the busy ER and sat with our daughter as she cried. Sharon kept telling her that she was not a terrible person and that this was just something that she had done. Sharon treated our daughter as a human being instead of labeling her as a drunken patient.
"Sharon gave our daughter her portable phone so that she could call us, but she was crying so hard it was difficult to piece together what she was trying to say. Sharon took the phone and was supportive to me and let me know how our daughter was doing.
"When we came to pick our daughter up, Sharon came into the room and pulled the door closed for privacy and asked if we had any questions. Our daughter was tearful, but Sharon was sitting on the edge of the bed with our daughter, eye-to-eye, letting her know that it was alright.
"As an RN myself I was touched beyond belief. I know that an RN in the ER has a heavy assignment, but Sharon did not in any way ever let our daughter or us feel as though she was too busy to give nurturing care. The most remarkable point of all is that Sharon never labeled our daughter as to what she had done, but took care of her as a regular human being.
"I relearned something during this experience to remember that patients are human beings not a diagnosis. I cannot get Sharon out of my head and how wonderful she was to our daughter. She was there for her when we could not be, and I will always have great respect for her for being the parent when I could not."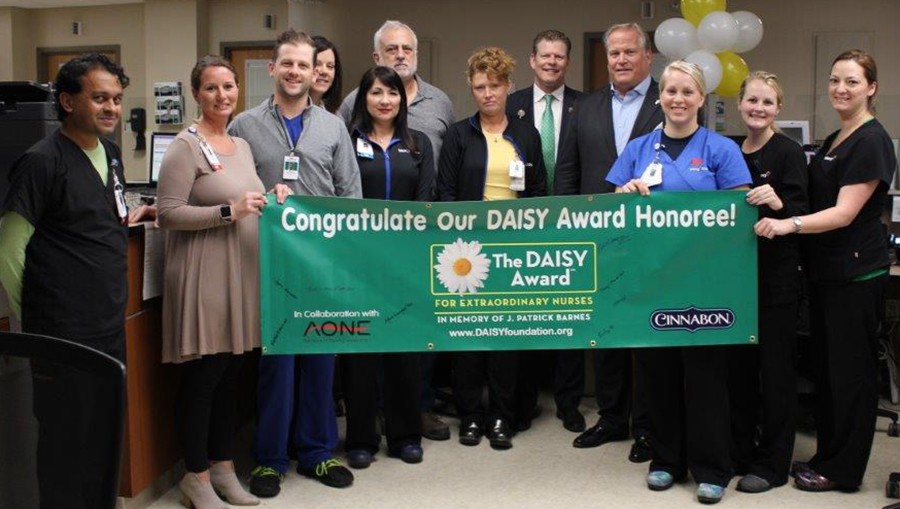 DAISY is an acronym for Diseases Attacking the Immune System. The family of Patrick Barnes established the Daisy Foundation in 1999 to express gratitude to nurses for the work they do for patients and their families every day. The award is presented in more than 1,900 healthcare facilities in all 50 states and 15 countries.
During the recognition ceremony, surrounded by her co-workers, Sharon received an official DAISY pin, a certificate, and a hand-carved stone sculpture entitled "A Healer's Touch." Additionally the national award calls for a celebration for all co-workers in the unit with Cinnabon cinnamon rolls – a favorite of Patrick's during his illness.
"The Barnes family asks that whenever and where ever nurses smell that wonderful cinnamon aroma, they stop for a moment to think about how special they are."
For more information visit www.daisyfoundation.org.
Media Contacts