May 16, 2017
The term "dizzy clinic" almost brings to mind a carnival ride – you hop on, get whirled around for a few minutes and wobble off nice and dizzy. It may have a catchy name, but a dizzy clinic is a very technical subspecialty at Mercy Clinic Ear, Nose, Throat and Allergy – Joplin that, as the name suggests, is for patients experiencing dizziness.
The father-and-daughter team of otolaryngologists Dr. Hilton McDonald and Dr. Lea Humphrey are experts in diagnosing and treating the causes of dizziness, vertigo and other balance problems.
"Dizziness can come from several sources, and people have different definitions of what dizziness is, so it can be a little bit difficult to describe or diagnose at times," Dr. Humphrey said.
"We have patients experiencing everything from lightheadedness to severe spinning sensations," Dr. McDonald said.
Symptoms often are caused for a variety of reasons:
Medications such as those for blood pressure, pain or anxiety
An aftereffect of viruses like chicken pox or shingles
Head trauma
Migraines
Heart problems
The distinction between dizziness and vertigo often is a topic of discussion with patients. Dizziness is a non-specific term for equilibrium disorders. Vertigo is the illusion of motion, either of one's self or the world. It's caused by problems affecting the inner ear or the vestibular (balance) nerve.
Drs. McDonald and Humphrey use specialized equipment to test for dizziness and vertigo, including a machine called a videonystagmogram (VNG). The VNG is used to check for inner-ear problems versus other causes by testing for rapid, repetitive and uncontrolled movement of the eyes called nystagmus.
"The eyes are the window to the ears," Dr. Humphrey said. "Based on eye movements, we can determine if a patient has too much fluid in an ear, inflammation or a loose calcium crystal in the inner ear that is sensitive to gravity."
Once a patient has been diagnosed, treatment options include medication, balance therapy provided by specialized therapists or appropriate specialty referrals.
"Solving dizziness issues, especially through balance therapy, can be crucial to prevent falls," Dr. McDonald said. "In elderly patients, falls can be life threatening."
If dizziness is caused by heart or brain problems, the doctors can refer patients to other Mercy Clinic specialists in Joplin. The two doctors also can diagnose and treat a variety of ear, nose, throat and allergy conditions, as well as skin cancer.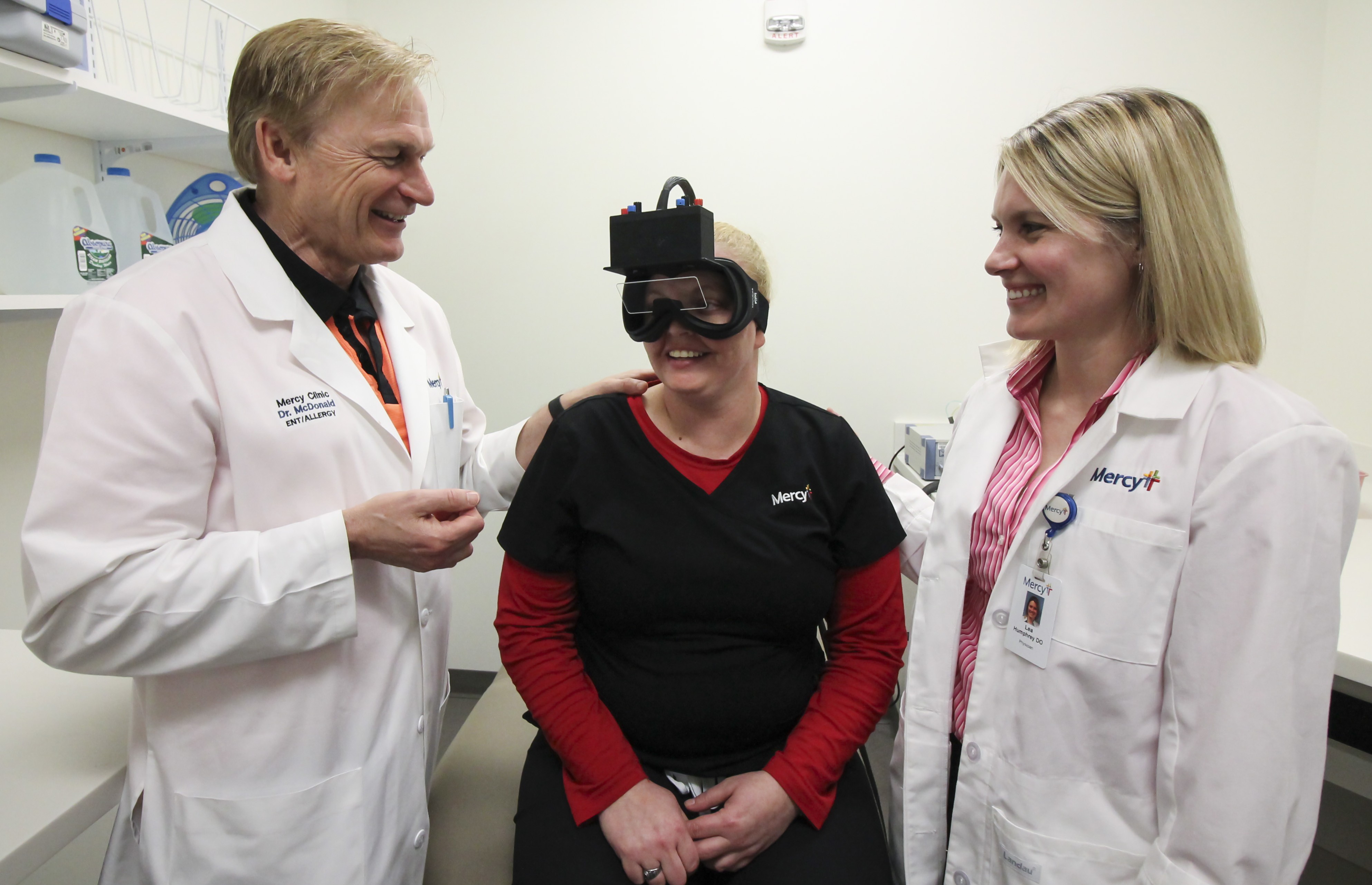 Practices
Media Contacts