June 2, 2017
What does a urologist do? If you answered, "Treat urinary tract infections" or "Deal with dreaded kidney stones," you would be right. What you may not know is that urologists deal with much more than these common ailments. In fact, Mercy Clinic Urology – Joplin has 11 urologists who specialize in a variety of conditions and treatments.
Urology focuses on surgical and medical diseases of the male and female urinary tract system and male reproductive organs. Disorders treated include those involving kidneys, ureters, adrenal glands, bladder, urethra and, in men, prostate, penis, testes, epididymis, vas deferens and seminal vesicles.
Mercy's urology team specializes in robotic surgery, female pelvic medicine, pediatrics, reconstructive surgery, transplants and some types of cancer. Dr. Robert Bruce and Dr. W. Todd Brookover are generalists who treat a variety of urological conditions.
For issues requiring surgery – such as pelvic surgery or prostate, bladder or kidney removal – robotic surgery is becoming the norm. In fact, as much as 90 percent of prostate surgeries are performed with the da Vinci robot, according to Dr. Bruce.
Dr. Jason Cook, Dr. Marc Milsten and Dr. James L'Esperance specialize in robotic surgery. This technology allows surgeons to work laparoscopically (a minimally invasive procedure) to reduce recovery time and hospital stays. It also provides a more precise incision, allows doctors to control special instruments that are able to move at angles the human hand cannot and helps the surgeon see detail with a 3-D viewer.
In women's pelvic medicine, Dr. Scott Litwiller most often deals with the diagnosis and treatment of incontinence and pelvic organ prolapse, which can be caused by childbirth.
Dr. Oren Miller is a pediatric urologist who is specially trained to deal with urological problems in infants to teens. This includes everything from bedwetting to hernias and congenital issues.
"They only train about 20 pediatric urologists a year in the country, so they're very hard to find outside of academic centers," Dr. Bruce said.
Dr. Steve Miller specializes in kidney transplants, plus has a special interest in microsurgical treatment of male infertility and erectile dysfunction.
Dr. James McGeady specializes in urologic trauma and reconstructive surgery for treatment of injuries and several urinary diseases.
Dr. Cole Davis and Dr. Sean Doyle specialize in the diagnosis of urological cancers. These include cancers of the bladder, kidney, prostate and testicles. One in six men will develop prostate cancer at some time in his life – most often after age 50 – but if it's detected early, the cure rate usually is high.
It's clear that Mercy Clinic Urology – Joplin has the capacity to serve every urological need.
"It's pretty unusual for a town this size to have a urology department with all these subspecialists," Dr. Bruce said. "The access and availability of treatment is truly remarkable."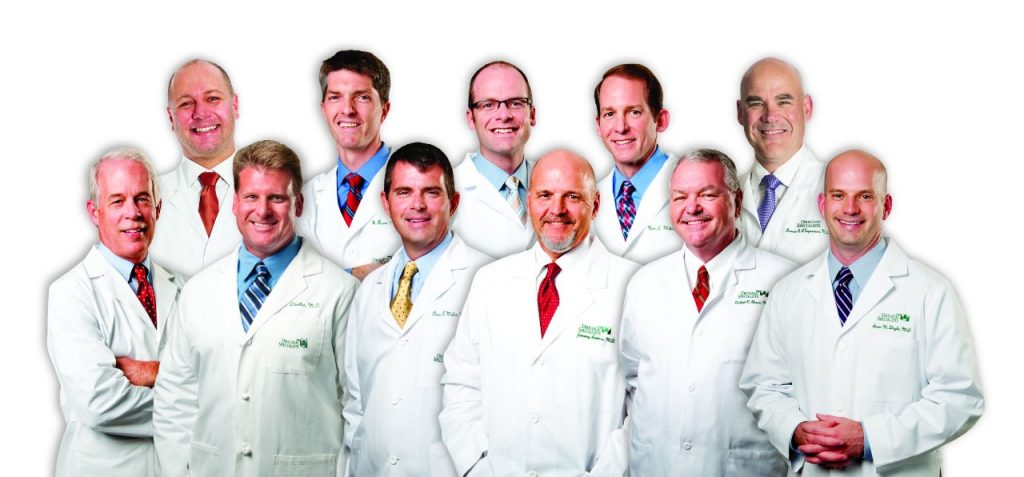 Front, from left, J. Steve Miller, MD, FACS; Scott Litwiller, MD, FACS; Oren Miller, MD, FACS, FAAP; W. Todd Brookover, MD; Robert R. Bruce, MD; Sean M. Doyle, MD. Back, from left, James B. McGeady, MD; W. Jason Cook, MD, FACS; Cole B. Davis, MD; Marc S. Milsten, MD, FACS; James O. L'Esperance, MD.
Practice
Media Contacts