June 5, 2017
More than half a century ago, a "bright haven in the Ozarks" received an internationally-recognized symbol of quality. Every year since, Mercy St. Francis Hospital has lived up to that benchmark of delivering quality, safe care.
"There is a group of eight wonderful Sisters," wrote Arthur L. Magill, a field representative with the Joint Commission on Accreditation of Hospitals, in March 1962. Magill was among the surveyors who first visited what was then St. Francis Mountain View Memorial; just weeks later, the hospital received its first accreditation.
The Joint Commission, founded in 1951, is the country's oldest and highest standard-setting group in health care. The independent, not-for-profit organization surveys hospitals and health care organizations unannounced, consulting with doctors and nurses, as well as quality and safety experts, to review standards and make recommendations for improvement.
"Sister Cornelia and her very pleasant group of Sisters, as well as the medical staff, worked very diligently to raise the level of patient care to the highest possible degree," wrote Magill. His letter – alongside a framed photo of Sister M. Cornelia Blasko holding the first certificate – remains prominently placed in the halls of the facility.
"It is a rare occurrence when a relatively small hospital received the high recognition and approval on a national scale," Sister Cornelia was quoted saying to the local paper in 1962. Just six years prior, she and the Daughters of St. Francis of Assisi traveled to Mountain View in response to a call for help, working tirelessly to reopen the abandoned building. "The standards for a fully accredited hospital are very high and it is a tribute to the Sisters and the medical staff, nursing and administrative staff to have received it."
Mercy St. Francis Hospital has been re-accredited by the Joint Commission every year since.
"I'm so proud that our facility has been able to keep up with something that Sister Cornelia worked so hard to achieve many years ago," said Cindy Weatherford, Mercy St. Francis Hospital administrator. "Our community deserves to have a hospital with very high standards, and we owe it to our incredible co-workers and the Sisters before us for keeping that mission alive."
Mercy St. Francis Hospital, which recently celebrated its 60th anniversary in the Mountain View community, is located at 100 U.S. Highway 60 in Mountain View, Missouri. Click here to learn more.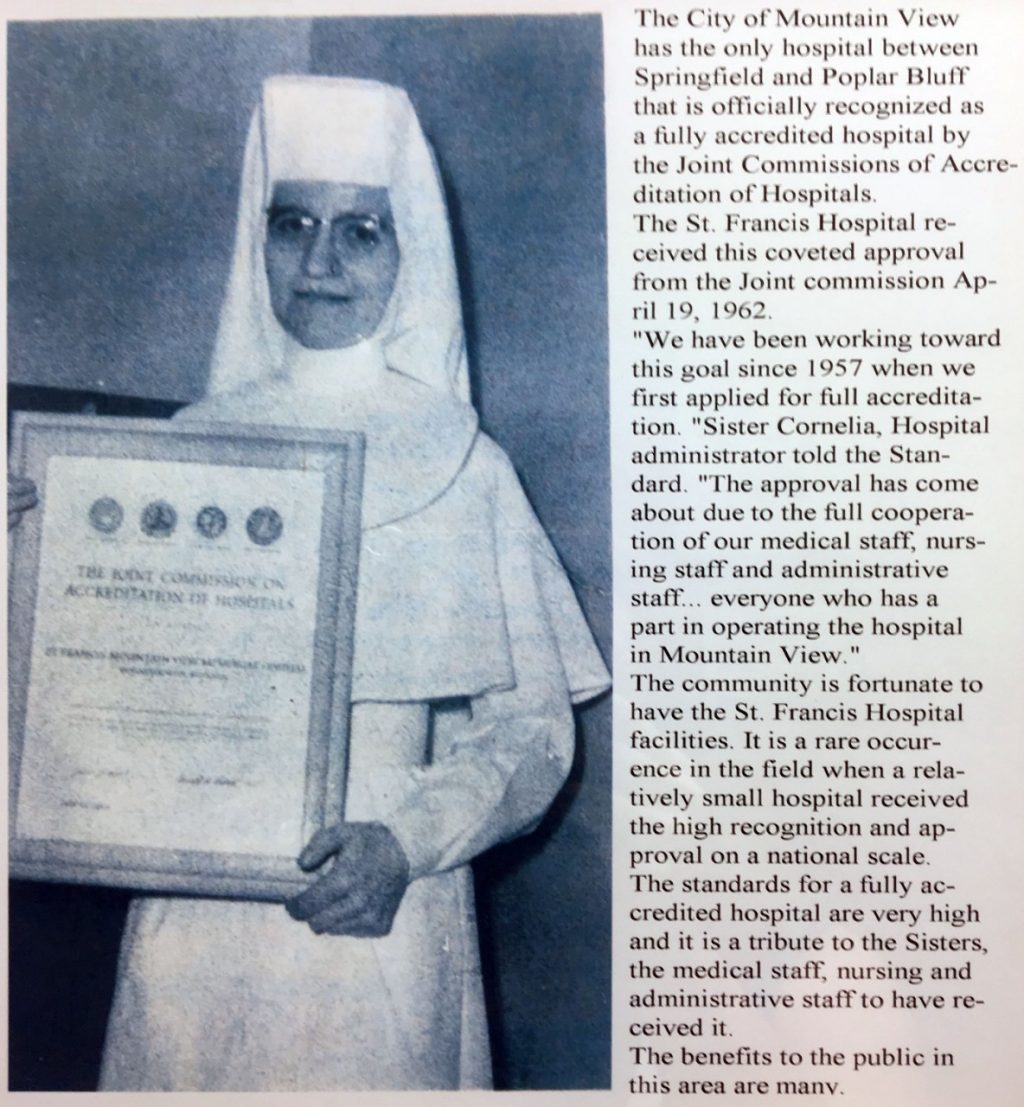 Visitors of Mercy St. Francis Hospital will see this framed image and text displayed prominently in the halls.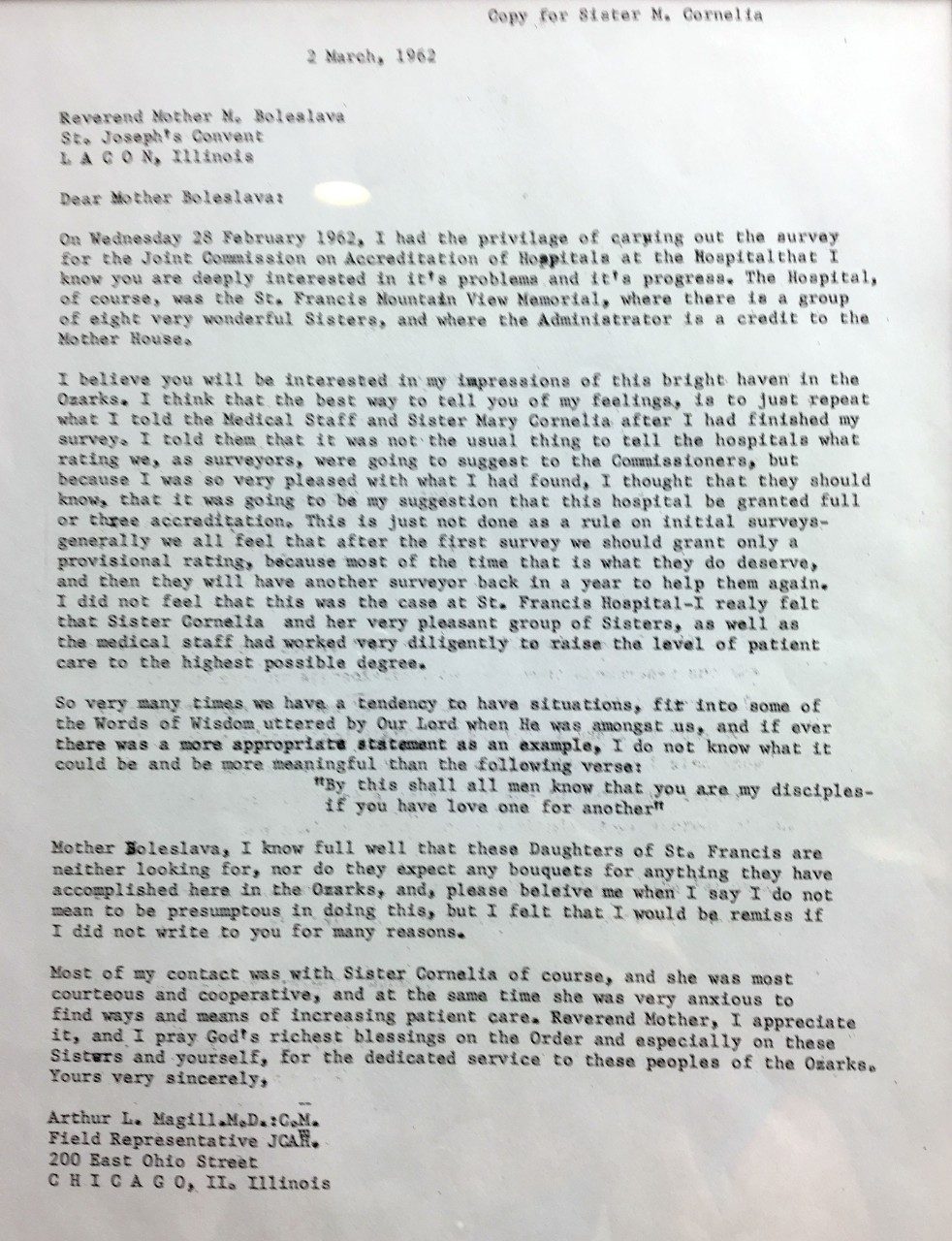 The original letter from Arthur L. Magill in March 1962.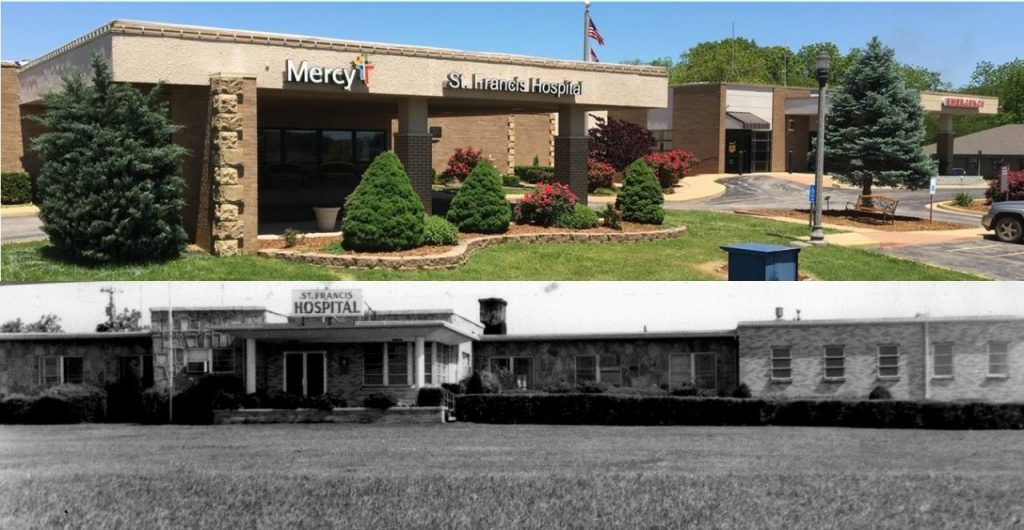 Mercy Springfield Communities is comprised of Mercy Hospital Springfield, an 866-bed referral center; an orthopedic hospital; a rehab hospital; a children's hospital; five regional hospitals in Lebanon, Aurora, Cassville, Mountain View, Missouri and Berryville, Arkansas; and Mercy Clinic, a physician clinic with nearly 700 doctors and locations throughout the region. It is part of Mercy, named one of the top five large U.S. health systems in 2017 by Truven, an IBM Watson Health company. Mercy serves millions annually and includes 43 acute care and specialty (heart, children's, orthopedic and rehab) hospitals, more than 700 physician practices and outpatient facilities, 40,000 co-workers and more than 2,000 Mercy Clinic physicians in Arkansas, Kansas, Missouri and Oklahoma. Mercy also has outreach ministries in Louisiana, Mississippi and Texas. 
Media Contacts
Brad Haller
Aurora, Branson, Cassville, Lebanon, Mountain View, Rolla, Springfield