June 6, 2017
Funding is complete and construction will soon begin on Mercy Hospital Lebanon's new, stand-alone chapel. Hospital leaders held a groundbreaking Tuesday in the first interior courtyard of the hospital.
"We chose that spot because we simply needed more space for our patients and co-workers to pray and reflect," said Brennon Willard, chairman of the Mercy Health Foundation. "It's a big step up from our current chapel, which can't hold more than a handful of people at once."
Funding for the nearly $680,000 project was recently secured, thanks to a $100,000 pledge by the Mercy Lebanon Auxiliary, years of generous donations by Mercy co-workers, and more than 30 major donors including Laclede Electric and family of the late Ken Miller, a former hospital board member and supporter of the Mercy Health Foundation.
"We're so proud to honor families like the Millers who have played such a vital role in shaping Mercy Lebanon's heritage," Willard said. "Our chapel is the culmination of a community-wide fundraising effort, and it will be here for all of us to enjoy and pass on for generations to come."
The 1,000-square-foot chapel's design makes it open and inviting, with ample room to accommodate large groups – as well as memorial services, bereavements or special services. It's begin referred to by many as a "ship in a bottle," meaning it's in the middle of a closed-in courtyard in the middle of a hospital. Elements include a metal roof to match the hospital, vision glass, cast stone, stained glass and natural and stone walls.
"This chapel will be a blessing to all," said Mercy chaplain Linda Rodden. "It will be a sacred place for our patients and families to have some quiet time for prayers. We're grateful for all the donations to help make this dream of a hospital chapel a reality."
Construction is expected to last 17 weeks, with a target date of completion by late fall.
Mercy Health Foundation, a non-profit organization, works to enhance health care in Lebanon. It supports projects that provide health care scholarships, advanced technology and capital needs.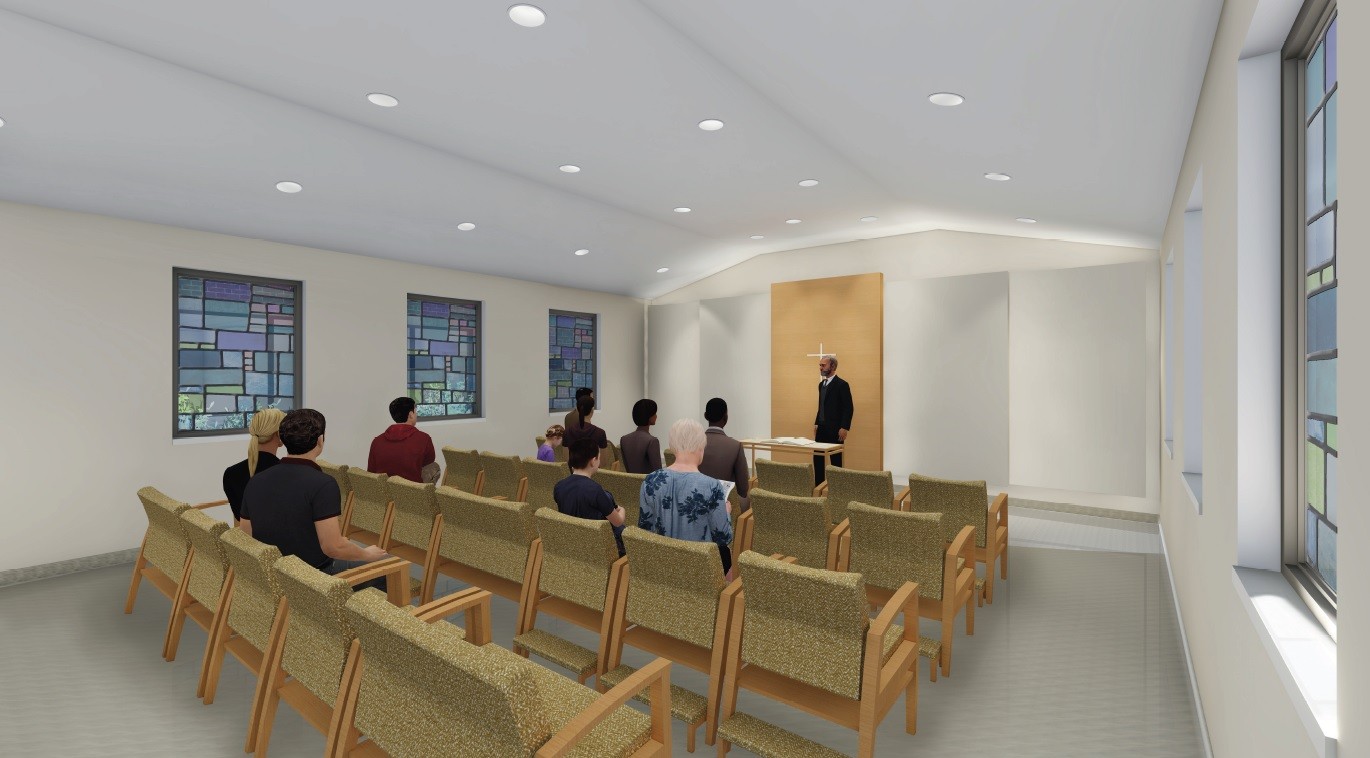 Photos from the June 6th Groundbreaking
Watch Live: Timelapse of Chapel Project
Mercy Springfield Communities is comprised of Mercy Hospital Springfield, an 866-bed referral center; an orthopedic hospital; a rehab hospital; a children's hospital; five regional hospitals in Lebanon, Aurora, Cassville, Mountain View, Missouri and Berryville, Arkansas; and Mercy Clinic, a physician clinic with nearly 700 doctors and locations throughout the region. It is part of Mercy, named one of the top five large U.S. health systems in 2017 by Truven, an IBM Watson Health company. Mercy serves millions annually and includes 43 acute care and specialty (heart, children's, orthopedic and rehab) hospitals, more than 700 physician practices and outpatient facilities, 40,000 co-workers and more than 2,000 Mercy Clinic physicians in Arkansas, Kansas, Missouri and Oklahoma. Mercy also has outreach ministries in Louisiana, Mississippi and Texas. 
Media Contacts
Sonya Kullmann
Berryville, Branson, Cassville, Lebanon, Mountain View, Rolla, Springfield, Aurora