June 7, 2017
Heart patients in the Ozarks are getting an opportunity unavailable in the rest of the state or region: two separate clinical trials that provide less invasive heart valve replacements.
The procedure: Transcatheter Aortic Valve Replacement (TAVR)
Mercy was the first to bring transcatheter aortic valve replacement (TAVR) to the Ozarks in 2012. Doctors use a tube (catheter) roughly the circumference of an ink pen, to access the heart through an artery in the thigh. An artificial valve travels along a wire inside the tube. Once the new valve reaches the diseased valve, doctors deploy it in just the right spot. The poorly functioning valve is pushed aside, and the new valve starts working immediately. It's all done under minor sedation, with the patient still able to talk, and the heart still functioning. It's such a minimally-invasive procedure that patients don't need a single stitch.
"This research offers our patients access to otherwise unavailable devices within the start of Missouri," said Dr. Robert Merritt, Mercy interventional cardiologist and trial primary investigator. "We believe these heart valve techniques will improve our patients' outcomes, without them having to travel long distances or undergoing procedures that may be more risky."
At first, the procedure was just for those who couldn't survive open heart surgery. Then, the FDA also approved it for those with moderate risk for major surgery. Mercy began offering it to those patients as well and now, more than 300 patients later, the TAVR team at Mercy Hospital Springfield is one of the most experienced in the country.
"That's why we were asked to participate in this study," said Dr. David Cochran, Mercy interventional cardiologist. "The results from this trial may forever change how the majority of patients get a valve replacement. This technique is proven in higher-risk patients to dramatically decrease recovery time."
Medtronic CoreValve® Evolut®  R System Trial
The latest trial tests whether TAVR is as safe for low-risk patients as open heart surgery. Only 80 hospitals in the U.S. are participating in the trial, and Mercy Hospital Springfield is the only facility in Missouri. Half the patients will get a traditional open-heart valve repair; the other half will get their valve using a TAVR procedure. Researchers will then compare the outcomes of the two sets of patients.
For patients like 81-year-old Alvin Hawkins, it's the difference between having your chest cracked open or leaving with no stitches.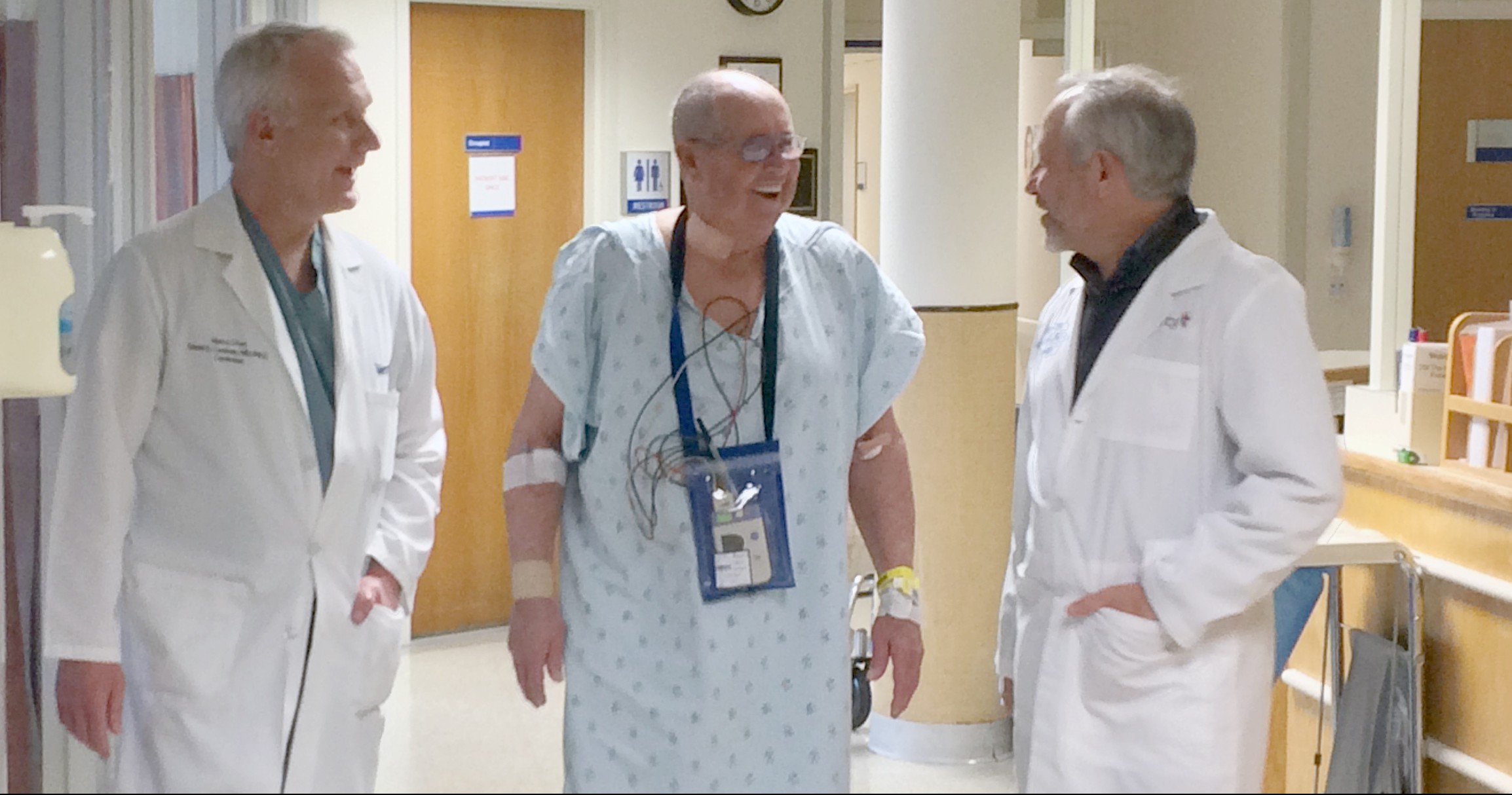 Until last winter, Hawkins was in really good shape. His early morning routine included a two-mile walk, until suddenly that walk became very difficult. He knew something was really wrong in December.
"I was coming up the sidewalk and I just fell over," he remembered. "I passed out for no apparent reason."
His cardiologist diagnosed him with severe aortic stenosis, which means one of his heart valves had narrowed due to excessive calcium buildup. It could no longer open or close properly, making his heart work too hard to pump blood through his body. His valve needed to be replaced, but he wasn't excited about open heart surgery. "He's always been active and hard working," his wife, Lois, said. "He did not want to be down for eight weeks recovering from a major surgery."
Hawkins' doctor suggested the Sarcoxie, Missouri, couple head to Mercy Hospital Springfield in hopes of qualifying for the new trial. Luckily, he was randomly chosen to have the TAVR procedure.
Hawkins says he's sold. Instead of eight weeks of recovery, he spent two nights in the hospital and was asking when he could go home. "When I walked into the hospital, I was winded just getting across the parking lot," he said. "Now I feel great."
His family agrees. Shortly after surgery, they could already see the color returning to his face. And Lois has big plans for him. "Maybe next week he can mow my yard," she said with a smile.
The Abbott Portico™ Transcatheter Aortic Heart Valve Trial
Even as the TAVR procedure expands to include more eligible patients, manufacturers are working to further perfect the design of both the valve and how it's implanted.
The Abbott Portico™ transcatheter aortic heart valve is designed to make it easy for doctors to place the new valve at just the right spot. It's being tested in 67 hospitals worldwide, and Mercy Hospital Springfield is the only site in Missouri.
When doctors place the Portico™ valve in a patient's artery, they can deploy it just 80 percent and then watch to see how it functions. If they aren't satisfied with the placement, they can reposition it. Once again, they can check to see how well it's functioning before they fully deploy the valve and finish the procedure.
"The final position of a TAVR device can determine its effectiveness in eliminating aortic stenosis and minimizing valve leaks," said Dr. K. Fon Huang, Mercy cardiac and thoracic surgeon. "That's why we're delighted to trial a device that is designed to facilitate small positioning adjustments."
As Mercy Hospital Springfield takes the lead in testing new heart procedures and devices, more and more area patients are benefitting – and more doctors are joining the team. Construction is currently underway to create Mercy Heart Hospital Springfield in the existing main hospital building; it will encompass 135,000 square feet and cost about $110 million.
"That construction brings our already outstanding and nationally-recognized program into one space for patient convenience and further physician collaboration," said Dr. Sirish Parvatheneni, Mercy cardiovascular surgeon and primary trial investigator. "What we're doing with TAVR now is a new paradigm in the treatment of aortic valve disease. We are taking a step into the future and I'm so excited about what that means for our patients."
Media Contacts
Sonya Kullmann
Berryville, Branson, Cassville, Lebanon, Mountain View, Rolla, Springfield, Aurora