June 21, 2017
The Nutrition Services Department welcomed a new chef this month with the addition of Ruth Palazzola to the staff.
Ruth has more than eight years of experience in the culinary industry, working under some prestigious chefs in the St. Louis region. She earned her degree – with highest honors – in culinary arts and hospitality management from East Central College in Union, Missouri, in 2010.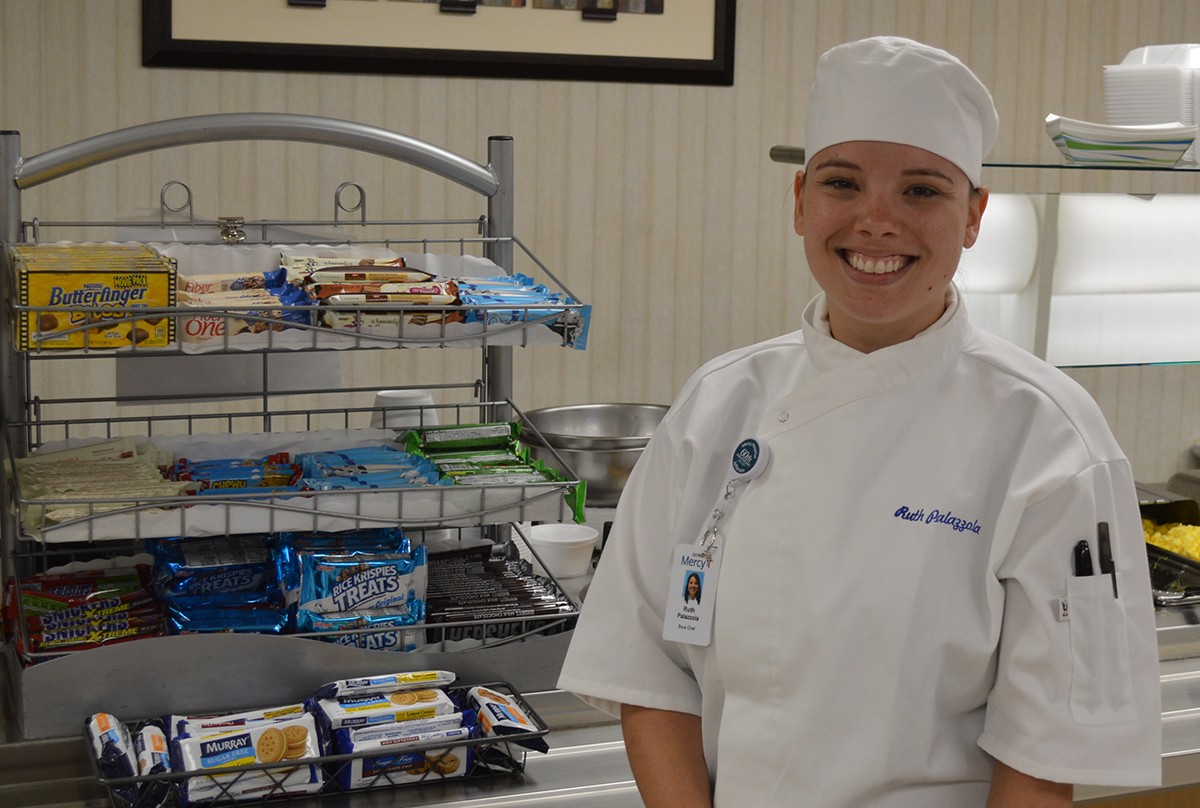 "I began my industry training at Forest Hills Country Club in 2009 under Executive Chef Anthony Lyons. I remained at Forest Hills for seven years training under the new executive chef, Lute Cain, working my way up from cafe cook to morning supervisor," Ruth said. "In 2016, I transitioned to the kitchen at Racquet Club St. Louis, working under Executive Chef Anthony Haacke."
In addition to those full-time duties, Ruth filled her schedule with volunteer work, and she participated in culinary competitions.
"I have taken on multiple part-time jobs working for executive chefs throughout the St. Louis area, as well as competing and volunteering with our local culinary chapter, The Chef de Cuisine of St. Louis," she said.
Ruth looks forward to the opportunity at Mercy Jefferson and interacting with co-workers including the staff and customers.
"I am thrilled to be on the dietary team at Mercy Jefferson, and I am excited to get to know each unique individual and the talents they offer as we pursue new challenges together and continue to grow within the community at Jefferson," Ruth said.
Nutrition services manager Megan Nolan said she is excited to have a highly qualified chef helping to lead the kitchen and department.
"Ruth is a talented and award-winning chef, and we consider it a privilege to have her on our team," Megan said. "We have exciting plans to continue enhancing the menu, products and services at Mercy Jefferson."
In her free time Ruth enjoys cake decorating, traveling, and floating with her husband Mike and dog Amos.
Media Contacts