August 15, 2017
Registered nurse Nicole Ring was called "focused, calm and professional" in the nomination form submitted by a patient's family member for the quarterly DAISY Award at Mercy Hospital Jefferson.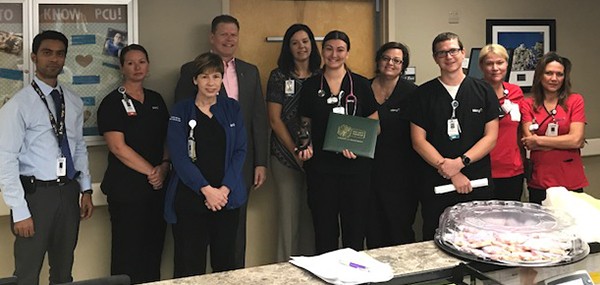 Mary Jane Holman of Jackson, Missouri, nominated Nicole for the work she did in getting a patient discharged from the Progressive Care Unit. Her nomination was one of 115 submitted by patients, visitors or co-workers over the past three months.
"Nicole repeatedly remained focused, calm and professional in the performance of her job when being verbally disrespected by one of her patients," Holman wrote in the nomination letter. "Nicole's personal commitment and motivation were obvious as she continuously tried to honor her patient's requests."
"She made numerous phone calls to coordinate tests. Her communication skills were constructive, respectful, and always positive. Her repeated follow-ups and follow through with our questions was very much appreciated. The numerous phone calls that she initiated to the physicians ensured that our discharge happened and ensured that the new medications needed were prescribed."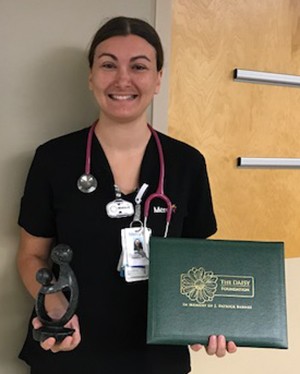 "Nicole, thank you for your extraordinary, compassionate care," Holman said.
DAISY is an acronym for Diseases Attacking the Immune System. The family of Patrick Barnes established the Daisy Foundation in 1999 to express gratitude to nurses for the work they do for patients and their families every day. The award is presented in more than 1,900 healthcare facilities in all 50 states and 15 countries.
During the recognition ceremony, surrounded by her co-workers, Nicole received an official DAISY pin, a certificate, and a hand-carved stone sculpture entitled "A Healer's Touch." Additionally the national award calls for a celebration for all co-workers in the unit with Cinnabon cinnamon rolls – a favorite of Patrick's during his illness.
"The Barnes family asks that whenever and where ever nurses smell that wonderful cinnamon aroma, they stop for a moment to think about how special they are."
For more information visit www.daisyfoundation.org.
Media Contacts