August 22, 2017
Patient Care Associate Deborah McNail was honored as the Tulip Award winner for the second quarter of 2017. Her co-worker Katie Crump nominated Deborah for the way she helped a patient.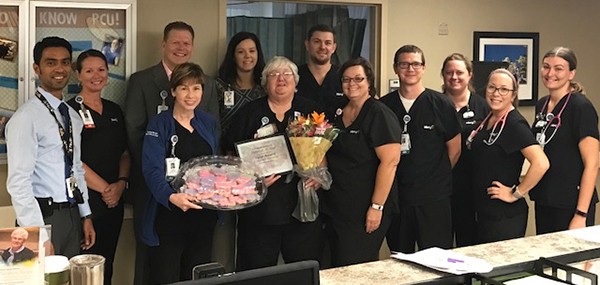 "Deb was caring for a patient that was to be discharged in the morning. The patient had an incontinent episode and soiled the only clothes she had. The patient was anxious and upset, worried that she wouldn't have anything clean to wear home," Katie's nomination said.
"Deb used her lunch hour and her own money, went to Walmart and purchased an outfit for her patient. The patient was able to relax and get a good night's rest prior to her discharge in the morning."
"This is typical behavior for Deb. On any shift she can be found praying with a patient or singing to them. We are truly blessed to have her as a co-worker."
Deborah received a framed certificate, flowers, a tulip pin to wear on her badge, and custom, tulip-shaped cookies to share with co-workers in her department.
Presented by the Professional Development Shared Governance Council, the Tulip Award recognizes techs and assistants as nominated by patients, visitors and co-workers. The council received nearly 100 Tulip nominations for the quarter.
Media Contacts