September 13, 2017
At the same time he was practicing family medicine over the years, Dr. Matthew Jennings also tended to pick up shifts in a hospital emergency room. Providing health care in both settings keeps his skills sharp and infinitely improves his day-to-day practice, Dr. Jennings believes.
"In family medicine, we still do acute care, because some people who walk in are having an emergency," he said. "In emergency rooms, we develop more of that instinct to quickly recognize conditions. I can put both together to know when I can treat a patient and when they need more help than I can give. Knowing your limits is one important piece of family medicine."
Dr. Jennings begins seeing patients Thursday at Mercy's newest clinic, Mercy Clinic Primary Care - Pea Ridge. He brings more than two decades of experience to the clinic, including multiple years in family practice, emergency medicine and urgent care, and he has also served in numerous medical supervisory roles.
The 7,500-square-foot clinic will include a nurse practitioner and feature 14 examination rooms at 200 Carr St. The $4.1 million clinic is part of Mercy's $247 million expansion plan that will add seven clinics in the region and a new tower to the Rogers hospital.
About 100 people attended a blessing and ribbon-cutting at the clinic Wednesday. Dr. Steve Goss, president of Mercy Clinic, noted at the ceremony that the clinic has room to expand to house more providers as demand builds over time.
Dr. Jennings' medical career began in the military. A graduate of the U.S. Military Academy at West Point, Dr. Jennings earned his medical degree from Uniformed Services University of Health Sciences in Bethesda, Maryland. He served as a combat surgeon and a family practice physician while on active duty.
Just 2 percent of students at the military academy are accepted to medical school. Interviewers asked Jennings  why he would attend a leadership academy if he wanted to be a physician. His answer was that it takes an exceptional leader to influence an individual, in a short time, to make health changes.
"I have a 15-minute appointment to make an impact," he said. "If I don't gain trust, demonstrate my knowledge and convey information about their situation in that short time, then I've lost them. I have failed as a leader. In medicine, leadership is being able to guide people so that they can be better."
Jennings' military service included family practice at Fort Leonard Wood, Missouri, and Fort Bragg, North Carolina. He also served as a battalion surgeon with the 82nd Airborne Division during the invasion and initial occupation of Baghdad during Operation Iraqi Freedom. He was awarded a Bronze Star for his actions.
Dr. Jennings said Pea Ridge is an ideal place for him to establish a family medicine practice. It's a small town that seems to radiate what he calls "hometown America," where people know and care about each other.
"Most of my practice has been in small, rural communities. I like to feel that I'm a part of the community as opposed to someone who just works in the community," he said. "The goal of family medicine is to create long-lasting relationships with an entire family over years of care. I think Pea Ridge is a great place to do that."
Pea Ridge Mayor Jackie Crabtree praised Dr. Goss for keeping a promise he made years ago to re-establish a clinic in Pea Ridge if the opportunity ever arose. The former clinic building Mercy donated to the City of Pea Ridge has served as a library and community center for a decade.
Seeing Mercy return to open a new clinic is wonderful, Crabtree said.
"We feel like it's going to be a tremendous asset. With the way we're growing, the need for medical services is also growing," he said.
Pea Ridge resident Harry Palmer said he and his wife, Judy, plan to make an appointment with Dr. Jennings as soon as possible. Having a clinic close to home will be a time saver for their family and be much more convenient for them and for an elderly parent who lives in a local assisted living facility.
"It will be one more factor to encourage families to move to Pea Ridge, because having a health care provider is a sign of a thriving community," Harry Palmer said.
The clinic phone number is (479) 488-6415.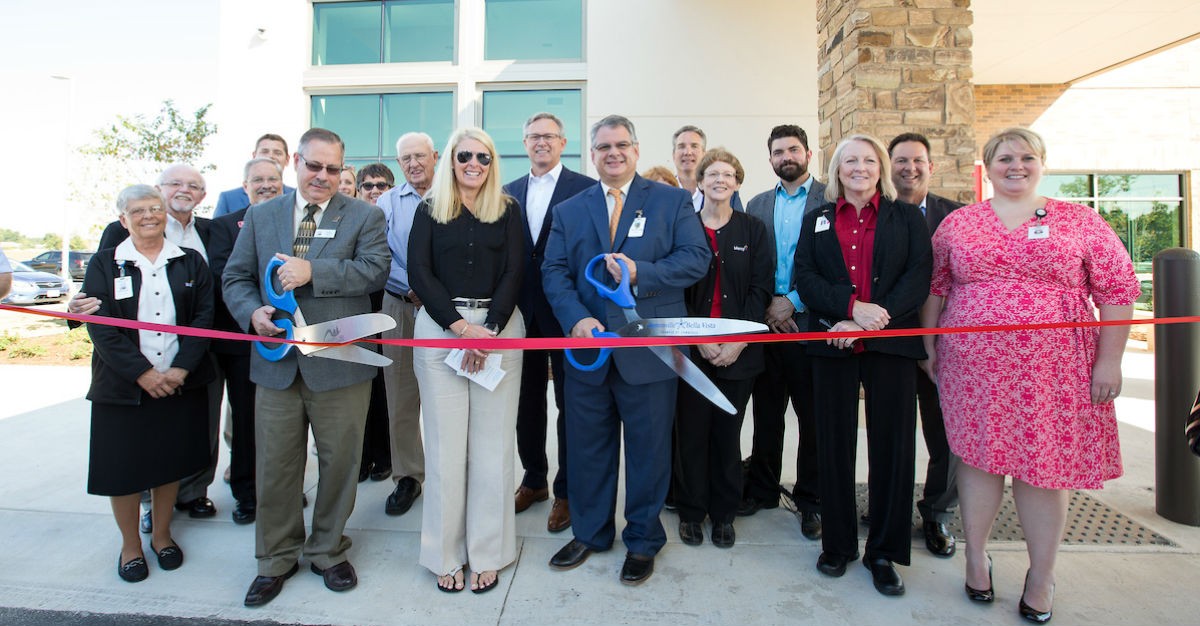 Media Contacts