September 28, 2017
The Mercy Jefferson community has a new location to find premium coffee and a free Wi-Fi connection in the new Comfortable Cup Café at the hospital main entrance. The new coffee shop opened October 2 and has renewed focus on local suppliers and earth-saving sustainability products.
The Comfortable Cup Café offers premium coffees, lattes, cappuccinos, mochas, frappucinos and more. A variety of items are served daily including freshly baked pastries, muffins, scones and desserts from local bakeries. Several grab and go items are available, and lunch options include specialty soups, salads and made-to-order sandwiches.
The new café is open from 6:30 a.m. to 7 p.m. daily. A discount is offered on coffee beverages if you bring your own reusable cup or mug.
The Grand Opening Celebration begins with a ribbon cutting ceremony at 8 a.m. on Thursday, October 5, followed by free food and drink samples and door prizes.
"Food and drinks from local companies will be showcased in our new coffee bar," said Jackee Bauch, clinical dietitian and patient food manager. "We are expanding our collaboration with the community by supporting local food vendors like the Blue Owl Café, St. Louis Companion Bread Company, and Dubuque Coffee, all of which are based in the St. Louis area."
The new café also has increased its efforts for sustainability by using compostable containers for all foods sold in the coffee bar and providing incentives to customers who bring in reusable coffee mugs.
"We are initiating multiple loyalty rewards programs," Bauch said. "We will have punch cards for repeat customers who will receive a free coffee after 10 beverage purchases. We will offer discounts on hot coffee for everyone who chooses to bring in a reusable mug, with additional savings for those who purchase the Comfortable Cup reusable mug."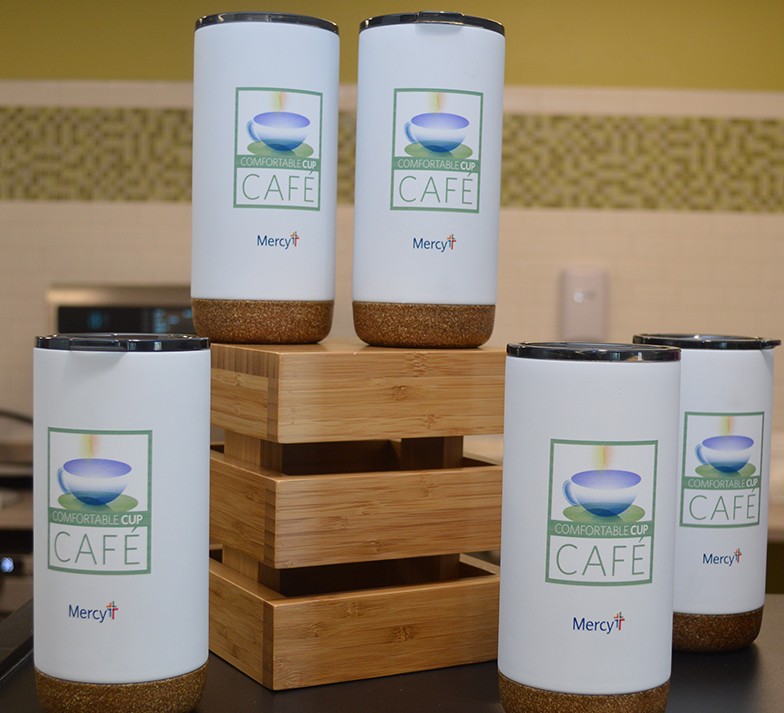 The "comfortable cup" name is a reference to a greeting attributed to Catherine McAuley, founder of the Sisters of Mercy religious order and House of Mercy in Dublin, Ireland, in 1827.
The new café offers free, unlimited Wi-Fi.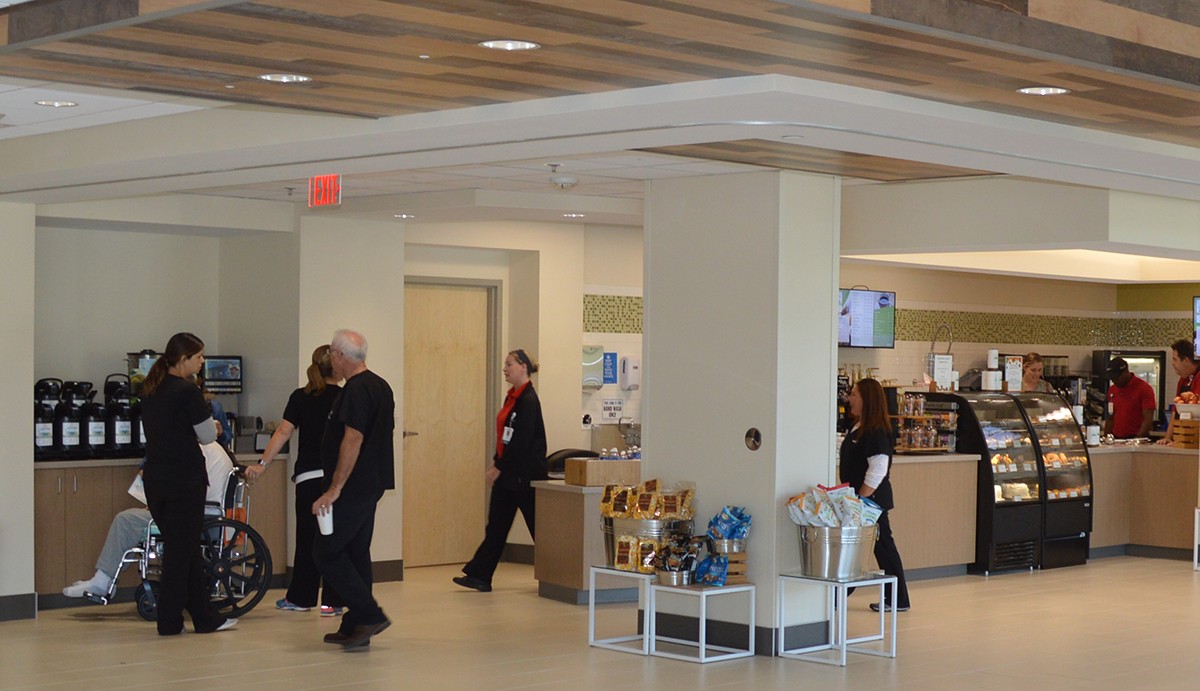 The opening of the Comfortable Cup Café is the latest milestone in the ongoing construction project at Mercy Hospital Jefferson. Other notable openings have included the completely renovated Childbirth Center on the Third Floor of the hospital, and the state-of-the-art cardiology diagnostic unit which includes accredited echocardiogram and nuclear medicine labs, and a vascular lab and vein center.
The new and expanded gift shop opened in June, and the relocated hospital chapel is on schedule to open in the middle of November.
The centerpiece of the rejuvenation and expansion project is a new 90-bed, all private room patient tower. The new building is connected to the south end of the existing hospital campus and is set to open one floor at a time beginning in December.
An all new cancer center being built on the north end of the hospital campus is also scheduled to open in December. The new center will have its own chapel, gift and resource shop, new linear accelerator for radiation oncology, infusion center, healing garden, dedicated parking and much more.
Click here to watch a recent drone video of the construction site, and click here for up-to-date time-lapse photography of the construction progress.
Media Contacts