October 17, 2017
Need a mammogram, but don't have a lot of time? Mercy offers a mobile mammography unit in Southwest Missouri, Southeast Kansas and Northeast Oklahoma (see schedule below).
The earlier you can detect breast cancer, the better are your chances for successful breast cancer treatment. With updated digital technology, Mercy's Mobile Mammography Unit, sponsored by the Jay Hatfield Companies, makes it quick and convenient to get a mammogram.
The actual screening typically takes just 15 minutes and is performed by registered female technologists. With Mercy's mobile mammography, you get the advantages of an office exam:
The latest advances in digital mammography mean that you'll get clear, detailed images for diagnosis
A private, comfortable setting makes your experience as pleasant as possible
Mammogram images are read by Mercy radiologists at Mercy Breast Center in Joplin
All of Mercy's breast imaging facilities, including the mobile unit, comply with national quality standards
The test typically is covered by health insurance. Mercy will help file the claim.
Annual screening mammograms are recommended for women age 40 and older. Mammograms are the best tool for detecting breast cancer in its earliest, most treatable stage.
UPCOMING DATES:
October 2017
Tuesday, 3rd – 9 a.m.-3 p.m., Jay Hatfield Motorsports, 1025 N. Highway 69, Frontenac, Kansas
 
Tuesday, 3rd – 5-7 p.m., Pink-Out Game, Pittsburg (Kansas) High School, 1978 E. Fourth St.
 
Wednesday, 4th – 8 a.m.-4 p.m., Mercy Clinic Family Medicine – Oswego (Kansas), 805 Barker Drive
 
Thursday, 5th – 6:30 a.m.-4 p.m., Carl Junction (Missouri) Chamber of Commerce First Thursday Newtorking, Carl Junction Community Center, 303 N. Main
 
Friday, 6th – 9 a.m.-3 p.m., Jay Hatfield Ford, 1517 High St., Sarcoxie, Missouri
 
Sunday, 8th – 2-4 p.m., Carl Junction (Missouri) Breast Cancer Walk
 
Monday, 9th – 7 a.m.-4 p.m., Mercy Hospital Columbus (Kansas), 220 N. Pennsylvania
 
Wednesday, 11th – 9 a.m.-3 p.m., Jay Hatfield Chevrolet Buick, 200 S. East Ave., Columbus, Kansas
 
Thursday, 12th – 8 a.m.-4 p.m., Carterville (Missouri) Community Center, 209 E. Hall St. (scheduled and walk-ins)
 
Friday, 13th – 9 a.m.-3 p.m., Jay Hatfield Chevrolet Buick, 200 S. East Ave., Columbus, Kansas
 
Monday, 16th – 9 a.m.-4 p.m., Mercy Clinic Family Medicine – Galena (Kansas), 111 E. Seventh St.
 
Wednesday, 18th – 8 a.m.-4 p.m., Mercy Clinic Family Medicine – Arma (Kansas), 601 E. Washington
 
Thursday, 19th – 7 a.m.-4 p.m., Mercy Hospital Columbus (Kansas), 220 N. Pennsylvania
 
Friday, 20th – 9 a.m.-1 p.m., Bearskin Healthcare & Wellness Center, 1 Turtle Drive, Wyandotte, Oklahoma
 
Saturday, 21st – 3-7 p.m., Missouri Southern State University football game vs. Central Oklahoma, Fred G. Hughes Stadium, 3950 Newman Road, Joplin, Missouri
 
Monday, 23rd – 8 a.m.-4 p.m., Community Health Center-Southeast Kansas, 2990 Military Ave., Baxter Springs, Kansas
 
Tuesday, 24th – 8 a.m.-4 p.m., Mercy Clinic Family Medicine – Neosho (Missouri), 2550 Lusk Drive
 
Monday, 30th – 8 a.m.-4 p.m., Quapaw Tribe, John L. Berrey Fitness Center, 907 Whitebird Lane, Quapaw, Oklahoma
 
Tuesday, 31st – 8 a.m.-4 p.m., Indigo Sky Casino,

70220 E. Highway 60

, 

Wyandotte, Oklahoma
November 2017
Wednesday, 1st – 8 a.m.-4 p.m., Outpost Casino,

69701 E. 100 Road

, 

Wyandotte, Oklahoma


 
Thursday, 2nd – 7 a.m.-4 p.m., Mercy Hospital Columbus (Kansas), 220 N. Pennsylvania
 
Monday, 6th – 8 a.m.-5 p.m., The Family Physicians, 1408 East St., Iola, Kansas
 
Thursday, 9th – 7 a.m.-4 p.m., Mercy Hospital Columbus (Kansas), 220 N. Pennsylvania
 
Monday, 13th – 8 a.m.-2 p.m., Crowder College, Webb City (Missouri) campus, 600 Ellis St.
 
Thursday, 16th – 7 a.m.-4 p.m., Mercy Hospital Columbus (Kansas), 220 N. Pennsylvania
 
Tuesday, 21st – 8 a.m.-4 p.m., Mercy Clinic Family Medicine – Neosho (Missouri), 2550 Lusk Drive
 
Wednesday, 22nd – 7 a.m.-4 p.m., Mercy Hospital Columbus (Kansas), 220 N. Pennsylvania
 
Tuesday, 28th – 9 a.m.-5 p.m., City of Iola (Kansas), 2 W. Jackson Ave.
 
Wednesday, 29th – 9 a.m.-5 p.m., The Family Physicians, 1408 East St., Iola, Kansas
 
Thursday, 30th – 7 a.m.-4 p.m., Mercy Hospital Columbus (Kansas), 220 N. Pennsylvania
December 2017
Monday, 4th – 8 a.m.-5 p.m., The Family Physicians, 1408 East St., Iola, Kansas
 
Tuesday, 5th – 8 a.m.-5 p.m., The Family Physicians, 1408 East St., Iola, Kansas
 
Wednesday, 6th – 8 a.m.-4 p.m., Mercy Clinic Family Medicine – Oswego (Kansas), 805 Barker Drive
 
Thursday, 7th – 7 a.m.-4 p.m., Mercy Hospital Columbus (Kansas), 220 N. Pennsylvania
 
Monday, 11th – 8 a.m.-2 p.m., Crowder College, Webb City (Missouri) campus, 600 Ellis St.
 
Thursday, 14th – 7 a.m.-4 p.m., Mercy Hospital Columbus (Kansas), 220 N. Pennsylvania
 
Monday, 18th – 8 a.m.-4 p.m., Mercy Clinic Family Medicine – Galena (Kansas), 111 E. Seventh St.
 
Tuesday, 19th – 8 a.m.-4 p.m., Mercy Clinic Family Medicine – Neosho (Misouri), 2550 Lusk Drive
 
Wednesday, 20th – 8 a.m.-4 p.m., Mercy Clinic Family Medicine – Arma (Kansas), 601 E. Washington
 
Thursday, 21st – 7 a.m.-4 p.m., Mercy Hospital Columbus (Kansas), 220 N. Pennsylvania
 
Tuesday, 26th – 8 a.m.-4 p.m., Mercy Clinic Family Medicine – Neosho (Misouri), 2550 Lusk Drive
 
Thursday, 28th – 7 a.m.-4 p.m., Mercy Hospital Columbus (Kansas), 220 N. Pennsylvania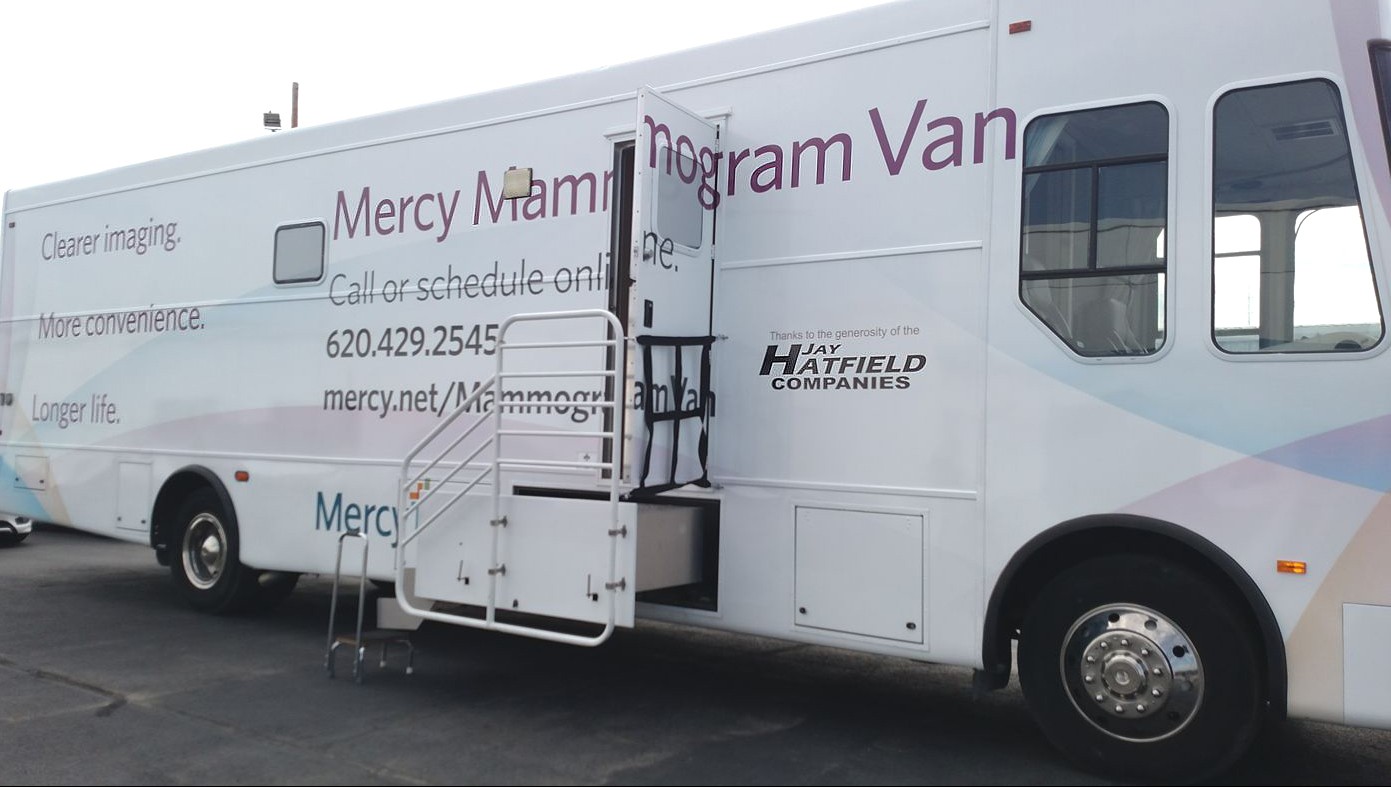 Practices
220 N. Pennsylvania
Columbus, KS 66725
Media Contacts