November 7, 2017
ST. LOUIS – One minute you might see Quienton running the down the hall having a nerf war with a patient, the next he'll be distracting a patient during a blood draw. Quienton Townsend is one of nine child life specialists at Mercy Children's Hospital St. Louis and the first to be named in honor of a new endowment from the Saigh Foundation.
The Saigh Foundation awarded Mercy Kids a $250,000 grant over five years, to create an endowment fund for one of the child life specialist positions at Mercy Children's Hospital. The position is named in honor of Fred M. Saigh, who had no children of his own but left a legacy to provide the care and education of St. Louis youth for many years to come.  
When a child visits the hospital - whether it's an unexpected visit to the ER, a planned surgery or an admission - it can be stressful to the patient and family. Child life specialists are pediatric health professionals who work alongside clinical staff to provide developmentally and psychologically appropriate interventions including therapeutic play, preparation for procedures and education to reduce fear, anxiety and pain.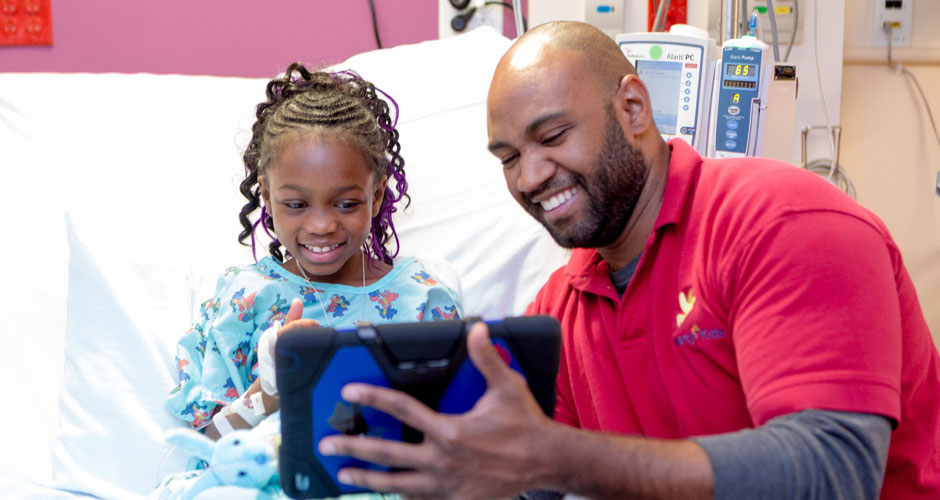 From the outside, it might look as though child life specialists get to play all day. But everything they do has a larger purpose, to help patients cope with the stress and uncertainty of a hospitalization.
Quienton has been a child life specialist at Mercy since 2007 and has helped hundreds of kids and their families.
"When I'm able to brighten a child's day, make him forget he's in the hospital, it also helps lighten the parents' load as well," Quienton said. "I'm honored to be named the Fred Saigh Child Life Specialist for doing what I love. I hope what I'm doing is making a difference in our patient and family's lives like Mr. Saigh did and his foundation continues to do."
"We are so pleased to support Mercy's Child Life Specialist Program," said JoAnn Hejna, executive director of the Saigh Foundation. "Everyone benefits from this service. The hospital visit is less stressful for the child and parents, and the staff recognize the value of the support and expertise of the Child Life Specialist."
For those interested in more information on Child Life, please contact the Mercy Health Foundation St. Louis at 314-251-1800.  
Media Contacts