November 17, 2017
Mercy Fort Scott's Sports Medicine personnel roster includes three ATCs and one orthopedic nurse practitioner.
Mariela Rico, ATC, LAT, is the lead ATC for Fort Scott High School and Fort Scott Middle School. She oversees athletes in football, volleyball, cross county, softball, baseball, basketball, golf, track, soccer, wrestling and tennis. Annually, she works with an average of 370 student athletes.  Her role also offers assistance to FSCC coverage along with rehab when the schedule allows. Mariela is certified in Graston Technique. She is from Guymon, OK and a 2016 graduate of Oklahoma State University where she graduated Magna Cum Laude with honors and was Iota Tau Alpha with the Beta Kappa chapter. Her hobbies include drawing and she's a big dog lover.
Kelsey Carleton, ATC, LAT, is the head ATC for Fort Scott Community College. In her role she covers football, volleyball, softball, baseball, rodeo, and basketball, seeing an average of 275 to 300 athletes annually.  She supervises approximately 10 student trainers who receive scholarships to assist with the program. FSCC has a well-equipped training room for the rehab of athletes.

Jamal Robinson, ATC, LAT, is new to the Mercy Sports Medicine program this year. He assists both Kelsey and Mariela to provide coverage for both Fort Scott High School and FSCC. Jamal is a 2017 graduate of Western Illinois University. Originally from Chicago, he's settling into small town life.  In his spare time (which is limited in his profession), he likes playing basketball.  

Greg King, Mercy orthopedic nurse practitioner, is a key component to our sports medicine program. Greg is a mentor to the trainers.  He practices orthopedics and sports medicine both in clinic and in the field in concert with our athletic training staff.  He has been practicing in orthopedics and sports medicine working with our local prep school systems and Fort Scott Community College (FSCC) for 22 years.  Additionally, he performs physicals for middle school and high school athletes.  Also, with the assistance of the trainers, performs pre-participation physicals for FSCC.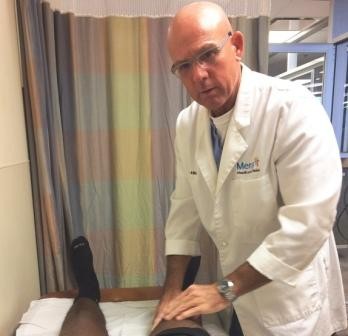 Media Contacts