Not every bump, scrape or sickness warrants a trip to the emergency room, but each year thousands go anyway. Now Mercy is offering more options for patients in Carroll County, Arkansas.
Mercy has opened the doors to Berryville's only convenient care clinic, located at 613 Orchard Dr., just feet away from Mercy Hospital Berryville and Mercy Clinic Family Medicine – Berryville.
"Our community is growing, and so must the choices for medical care," said Suzann Bradley, practice manager with Mercy. "Many times, when someone has a minor injury or sore throat, the emergency room is the quickest option – until now."
The walk-in clinic is for treatment of minor medical conditions. Patients will receive quick, convenient health care with lab testing, sports physicals, flu shots, pneumonia or tetanus shots, injections and breathing treatments. Conditions treated are fever, sprains/strains, ear pain, rashes or sudden skin conditions, respiratory issues, urinary discomfort, minor lacerations, sudden onset of pain, eye irritation and headaches.
"Before this, the nearest walk-in clinic was our site in Eureka Springs," Bradley said. "Now we'll be right around the corner, not only saving patients on travel costs, but also hospital bills, too.
Mercy Convenient Care – Berryville is staffed by a current Mercy team, including a medical provider, from 9 a.m. to 6 p.m. Monday, Thursday, Friday and Saturday. On Sundays, the clinic is open from 10 a.m. to 2 p.m. Hours are expected to expand later into the year. No appointments are needed; most insurance is accepted.
"It's a great option, especially if you're unable to see your doctor quickly, and still have all your medical history in one spot."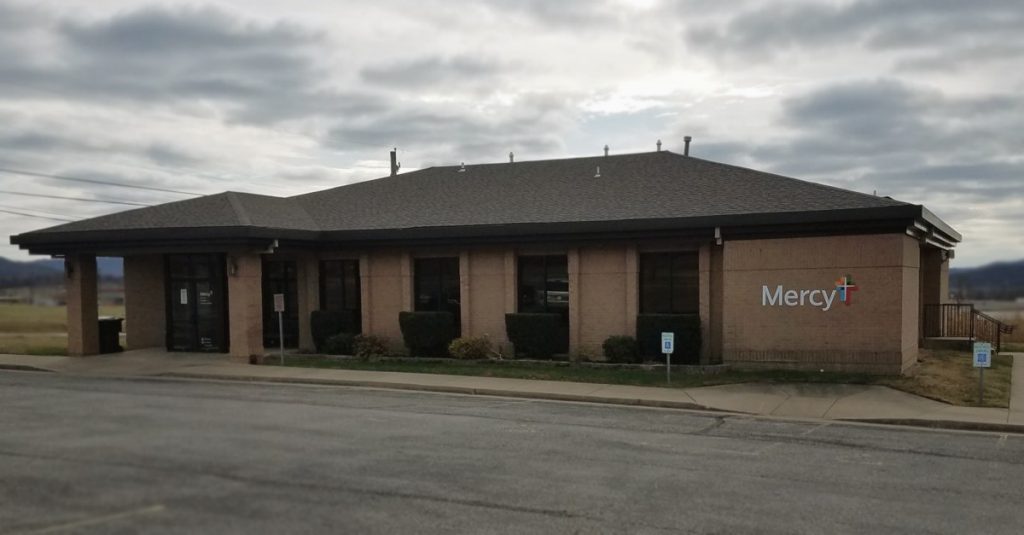 Clinic at 613 Orchard Dr. opens Jan. 4, 2018
Mercy Springfield Communities is comprised of Mercy Hospital Springfield, named in the 100 Top Hospitals®; an orthopedic hospital; a rehab hospital; a children's hospital; five regional hospitals in Lebanon, Aurora, Cassville, Mountain View, Missouri and Berryville, Arkansas; and Mercy Clinic, a  physician clinic with nearly 700 doctors and locations throughout the region. It is part of Mercy, named one of the top five large U.S. health systems in 2016 by Truven, an IBM company, that serves millions annually. Mercy includes 44 acute care and specialty (heart, children's, orthopedic and rehab) hospitals, more than 700 physician practices and outpatient facilities, 40,000 co-workers and more than 2,000 Mercy Clinic physicians in Arkansas, Kansas, Missouri and Oklahoma. Mercy also has outreach ministries in Louisiana, Mississippi and Texas.
Media Contacts
Brad Haller
Aurora, Branson, Cassville, Lebanon, Mountain View, Rolla, Springfield