January 25, 2018
When Mercy's surgical teams prepare for procedures, they don't waste time gathering all the necessary supplies. Those are prepackaged and ready, so teams can focus on caring for patients.
The custom surgical packs act as a surgeon's tool box, holding all the medical supplies needed to perform a range of procedures – from delivering babies to open heart surgery. ROi (Resource Optimization & Innovation), a cost management and supply chain solutions organization founded and owned by Mercy, assembles and sterilizes the packs in a highly-regulated environment. They're shipped directly to Mercy facilities and other health care systems across the U.S.
ROi's Custom Pack Solutions (CPS) division began in ROi's Consolidated Services Center in Springfield, Missouri, but has outgrown its current 30,000 square feet of space. In the last five years, it's grown more than 400 percent in volume. Today, the program manages more than 760 different medical toolkits and averages more than 630,000 kits produced each year. This week, it cut the ribbon on its new 100,000-square-foot building in Republic, Missouri. With the expansion and added automation possible in the new facility, ROi can produce 3 million packs each year. At full capacity, more than 200 people will be working in the building.
ROi's CPS division is the first provider-owned, FDA-regulated custom pack manufacturing facility in the country.
"We're excited to open the new facility in the City of Republic," said Michael Rivard, chief operating officer and interim president of ROi. "We are proud to be a part of this community and look forward to expanding our business from this new location to serve more health care providers across the U.S."
The following partners were also involved in the project: Slone Architects, Ross Construction (general contractor) and Rankin Development (project developer).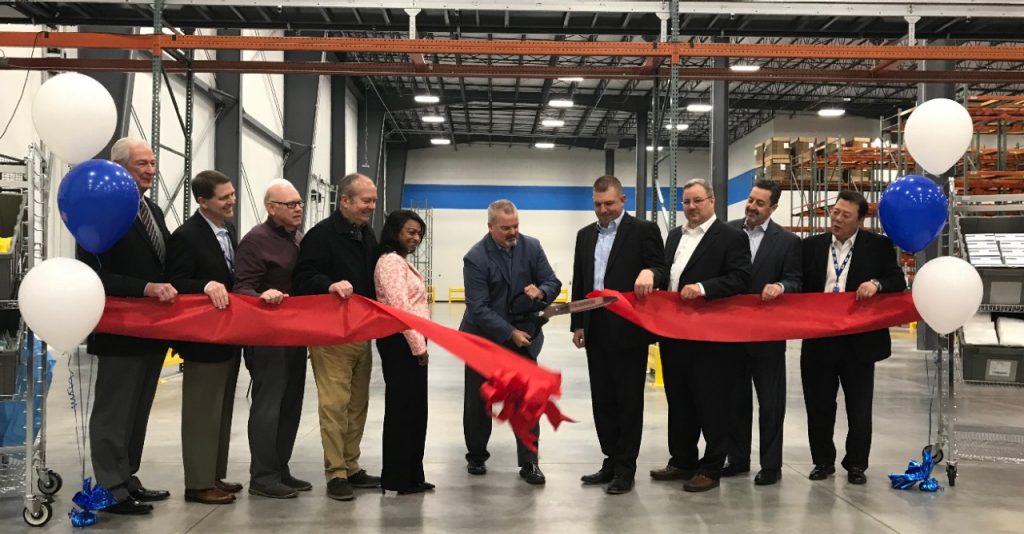 Photos from the Jan. 23 Ribbon Cutting
About ROi
Based in St. Louis, Missouri, ROi believes in the power of provider collaboration to transform health care. A recognized leader in supply chain management, ROi serves health care organizations across the United States that share a passion for supply chain excellence. As a provider-owned Accountable Supply Chain Organization, ROi delivers a range of cost management and supply chain services, focusing on all aspects of supply chain from planning through fulfillment and consumption to ensure the highest quality of care is delivered in the most cost effective manner. For more information, visit: www.roiscs.com.
Media Contacts
Sonya Kullmann
Branson, Cassville, Lebanon, Mountain View, Rolla, Springfield, Aurora