January 12, 2018
There is a new caregiver in the Acute Rehab Unit. She doesn't say much, but the successes of her efforts are easily identified.
Indi, a therapy dog from Tails with Tales, has been visiting the ARU weekly encouraging patients to work on their activity skills by petting, brushing and walking with Indi. A Labrador retriever, her full name is Indigo in reference to her dark black coat.
Along with handler and owner Gayln Bratcher, Indi has patients adding smiling broadly to their standing, walking and other tasks in the unit.
"The patients really seem to enjoy their visits with Indi, and the therapy staff enjopys it also," said Eric Baldonado, director of Therapy Services at Mercy Jefferson. "As a complement to their intense daily activities, the close encounters with the love and gentleness of canine therapy has been a positive for the patients and our staff.  Indi and Gayln interact with each patient distinctively, bringing calm and recovery in new way to our patients."
Indi has gained quite a reputation at Mercy Hospital Jefferson with co-workers and visitors stopping her while she heads to her assignment in rehab.
"Indi's job is visiting people and getting petted; she is pretty good at it," Gayln said. "Canine therapy dogs like Indi can do so much to make life better for the people they assist. She enjoys the opportunties to interact with patients and the therapists. Her whole make-up is pleasing people."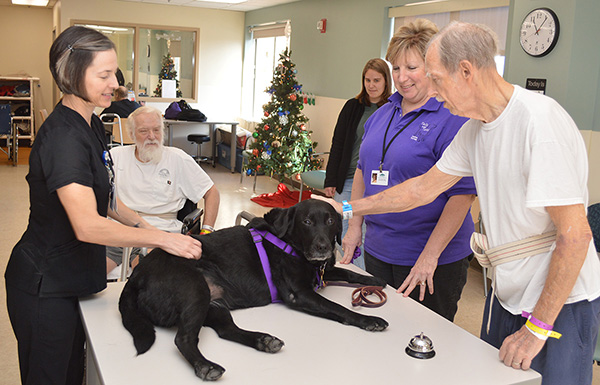 Media Contact