January 19, 2018
Maybe not often enough, but nurses and caregivers do receive recognition from their patients regularly; one Mercy Home Care patient took acknowledgement to a whole new level.
Michelle Dix, RN, was presented an engraved glass plaque that was titled "Tribute to the Nurses and CNAs of the World."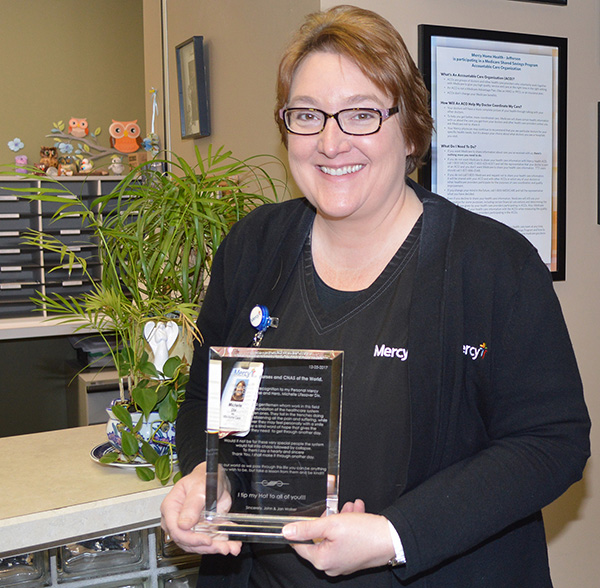 Michelle had been visiting the patient twice a week at his Arnold home for about six months. On her first visit she identified an infection and sent him back to the hospital. That move helped him on the road to healing, and because of it, he calls Michelle his "Lifesaver" and "Hero." (He also refers to her as Nightingale and sends rainbow or smiley face emojis when texting her.)
His plaque inscription was much more serious:
The ladies and gentlemen who work in this field are the true foundation of the health care system and are the forgotten ones. They toil in the trenches, doing all the dirty work, observing all the pain and suffering. How ever they may feel personally, they do it with a smile, followed by a kind word of hope that gives the patient what they need to get through another day.
Would it not be for these very special people, the system would fall into chaos followed by collapse. To them I say a hearty and sincere "Thank You." I shall make it through another day.
In our world, as we pass through this life, you can be anything you wish to be, but take a lesson from them and be kind!
Home care nurses may regularly visit 20 to 25 patients each week, and acknowledgement like that keeps them going back.
Media Contact