April 30, 2018
March is designated Colorectal Cancer Awareness Month by the American College of Gastroenterology and the Colorectal Cancer Awareness Alliance.  Mercy Clinic Gastroenterology in Washington supports this important movement to bring greater awareness to a cancer that is often curable when detected early.
"Colorectal cancer is the number three cancer killer in the United States, yet it is one of the most preventable types of cancer," said Nick Frederickson, MD, Mercy Clinic Gastroenterology in Washington.  "The best first step that anyone can take to reduce their odds is the have colorectal cancer screening of which colonoscopy is considered the gold standard. Colonoscopy can find polyps so they can be removed before they turn into cancer.
"Generally a first colonoscopy is recommended at age 50. However if someone has a family history, or is African American, we like to start regular screenings at an earlier age. Then depending on what we see or find, we will recommend a follow-up colonoscopy with the most common recommendations in either 5 or 10 years."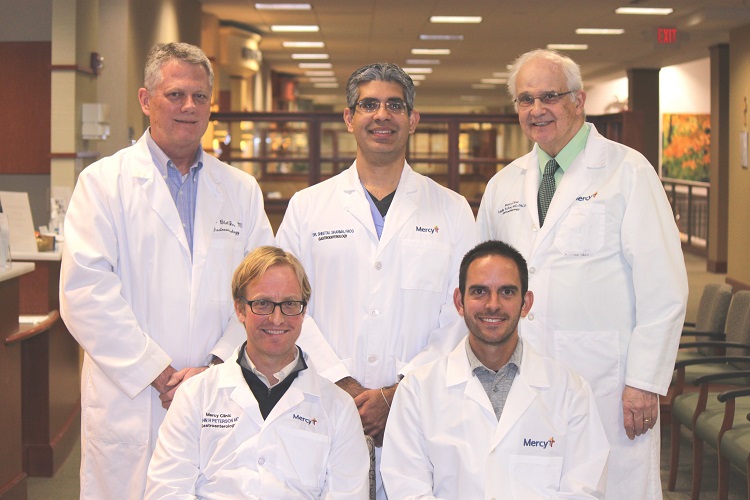 Dr. Leslie Tucker, MD, AGAF, FACG, FACP, Mercy Clinic Gastroenterology, explained that African Americans are diagnosed with colorectal cancer at a younger age than other ethnic groups, and African Americans with colorectal cancer have decreased survival compared with other ethnic groups.  "People with a personal or family history, or who have chronic digestive conditions such as inflammatory bowel disease – like Crohn's disease or ulcerative colitis – should also talk with their doctor about the timing for their first colonoscopy and how often they should have future screenings," he added.
There are alternative tests available for detecting colorectal cancer, but they are not considered as reliable as colonoscopy.  Fecal tests and CT colonography (X-ray type procedure), may be an option for some people, but if results are positive or find a polyp, a colonoscopy will still be required. 
Mercy has also joined other health care organizations in a national campaign to increase colorectal screening rates to 80 percent by 2018 (80 by 18) cancer.  More than 1,500 organizations—including medical professional societies, academic centers, survivor groups, government agencies, cancer coalitions, cancer centers, payers and many others—have committed to the shared goal. 
To learn more about colorectal cancer, or to download a colonoscopy fact sheet, go to mercy.net/WashingtonGI.  To make an appointment for a screening colonoscopy, talk to your primary care provider or call Mercy Clinic Gastroenterology at 636-239-7344.
On March 5, Sheetal Sharma, MD, FACG, Mercy Clinic Gastroenterology, will discuss colorectal cancer and why screenings are so important and who is at greatest risk for developing colon cancer.  The free community education program will be held from 6 to 7 p.m. at Mercy Medical Building South, 901 Patients First Drive in Washington. For more information or to register, go to mercy.net/FourRiversEDU or call 636-231-6264.

Media Contacts