March 1, 2018
FORT SMITH, Ark. – A $20,000 grant from the Delta Dental of Arkansas Foundation will help underserved cancer patients at Mercy receive oral health care.
Mercy Health Foundation in Fort Smith recently received the grant to provide oral health education, preventive care and treatment for underserved patients with head and neck cancer, as these patients have the highest risk for developing oral complications before, during and after cancer treatment. Their health outcomes are directly impacted by treatment delays and nutritional issues caused by dental problems.
Complications are especially common for cancer patients living in poverty due to a combination of factors including poor diet, poor oral hygiene and lack of dental insurance. As a result, Mercy will serve 20 poor, uninsured adult cancer patients over the next year. It's anticipated the number will grow as partnerships are forged with local and regional ear, nose and throat providers.
"Mercy Health Foundation is incredibly grateful for the Delta Dental of Arkansas Foundation's desire to join us in our mission to support the work of the Mercy ministry throughout our region," said Patrick Pendleton, executive director of Mercy Health Foundation in Fort Smith. "This generous grant will help to ensure that cancer patients, particularly those who are economically marginalized, receive quality care as they begin their journey toward healing. It is exactly this kind of collaboration that is driving significant change in the health of our community, and we couldn't be more proud of the partners that are joining Mercy in the effort."
Grant funds will be used to pay for pre-treatment dental exams, extractions, post-treatment care and therapies, fluoride therapy supplies and transportation assistance for patients of Mercy's Hembree Cancer Center.
Through the Community Grant program, the Delta Dental of Arkansas Foundation seeks to expand access to oral health care in underserved areas. Grant recipients are selected based on the innovativeness of the proposed project and its potential impact on the oral health of Arkansans.
"We are proud to recognize the work being done at Mercy Fort Smith by selecting it as one of our grant recipients," said Weldon Johnson, executive director of the Delta Dental of Arkansas Foundation. "By increasing access to dental care, we can help improve the oral and overall health and well-being of children and adults by preventing serious health issues down the road."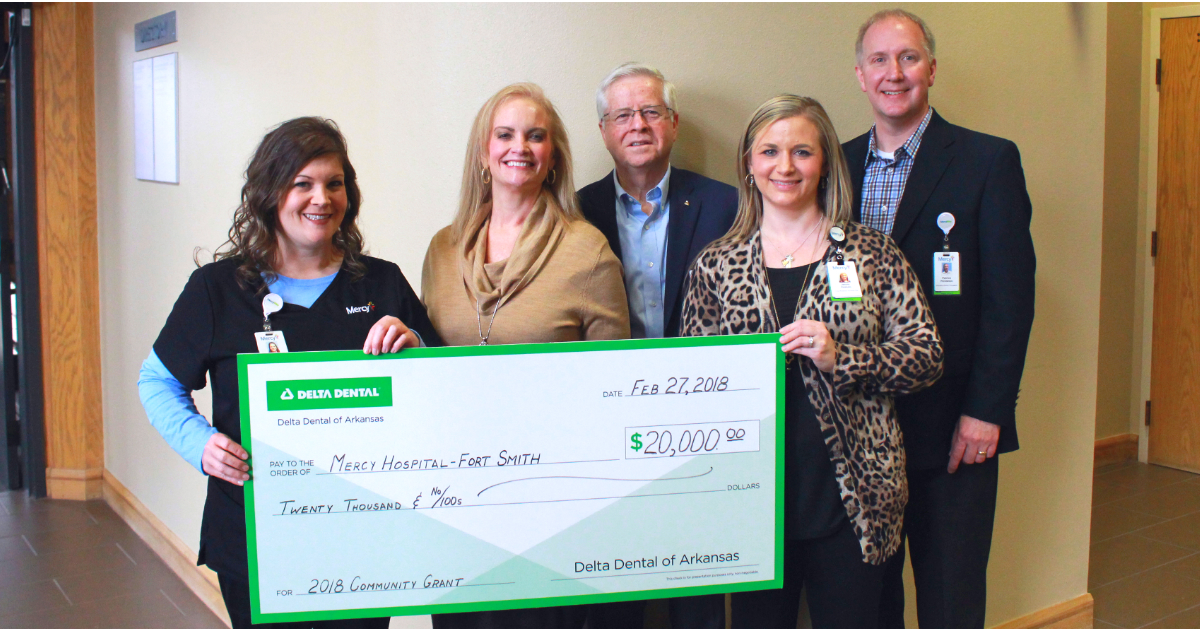 Media Contacts