March 2, 2018
If you could step inside your colon, what would you see?
To mark the beginning of National Colorectal Cancer Awareness Month, Mercy set up a giant inflatable colon to show people the difference between healthy tissue and problem areas.
It gives patients an idea of what a doctor might see during a routine colonoscopy.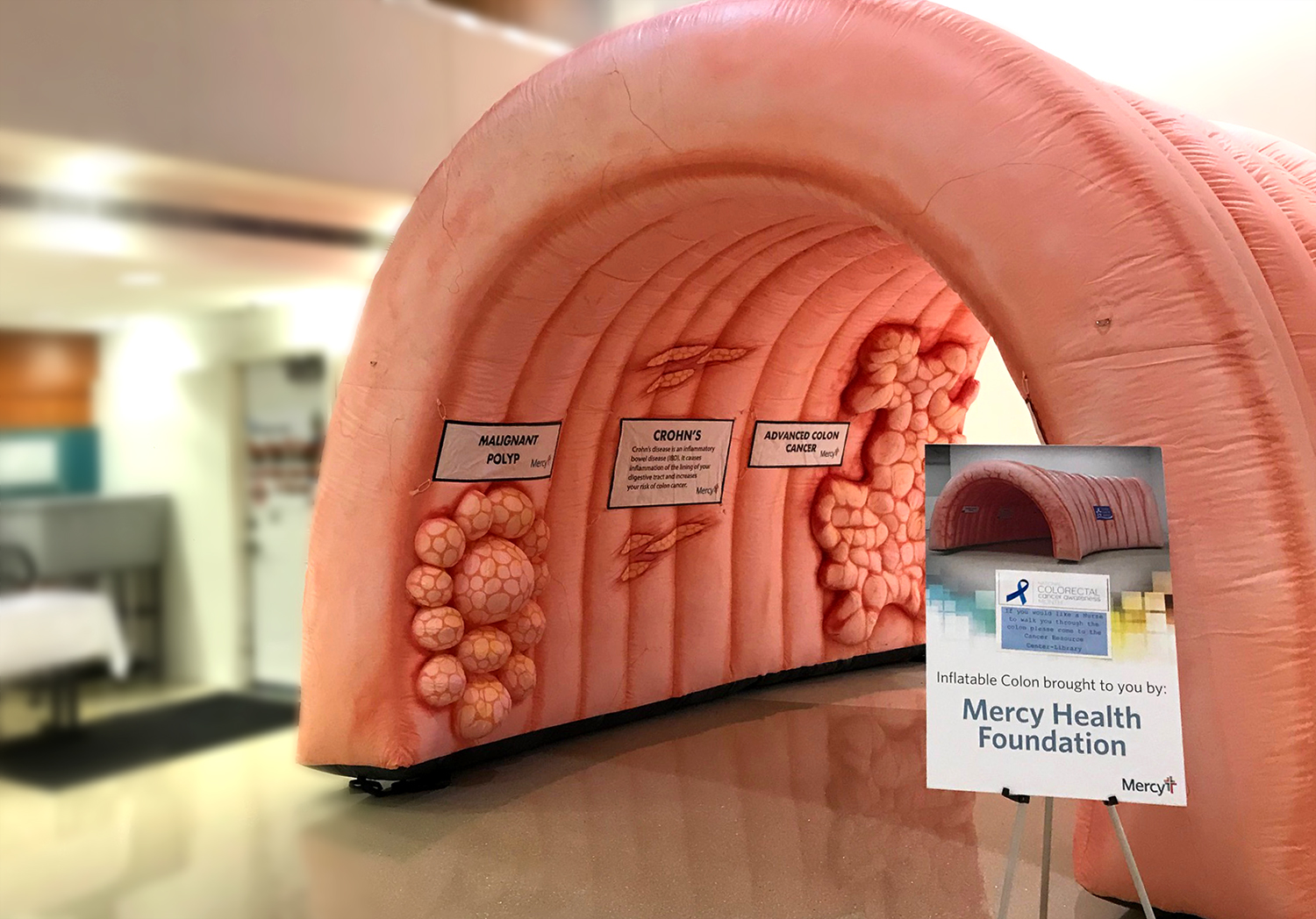 Colorectal cancer is the nation's second-leading cause of cancer-related deaths when men and women are combined. This year in Missouri, the American Cancer Society estimates 2,890 people will be diagnosed with colorectal cancer and an estimated 1,050 people will die from the disease. The good news is that screening can help find and prevent colorectal cancer, and it is one of the most successfully treated cancers if diagnosed early. The five-year survival rate is around 90 percent for colorectal cancers caught in their earliest stage.
While a combination of earlier detection, changing patterns in risk factors and better treatments have yielded a 51 percent decline in the colorectal cancer death rate during the past 40 years, about 23 million people in the United States who fall within recommended screening guidelines are still not being tested for colorectal cancer.
The American Cancer Society recommends that men and women be screened for colorectal cancer starting at age 50. People with a family history of colorectal cancer may need to start screening earlier and should talk with their doctor. There are several different affordable screening options available, including simple take home tests.
Mercy and the American Cancer Society, along with multiple organizations across the country, are working to ensure that 80 percent of the age eligible population is screened for colorectal cancer. Currently in Missouri, 61.8 percent of people 50 and older are being screened. To find out more about getting a screening, ask your doctor or check out this link.
Our Providers
1235 E. Cherokee Street
Springfield, MO 65804
2115 S. Fremont Avenue
Springfield, MO 65804
2115 S. Fremont Avenue
Springfield, MO 65804
Media Contacts
Sonya Kullmann
Berryville, Branson, Cassville, Lebanon, Mountain View, Rolla, Springfield, Aurora