March 2, 2018
CHESTERFIELD, Mo. – Employers seeking to build a diverse workforce are invited to attend a Reverse Job Fair for job seekers with disabilities. Hosted by Mercy, a regional leader in promoting disability inclusion in the workplace, the event is the first employer-sponsored Reverse Job Fair in the country. It will be from 1 to 3:30 p.m., Thursday, March 22, at the Mercy Virtual Care Center, 15740 S. Outer Forty Road in Chesterfield.
The Reverse Job Fair will feature more than 50 job seekers who have education and experience in a variety of fields. Rather than a typical job fair where prospective employees move from employer table to table, job seekers will be the ones "behind the table" presenting their portfolios and other materials in order to showcase their skills, talents and personalities.
Companies that hire individuals with disabilities can reap big benefits, according to Nicholas Simpher, manager of central supply at Mercy Hospital St. Louis. Simpher's department of nearly 60 employees includes co-workers with disabilities and they are valued members of the team.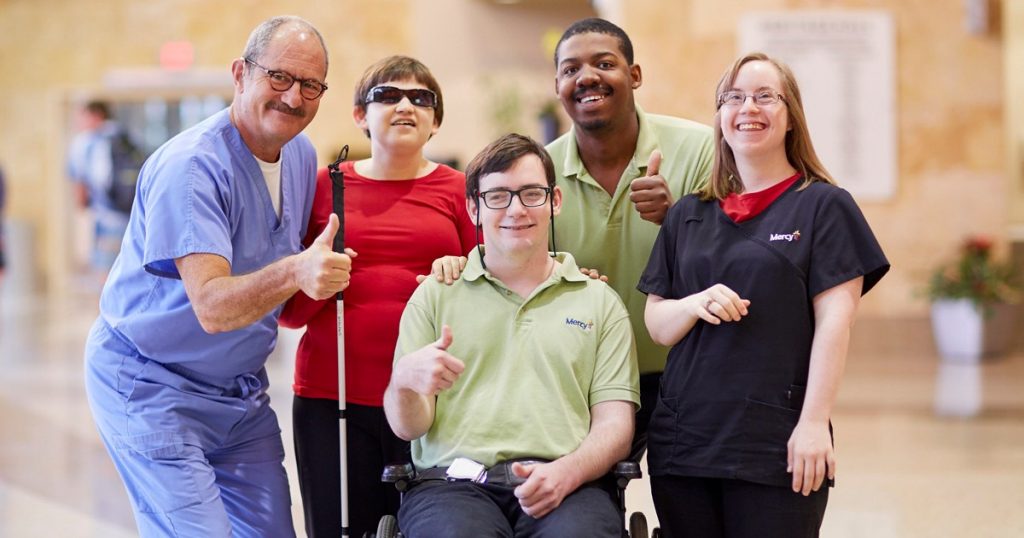 Mercy Hospital St. Louis is a leading employer of people with disabilities.
"In my experience, co-workers with disabilities are dependable, hard working, compassionate and kind. Their disability is only one aspect of who they are, and they are as unique as everyone else on our team – with strengths and weaknesses like anyone else," Simpher said.
Simpher's advice to potential employers? "I'd ask them to evaluate applicants on their skills and personalities, and keep an open mind. In the right job, a disability doesn't necessarily impact their ability to do the job. They might end up being a long-term core team member," he said. Two of the co-workers with disabilities on Simpher's team have been with Mercy 22 and 10 years respectively, he added.
Companies can register to attend the Reverse Job Fair at Mercy.net/stlrjf. For more information, call Mercy at 314-251-4725.
Media Contacts