March 15, 2018
It was not just one thing that he did, but his whole demeanor that led to the nomination of Eric Bertram, RN, as the DAISY Award winner for the first quarter of 2018.
Shannon Forshee nominated Eric on behalf of her family based on the care her grandfather received while in the Progressive Care Unit (PCU) at Mercy Hospital Jefferson in January.
"Eric has been exemplary the entire time," Shannon wrote. "We know it's busy here, but he always spends the extra minute to talk to us and his patients."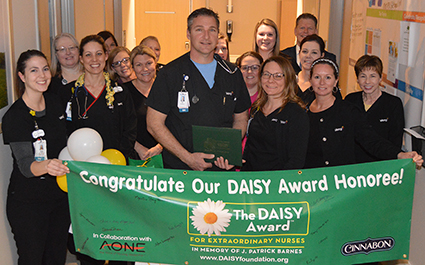 One specific action did get the family's attention.
"My grandfather grabbed Eric's hand to thank him and tell him how much he appreciated his help. Eric stopped what he was doing to tell my grandpa that he cared about him and wants him to feel better. It was a very genuine gesture and made us all very happy."
DAISY is an acronym for Diseases Attacking the Immune System. The family of Patrick Barnes established the Daisy Foundation in 1999 to express gratitude to nurses for the work they do for patients and their families every day. The award is presented in more than 1,900 healthcare facilities in all 50 states and 15 countries.
During the recognition ceremony, surrounded by his co-workers, Eric received an official DAISY pin, a certificate, and a hand-carved stone sculpture entitled "A Healer's Touch." Additionally the national award calls for a celebration for all co-workers in the unit with Cinnabon cinnamon rolls – a favorite of Patrick's during his illness.
"The Barnes family asks that whenever and where ever nurses smell that wonderful cinnamon aroma, they stop for a moment to think about how special they are."
For more information visit www.daisyfoundation.org.
Media Contact